Utah Jazz at San Antonio Spurs Primer & Game Thread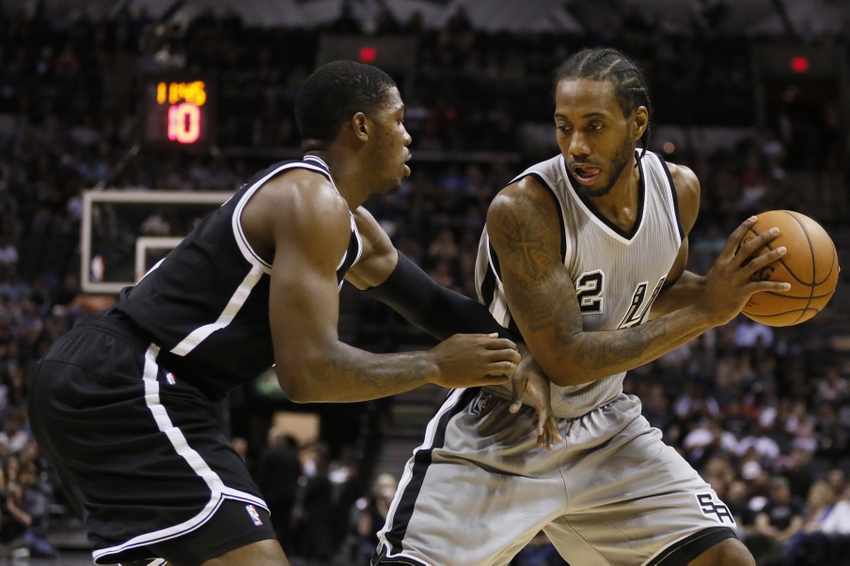 After a poor effort against the Los Angeles Clippers, the Utah Jazz face the unenviable task of righting the ship against Kawhi Leonard and the San Antonio Spurs.
Following a bad loss, most teams would probably tell you they want to get right back on the hardwood and work out the kinks. With Sunday's loss to LA Clippers still fresh in their memories, the Utah Jazz get the chance to do just that as they tip-off a five-game road trip on Tuesday night.
Unfortunately for the Jazz, they have to do so against Kawhi Leonard, LaMarcus Aldridge and the undefeated San Antonio Spurs.
About the Spurs: Their most recent game was a 106-99 road win over the Miami Heat. Leonard played like a true superstar in the game, scoring 14 points in the final six minutes to secure the win for the Spurs. Leonard has been on a tear to start the season, averaging 31 points and 3.3 steals per game.
He also leads the league in player efficiency ranting (PER) at 38.15.
However, as exciting as Leonard's late-game heroics in the Heat game were, the Spurs' most memorable contest so far was their first game, a crushing 29-point defeat of the vaunted Golden State Warriors. Yes, those Warriors; the Kevin Durant, Stephen Curry, Klay Thompson and Draymond Green Warriors.
There's a subset of people out there that expected the Spurs to come back to Earth a bit this season. Once again, those people are probably wrong.
So far, it looks like they still hold a place among the NBA's elite. As a team, the Spurs are third in the league in net rating, outscoring opponents by more than 17 points per 100 possessions.
About your Utah Jazz: The boys in blue, green and gold are coming off their worst effort of the season, a 13-point loss (that wasn't really that close) to the Clippers. They were able to hold Chris Paul in check, but were essentially squashed in just about every other phase of the game.
There were a few bright spots in the game, though. George Hill continued to play well, scoring 18 points on 8-of-13 shooting, hitting two threes and nabbing two steals. Meanwhile, Dante Exum scored 10 points in a season-high 26 minutes.
Turning our attention to Tuesday night, longtime Jazz fans can tell you that Utah simply doesn't win in the Spurs' building. With Gordon Hayward (and Alec Burks) still out and Derrick Favors slowly working back into the swing of things, looking for the team to pull out the win against Gregg Popovich's club now is probably a tough ask.
If the Jazz are going to have any hope of doing so, one player that will need to perform better is Rodney Hood. Hood scored just five points on 2-of-10 shooting against the Clippers. With Hayward out, it's imperative that the former Duke star helps carry some of the offensive burden.
In any event, it's going to be tough sledding in San Antonio.
Game Data
VS.
| | | | | | |
| --- | --- | --- | --- | --- | --- |
| | 1 | 2 | 3 | 4 | T |
| Spurs | 0 | 0 | 0 | 0 | 0 |
| Jazz | 0 | 0 | 0 | 0 | 0 |
Broadcast Info
Tip-off: 6:30 PM MT from AT&T Center in San Antonio, TX
TV: ROOT Sports
Radio: The Zone Sports Network (97.5 FM & 1280 AM Salt Lake City)
Projected Starting Lineups 
Utah Jazz (1-2)
PG: George Hill
SG: Rodney Hood
SF: Joe Johnson
PF: Derrick Favors
C: Rudy Gobert
San Antonio Spurs (4-0)
PG: Tony Parker
SG: Kyle Anderson
SF: Kawhi Leonard
PF: LaMarcus Aldridge
C: Pau Gasol
Injuries 
Alec Burks (knee) and Gordon Hayward (finger) are out once again for the Jazz. On the Spurs side, Danny Green (quad strain) is out. It's also anyone's guess whether or not Pop will rest some of his players. Even in the early season, multiple players have already been given nights off.
Prediction 
The Westgate Superbook Las Vegas currently has Utah as 10½-point underdogs against the Spurs. Despite the big line, it's hard not to pick the Spurs to cover. I expect a better effort from the Jazz compared to the Clippers game, but this is going to be a really tough one.
More from Purple and Blues
Discussion
The hashtag on Twitter for the Spurs game is #UTAatSAS. Check the live tweets @PurpleandBlues1. Or, if you're an old school kind of guy/gal, you can hit us up in the comment thread below.
This article originally appeared on