Utah Jazz at San Antonio Spurs: Keys to the Game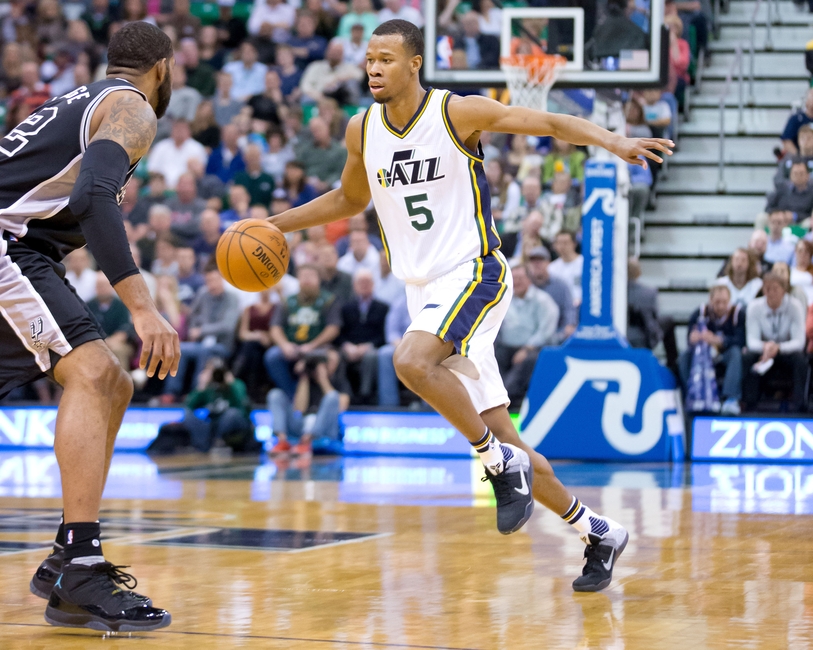 If the Utah Jazz hope to compete with the San Antonio Spurs in tonight's showdown, they'll have to execute almost perfectly, especially in these key areas.
While the Jazz have stumbled out of the gates somewhat to start out the 2016-17 season, their opponent in Tuesday's bout, the San Antonio Spurs, has looked nearly flawless.
Sitting at a perfect 4-0 with their most notable win coming in blowout fashion over the Golden State Warriors in the season opener, the Spurs will most certainly be a handful for the Jazz. The San Antonio Spurs boast a terrifying starting lineup of Tony Parker, Kyle Anderson, Kawhi Leonard, LaMarcus Aldridge and Pau Gasol.
And in uncanny fashion, the Spurs always seem to find a way to get the most out of their role players and get them to gel unlike any other team in the league. Reserves such as Patty Mills, Jonathon Simmons and of course Manu Ginobili have been solid and steady contributors for this deep Spurs team.
Despite the fact that the Jazz were praised for their depth this offseason and were recognized as having the best bench in the NBA, their second unit has greatly underwhelmed thus far. In three games this season, the Utah bench has been outscored each time by their opponents' reserves, as the Jazz have given up big games to the likes of Allen Crabbe, Lou Williams and Austin Rivers.
While this certainly has a lot to do with the Jazz starting guys like Joe Johnson and Boris Diaw who were intended to be backups for the injured Gordon Hayward and Derrick Favors, they'll still have to find a way to compete with the reserves they have in order to keep up with a deep Spurs team.
It's possible that Favors finally gets the nod as a starter against San Antonio, but even if such is the case reserve Boris Diaw will need to play much better than he has up to this point if the Jazz are to have any chance.
So bench play will be one critical point of focus if Utah hopes to slow down San Antonio, but here are three other key components to the game that Utah will have to control in order to come away with a victory.
Key Match-up – Joe Johnson and Kawhi Leonard
Oh how I wish that headline had Gordon Hayward's name instead of Joe Johnson's.
Now I don't mean any disrespect to Johnson by saying that, but watching Utah's leading scorer from a year ago go head to head against the reigning defensive player of the year would certainly be the most exhilarating match-up to watch.
Nevertheless, Joe Johnson knows a thing or two about scoring himself as he displayed in the Jazz's season opener against the Blazers in which he put up 29 points of his own. And while I don't necessarily expect him to outscore the versatile and formidable Leonard, he along with the rest of the Jazz D will need to do everything possible to contain him.
Leonard has been on fire to start out the year averaging 28 points on 50 percent shooting. If Johnson can help prevent Leonard from reaching his scoring average while putting in a strong and efficient double-figure scoring outing himself, this would undoubtedly be considered a success in the eyes of the Jazz.
Johnson can't be expected to outscore Leonard, but if he can put in a solid effort and other Jazzmen (such as Hood and Favors who struggled mightily against the Clippers) can pick up some extra slack, it will be possible for Utah to compete with this daunting Spurs team.
Key Stat – Turnovers
In the Jazz's dismal loss to the Los Angeles Clippers, they turned the ball over 18 times compared to the Clippers 13. These 18 miscues led to an astounding 22 points for the Clippers, which obviously made a huge difference in the game.
And a team as dominant as the Spurs feeds on miscues. If the Jazz commit above 15 turnovers their chances of beating a deadly San Antonio team that is exceptional at taking care of business over their opponents, will be greatly hindered.
In both of Utah's losses (and in their win for that matter), they have undergone sequences where the offense has gone completely stagnant. These droughts have ended with several poor shots at the tail end of the shot clock as well as many of these already noted turnovers.
It's hard to see Utah's offense developing cohesion overnight, particularly when their next chance to give it a try will be against a defensive juggernaut like the Spurs, but unless Utah can somehow get their offense flowing and improve their ball movement, it will likely mean more of the same for them – poor shots and costly turnovers.
On the flip side of that stat, Utah will also need to find a way to fluster and frustrate San Antonio to create turnovers and easy baskets of their own. Unfortunately, the Jazz currently rank lower than the bottom five in the league in points off turnovers at just 12.7 per game.
To beat a team like this red hot San Antonio squad, it will take an extremely clean game by the Jazz, some sloppy play on the part of the Spurs and finally, a whole lot of luck. While taking care of the ball won't be the only aspect that determines the win, it will be a critical one for Utah to remain in the game and at least give themselves a chance.
Key Performer – George Hill
So far this year, George Hill has been far and away the Jazz's best player and the key performer in their last two games. As a former Spur himself, Hill comes into this game with a bit of an edge. He knows this court. He knows this team. He knows this system.
Not to mention, he'll be matched up against the aging Tony Parker who, despite being a savvy vet, is without a doubt a few steps slower than the younger and more athletic Hill. Utah is going to have to rely heavily on their starting point guard to have a big game offensively while creating opportunities for others.
Despite a solid overall performance against the Clippers, Hill ended the game with just three assists. Utah will need him to do a much better job of getting his teammates involved and picking apart the San Antonio defense in order to come away with a victory.
Prediction – Spurs 108, Jazz 88
Unfortunately, after watching the Jazz through three games this season, while these are things they would need to do to win, I have a hard time believing they actually have the ability to do them. More than anything, I have yet to see enough out of their offense to believe that they'll have the firepower to overcome the Spurs.
Therefore, given that nothing has happened since either team's last contest to make me believe any differently, I'm going to stick with the outcome I projected in yesterday's Week Two Predictions – a blowout win for the Spurs, 108-88.
More from Purple and Blues
San Antonio is too good on their home court and the Jazz are still too fresh and too beat up with two of their most prolific offensive players, Hayward and Burks, sidelined for the time being. If this team gets healthy and comes together like they were projected to, the Jazz could give the Spurs a run for their money when they meet in their two late contests in April.
However, for Utah that time is not now and based on what the team has shown so far, I'll be very surprised if they're able to keep up with San Antonio at this point in the season.
This article originally appeared on