Utah Jazz at Philadelphia 76ers: Keys to the Game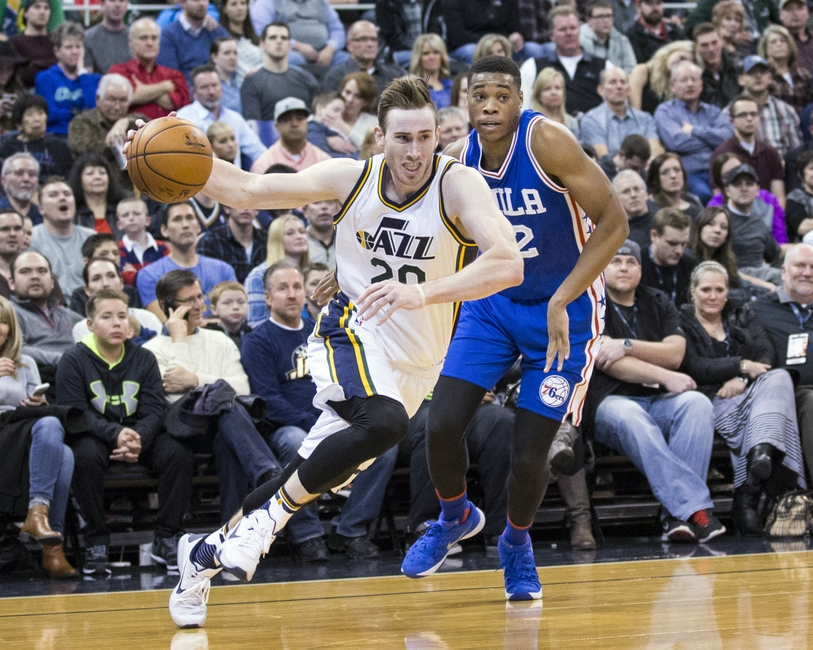 Despite being the favorites in tonight's contest against the 76ers, the Utah Jazz must avoid complacency and come out with energy in order to win.
After a strong second half push in Sunday's contest against the New York Knicks, the Utah Jazz were able to start their five-game road trip out on a high note with a solid 114-109 win. Tonight they'll be faced with a quick turnaround as they head to Philadelphia to take on the currently winless 76ers.
And although Philadelphia is off to a poor start, the Jazz can't be caught napping in this one. The Sixers don't project to be a playoff team this year, but little by little they are improving particularly with the healthy return of Joel Embiid and the arrival or Ersan Ilyasova who was recently brought over in a trade with the Thunder.
The most worrisome aspect of this game for Utah is that it is the second night of a back-to-back. If they come out flat-footed there's a chance they could be caught off guard and surprised by a 76ers team that is hungry for a win.
Aside from that, the Jazz boast a more talented roster across the board. As long as they take care of business, particularly in these key areas, they should be more than capable of coming away with the victory.
Key Match-up – Rudy Gobert and Joel Embiid
While Philadelphia has undoubtedly struggled to start off the season, Joel Embiid has been a significant bright point on the team. Despite being drafted third overall in 2014, Embiid was sidelined for the entirety of the 2014-15 and 2015-16 seasons as he battled injuries.
Now fully recovered, he has looked every bit the lottery-pick type player that Philadelphia hoped he would be in his debut NBA season. The seven-footer out of Kansas currently leads his team in scoring with 18.5 points per game on 48 percent shooting from the field. He's also started out hot from beyond the arc where he's shooting a surprising 66.7 percent.
Rudy Gobert will likely be faced with quite a challenge in trying to defend Embiid as he'll have to mark him well out of the paint due to Embiid's ability to shoot from range. On the offensive end, Gobert won't have it easy either as Embiid has proven thus far to be a stalwart defensive threat. He's currently averaging a steady three blocks per game on this young season.
Gobert had a bad game in the Jazz's home loss to the Spurs but he bounced back yesterday against the Knicks with an inspired 13-point, 8-rebound, and 3-block effort. He's just shy of averaging a double-double for the year with 9.9 points and 10.9 rebounds.
Whatever offense Gobert can provide is always a nice bonus for the Jazz, but particularly in this match-up his main role will be to contain Embiid.
He doesn't by any means need to outscore him, especially considering that Embiid has been the Sixers best offensive player so far this year, but if he can keep him in check and cause him to struggle from the field, Gobert will likely be considered the winner of the match-up.
Key Stat – Points
It might seem a bit silly to call points the key stat of the game – isn't that always the key stat? Outscore your opponent and you win, duh, right?
While that is true, the reality of the matter is that the Sixers currently rank dead last in points per game this season. With an odd array of players on their roster and no true elite talent, scoring is quite hard to come by for Philadelphia.
Thus, while it's important for the Jazz defense to keep the 76ers in check, so long as the offense is humming they shouldn't have much problem simply outscoring the Sixers to secure the win.
Yes, the Jazz themselves haven't displayed an overwhelmingly high-scoring offense yet this season as they rank just 25th in the league, but this is largely due to their pace and their offense is much more proficient than a simple points per game analysis indicates.
Not to mention, Utah is currently fifth in the league in opponent points per game. Their stifling defense should be more than enough to slow down a struggling Philly team that has a hard time putting points on the board as it is.
Key Performer – Gordon Hayward
Despite struggling to find his shot from the field, Gordon Hayward had an overall spectacular performance in the win over the Knicks as he finished with a team-high 28 points. While it may take some time for Hayward to get completely adjusted and back to his old self, he proved that even when shots aren't falling he can still get it done as half of his points came from the free throw line.
And unfortunately for this middling Sixers team, there's no one on their roster that will be able to contain Hayward. While Philly isn't awful on defense at 19th in the league in opponent points per game, they don't boast any true wing stoppers that will make life miserable for Hayward.
As Gordon looks to make up for lost time and continue his solid start in Sunday's debut, he's bound to come out determined and firing on all cylinders. We got a small taste on Sunday of just how potent he can be with a true point guard in George Hill and I expect that point guard presence to help elevate Hayward's game all season, continuing with a big win tonight.
Prediction – Jazz 105, 76ers 87
I'll stick with the 105-87 prediction that I made in last night's "Weekly Preview" piece as I'm expecting a big win for the Jazz in this contest. The Jazz have the advantage across the board so this is truly their game to lose and not one where they should be in danger of being beat so long as they're playing at the high level they're capable of.
Nevertheless, they'll still need to come out with energy and be ready to compete. Philly definitely put a bit of a scare into the currently undefeated Cleveland Cavaliers on Saturday so Utah can't fall victim to complacency.
Following the game against the 76ers, the real challenge will begin for the Jazz on Wednesday as they'll take on the 4-1 Charlotte Hornets followed by the Orlando Magic and Miami Heat on Friday and Saturday.
With some tough games looming in the future, it's critical that the Jazz take advantage of a lackluster Sixers team and get a win tonight.
All stats courtesy of NBA.com
This article originally appeared on