Utah Jazz at Orlando Magic: Keys to the Game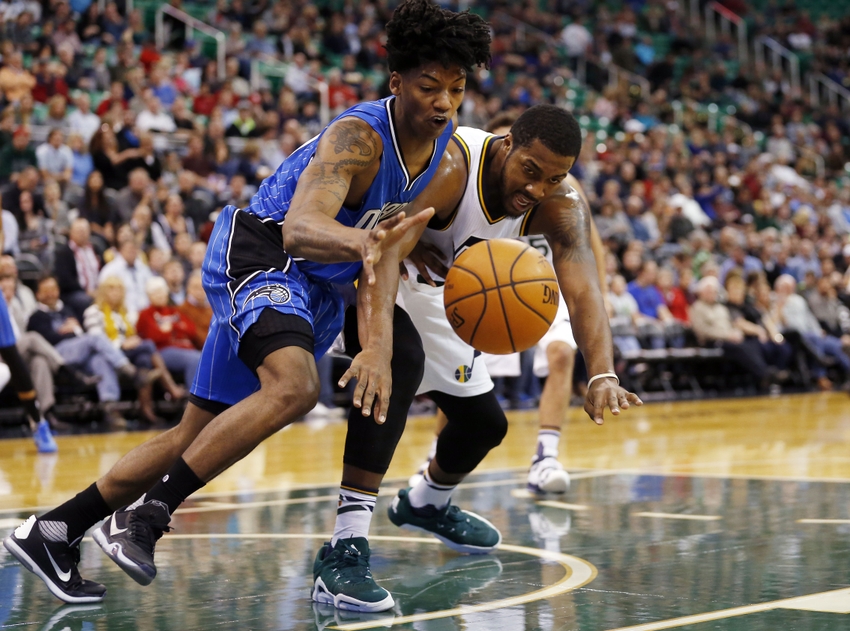 After a tough loss to the Charlotte Hornets, the Utah Jazz will need to take care of business in these key areas to come away with a win over the Orlando Magic.
Without George Hill in the starting lineup for the second consecutive game, the Utah Jazz dropped their third of five consecutive road games in disappointing fashion to the Charlotte Hornets on Wednesday as they fell to 2-1 on their current trip.
While it was certainly a winnable game had Utah just been able to take care of business in the fourth quarter, they'll have little time for remorse as they finalize the road trip on Friday and Saturday with two tough match-ups in Florida against the Magic and Heat.
And though Orlando has had its ups and downs so far this season, it's still likely to be a tough bout.
The Magic certainly had the Jazz's number last season as they were able to defeat Utah in both meetings to sweep the series. Ironically, Utah lost both games by nine points, 102-93 and 103-94, in two games that, as the similar scores indicated, seemed almost identical.
Utah came out flat-footed and though it felt like they were the more talented team, they weren't able to come away with a win on either occasion. They're certainly the more talented squad this time around and will likely be looking for revenge after last year's two dismal showings against Orlando.
Like the Jazz, the Magic had a busy offseason that saw them make several changes. This included the addition of a new head coach in former Pacers lead man Frank Vogel and bringing over the likes of Serge Ibaka, Bismack Biyombo, D.J. Augustin and Jeff Green via trade or free agency.
Their offseason moves gave them an incredible logjam in the paint with the aforementioned Ibaka and Biyombo set to fight for minutes with the likes of Nikola Vucevic and Aaron Gordon. Despite having a nice slew of defensive-minded guys and a defensive specialist for a coach in Frank Vogel, the Magic haven't quite gotten things figured out in the early goings of the season.
They currently hold a 3-5 record and are coming off back-to-back blowout losses to the Chicago Bulls and Minnesota Timberwolves.
Nevertheless, they are a unique team with lots of length and enough talent to surprise anyone. They're also likely to feel confident against Utah given that they cruised past them twice last season.
Key Match-up – Rodney Hood and Evan Fournier
Despite being known for their onslaught of bigs, it's shooting guard Evan Fournier who has been the best player for the Magic so far. He currently leads the team in scoring at 16.9 points per game and is shooting 43.6 percent from the field.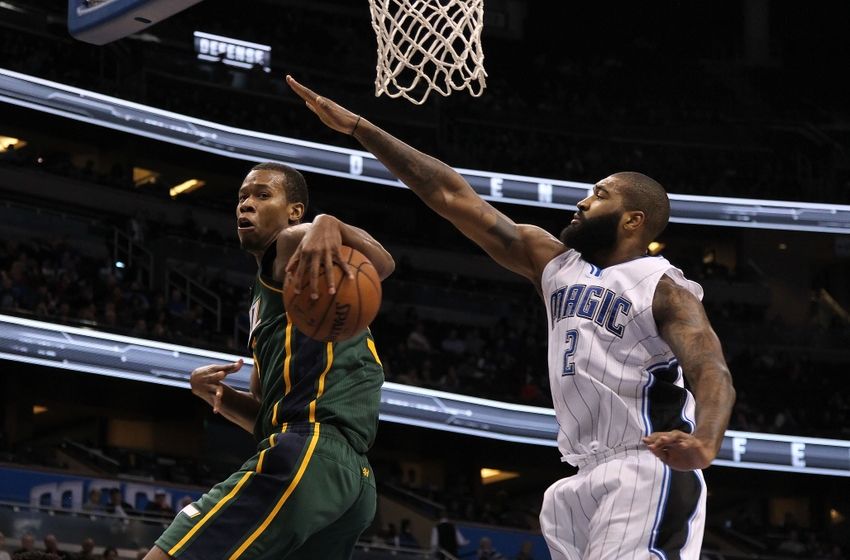 While he's known as a three-point shooter, he isn't off to a phenomenal start from beyond the arc in this young season as he has posted just a 32.6 percent average, well below his career average.
However, Fournier is one of those streaky shooters that is capable of going off and having a big night at a moment's notice. He certainly did so in Orlando's win over the Sacramento Kings last week where he poured in 29 points on 10-of-15 shooting from the field.
Yet despite Fournier's undeniable talent, it's not unlikely to suppose that he will be outmatched by Jazz shooting guard Rodney Hood. Hood's length and athleticism will be a constant irritant for Fournier and should slow him down on the offensive end.
Meanwhile, Evan is not known for his defense and if Hood is able to continue the hot start he's gotten off to of draining three-point shots at an impressive 46.2 percent clip, it could be a long night for Orlando's lead man. Despite being the Jazz's third scoring option so far this season, Hood has still put up significantly better offensive numbers than Fournier and will definitely be favored to win this individual match-up.
Key Stat – Rebounds
It may come as a surprise to some (it most certainly did to me) but despite the Jazz's suffocating defense that is currently second in the league in opponent points allowed, and despite having daunting paint presences in Rudy Gobert and Derrick Favors, Utah is currently ranked third to last in the league in rebounding, averaging just 40.9 per game.
Fortunately, Utah has managed to maintain a +0.6 average rebound differential over their opponents so far this season, one of only two teams in the bottom ten at rebounding to hold a positive differential (the other is Houston ranking just 22nd in rebounding but holding a +1.7 differential).
So while their total rebounding number is comparatively low, it's nice to know that they're still managing to outrebound their opponents for the most part when they go head to head. However, they'll need to make crashing the boards a major priority in order to come away with the win over Orlando.
Statistically speaking, the Orlando Magic aren't an incredible rebounding team as they rank just 17th in the league with 43 rebounds per game. Nevertheless, they certainly have the personnel to become a top rebounding team so the Jazz can't be caught unawares.
Biyombo, Vucevic and Ibaka are all capable of posting double-figure rebound games and with another capable rebounder, Aaron Gordon, in the game as a small forward, this is a squad that should be able to dominate on the boards.
Perhaps somewhere down the road as this team grows more accustomed to one another, they will be that force. However, I doubt that transformation will take place in tonight's contest. If Utah hopes to come away with a solid road victory over this sizable and capable Magic team, they'll likely need to win the rebounding battle, which is something I'm confident that they're capable of.
They may be towards the bottom of total rebounds per game, but as long as they can outrebound the Magic as they've done to other opponents so far this year, they should be just fine.
Key Performer – Rodney Hood
It may seem redundant to list Rodney Hood as the key performer after already mentioning him as a part of the key match-up, but I truly believe such will be the case. If it was a sure thing that George Hill would be playing in tonight's game, I'd likely give him the nod as I'm confident that he would prove far too much to handle for the likes of Magic point guard Elfrid Payton.
But with his status still questionable for a third straight game, I'll go ahead and go with Rodney Hood.
George Hill is questionable for Friday's game at Orlando. Boris Diaw is out.

— Jody Genessy (@DJJazzyJody) November 10, 2016
The Magic's size in the paint will likely bother Favors and Gobert, though Vucevic isn't a renowned defender, and I can see big and strong Aaron Gordon making things a little uncomfortable for Gordon Hayward. If that ends up being the case, then the Jazz will need to rely heavily on Rodney Hood to expose a mismatch against Evan Fournier and provide an enormous lift offensively.
Hood was solid in Utah's loss to the Hornets and the Jazz will need him to be even more heavily involved if they're to come away with a win over the Magic tonight.
Prediction – Jazz 102, Magic 87
It truly is difficult to make an accurate prediction without knowing whether Jazz floor general and key player George Hill is going to be available or not. He's been so crucial for the Jazz and was so greatly missed in their loss to the Hornets that his absence could potentially make or break this game.
Nevertheless, the Magic are coming off two losses where they have looked bad. This team still has a lot to figure out and certainly has yet to truly come together. Following their two big losses, they've slipped below even the Sixers for dead last in points per game in the league. Playing against a lockdown defense like Utah's will make points all the more difficult for them to come by.
More from Purple and Blues
So even though the Jazz dropped their last game to the Hornets and are well in the thick of this exhausting eastern road trip, I'm confident they'll come out on top as they look to bounce back from a tough defeat with a 102-87 victory in tonight's contest.
Given the Magic's recent struggles, I've even decided to change my prediction from earlier in the week and give the Jazz a bigger win in tonight's bout than I had originally projected.
As long as Hood can have a big game and Utah is able to control the boards, they should be in good shape despite playing on the road. And if Hill is active for the contest, it will only be all the better.
All stats courtesy of NBA.com and ESPN.com
This article originally appeared on