Utah Jazz at Minnesota Timberwolves: Keys to the Game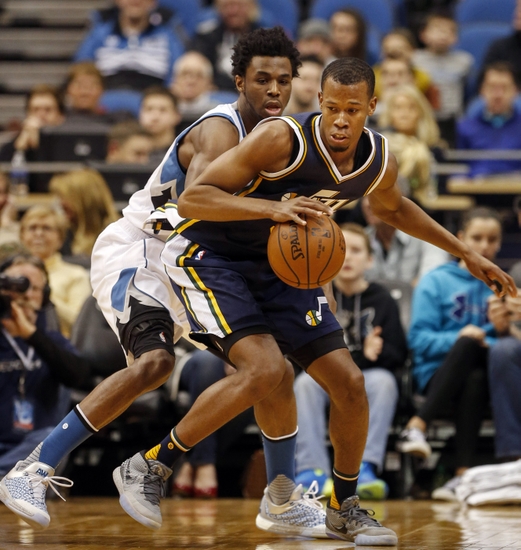 After righting the ship with two big wins last week, the Utah Jazz should be heavy favorites in their upcoming road contest against the struggling Minnesota Timberwolves.
In the 2016-17 NBA GM Survey that was released during the offseason, the Minnesota Timberwolves were selected by a wide margin by NBA GMs to be the most improved team in the league, receiving 56.7 percent of the vote. However, under new coach Tom Thibodeau, such has definitely not been the case so far.
16 games into this season, the young Wolves team sits at a disappointing 5-11 record. While they undoubtedly boast a host of young talent, most notably in consecutive Rookie of the Year winners Andrew Wiggins and Karl-Anthony Towns, the team's inexperience has been the characteristic they've most displayed.
Coach Thibodeau was supposed to be able to come in and turn this Minnesota team stocked with talent into a defensive juggernaut by taking advantage of their youth and athleticism. However, so far Coach Thibs has been visibly frustrated with his squad in several of their contests and has vocally criticized them for a lack of discipline and toughness.
Rumors are already coming in hot that Thibodeau will likely seek a trade to bring in some veteran talent in exchange for one of his young bucks. While it seems a little hasty to make such a move, perhaps it truly is necessary. Of Minnesota's five wins, only one has been against a team that currently holds a winning record (Memphis).
Thus it's clear to see, that all is not well in Minnesota.
And fortunately for the Utah Jazz, the exact opposite happens to be the case for their squad. Utah has looked impressive in their past two games since George Hill returned to action as the Jazz notched big wins over the Nuggets and Hawks last week.
They'll come into this game against Minnesota well-rested, having had two days off between games, and should be the clear favorites to win the match-up given the Timberwolves' early struggles in general and particularly against teams with winning records.
Nevertheless, road contests in the NBA are always tough and there is plenty of young talented players on this Wolves team that could easily catch the Jazz off guard if they aren't prepared to take care of business, particularly in the following areas.
Key Match-up – Gordon Hayward and Andrew Wiggins
Andrew Wiggins came into the league amidst incredible praise and hype that had some people referring to him as the next LeBron James. While he hasn't quite lived up to that expectation just yet, Wiggins certainly has been solid.
He's currently leading his team in scoring with 23.5 points per game while shooting well with averages of 43 percent from the field and 39.1 percent from deep. He is an extremely explosive offensive player and his vastly improved three-point shooting so far this season has made him an even tougher cover.
However, Wiggins won't be in for an easy night as he'll be paired up against Utah's phenomenal two-way forward, Gordon Hayward.
While the Jazz underwent their four-game mini-slump, it was no surprise that Hayward was in a bit of a slump himself during that stretch. However, with George Hill back in action and able to run the offense and relieve Hayward of so much of his ball-handling responsibilities, Gordon was able to get back on track in a big way in Utah's previous two victories.
He put in 22 points against Denver and 24 against Atlanta and shot much better from both the field and from deep than he had been previously. He is currently averaging a career-high 20.3 points per game this season, and if they Jazz can build off their recent success and get things going, he shouldn't show any signs of slowing down.
Wiggins is undoubtedly more athletic than Hayward, but Hayward also has a significant size and strength advantage over Wiggins and will likely find success bullying his way into the paint and finishing at the rim or drawing a foul as he has done so well thus far in the season.
Wiggins will almost assuredly break free for a few easy ones like he always seems to do, but if Hayward can keep him in check throughout the night and force him into difficult shots that result in an inefficient shooting night, it will more than likely be a victory for the Jazz forward.
Key Stat – Bench Points
While the Minnesota Timberwolves starting lineup has been relatively formidable with Wiggins, Towns, Zach LaVine and Gorgui Dieng all putting up double figure scoring numbers, their bench has been absolutely atrocious. In fact, although Minnesota ranks a middling 19th in points per game as a team at 103.1, their bench ranks dead last in the league as they contribute just 22.6 points per game.
Shabazz Muhammed is the Wolves' leading bench scorer despite putting up only 6.5 points per game. While the Timberwolves have been praised for their incredible young talent, such has only been the case to a point as that incredible talent hasn't equaled incredible depth just yet.
However, while the Jazz were also projected to have one of the best benches in the league this season, so far there's hasn't been exactly as good as hoped either (partially due to injuries, of course). Utah ranks just 27th in the league in bench scoring as the reserves are contributing 28.4 points per game.
However, Utah's slow pace and overall low-scoring style makes this figure not nearly as bad as it is for Minnesota. Because the Jazz's overall points per game is so much lower than the Wolves', Utah's bench accounts for just under 30 percent of their total points, while Minnesota's reserves account for just 21.9 percent.
That's still not to say that Utah's bench has been great, because they haven't, but they'll need to take advantage of a weak Minnesota bench and provide the Jazz with a significant lift while the starters are out of the game.
With the Jazz facing a back-to-back in which they'll take on the lightning-fast Houston Rockets on Tuesday, it sure would be nice if the bench could carry a lot of the load in Monday's game against the Timberwolves so that the starters can be fresh for the bout against Houston the following day.
Key Performer – George Hill
For the second time in a row, George Hill will be matched up against a point guard who isn't exactly known for his defensive prowess. Yes, Ricky Rubio is excellent at logging steals as he averages 2.2 per game over his career, but that doesn't mean he's necessarily a wing-stopper on defense.
The experienced, crafty and athletic George Hill should find himself with quite a favorable match-up against Rubio and just as he did against Atlanta's Dennis Schroder, I expect him to take full advantage.
George Hill remains Utah's leading scorer at 20.9 points per game and seemingly hasn't skipped a beat since returning to action after his thumb sprain. In both wins last week he played exceptionally well and as he will be matched up against a young and struggling Wolves team, he's likely to lead the charge for the Jazz once again.
Prediction – Jazz 103, Timberwolves 86
As if I haven't already said it enough, the Utah Jazz looked absolutely incredible last week. The offense was on point, the defense was smothering and the return of George Hill added a key scorer and defender while freeing Hayward up to play a style that better suits his game.
And looking at how poorly the Wolves have played against good teams this year, I'm expecting a big win for the Jazz as they further solidify that they are indeed a good team and a force to be reckoned with in the West.
They beat the Nuggets by 25 and the Hawks by 27 last week, but since this game is on the road and hopefully Snyder will be able to rest his starters somewhat in the final period of the game, I predict that this one will settle right around 103-86 for the Jazz.
More from Purple and Blues
Following Monday's contest, the Jazz will play eight of their next nine games at home. A win against the Timberwolves would put them in a great position to set the tone for that upcoming slate and significantly boost their record so that it stays above .500 for the remainder of the season.
As long as the Jazz come out with energy, despite it being a road contest, and get a solid contribution from their bench, they shouldn't struggle to come away with the victory.
All stats courtesy of NBA.com and hoopstats.com
This article originally appeared on