Utah Jazz at Houston Rockets: Keys to the Game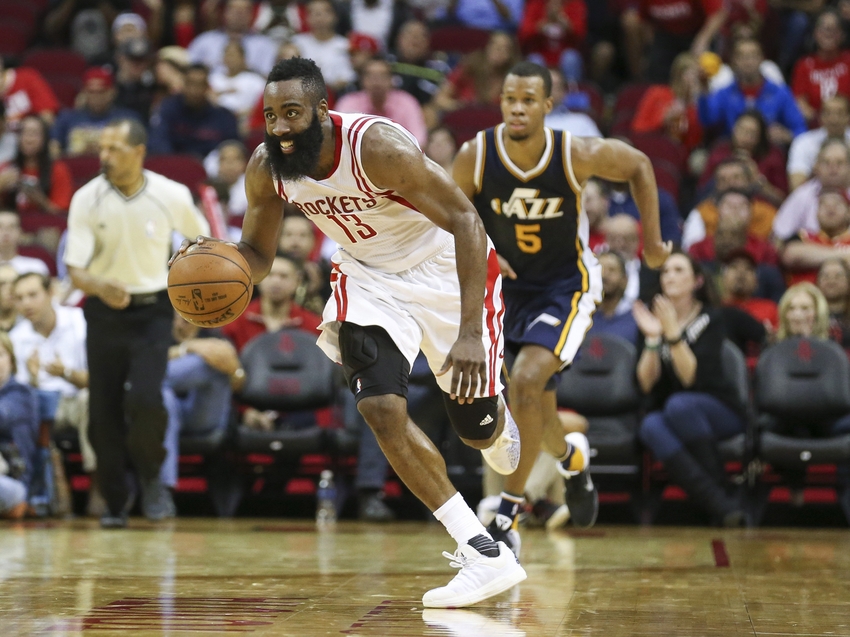 After suffering two straight losses at home, the Utah Jazz will have their work cut out for them as they look to bounce back on the road against the Houston Rockets.
To say that this early season has been a roller coaster for the Utah Jazz would be a dire understatement.
They started the year off with a loss to the Blazers, a narrow win over the Lakers (who are apparently quite a bit better than predicted) and a disheartening loss to the Clippers. At this point, pandemonium broke out among Jazz fans as many were worried that the promising season was lost even though we were only three games in.
But then, the Jazz did the unimaginable by going into San Antonio and taking it to the Spurs on their home court, cruising to an easy victory despite playing without Gordon Hayward. Then in the second night of a back-to-back, Utah steamrolled the Dallas Mavericks as well.
The next game was a loss to the Spurs at home, which was unfortunate but not unpredictable, then Gordon Hayward made his brilliant return and all seemed well for a few minutes (literally a few minutes) in Jazzland. Though Utah beat the Knicks in Hayward's debut, George Hill went down with a sprained thumb in that same game and has yet to play along Hayward since.
Nevertheless, Utah still looked good as they finished the road trip an impressive 4-1 and had Jazz fans feeling absolutely elated at the prospect of this up-and-coming team.
Unfortunately, since the five-game road stint, the Jazz roller coaster has once again taken a steep downturn as Utah dropped two games in a row at home to teams whose talent level truly isn't significantly greater than the Jazz's. Their offense has become stagnant, their shooting ice-cold and the recent fan euphoria suddenly and quickly dampened.
And that is where we stand as the Utah Jazz get set to visit the Houston Rockets in Saturday's matinee contest. Utah's 7-6 record wouldn't have sounded that awful at the start of the season, especially considering all the early injuries the team was facing, but after their marvelous performances on the road, dropping two straight to go from 7-4 to 7-6 surely has left a bit of a damper on the mood going into this game.
And unfortunately for the Jazz, a Houston team that lacked effort and hustle last season has shown significant signs of life this year under new head coach Mike D'Antoni and may have some kinks worked out that will have his squad in a position to compete with just about any team in the league.
Sure, their current 7-5 record is only a half-game better than the Jazz's, but Houston is coming off a big win over the Portland Trail Blazers and recently downed the San Antonio Spurs as well. And with the way James Harden has been playing (we'll get to him in more detail soon) he truly has been capable of pushing the envelope and leading his team to victory against any opponent.
So as Utah heads back on the road (where ironically they've played better this season posting a 5-3 road record compared to a 2-3 home record), they're sure to have their work cut out for them as they face D'Antoni, Harden and the high-octane Houston Rockets.
Key Match-up – George Hill and James Harden
Alright, so I'm going out on a big limb here. Although George Hill has missed the last six games due to a sprained thumb and there have been no definite reports yet that he'll be active for Saturday's game, I have an inkling that after two straight tough losses and nearly two weeks of recovery, Hill will be back in action against a Rockets team that figures to contend with Utah for one of the coveted final playoff spots.
The Jazz certainly need him as he was a bright point for the team through the first six games, directing the offense, setting the tone on defense and serving as an all-around leader and playmaker in pretty much every possible situation.
With Gordon Hayward's two straight dismal games, he and George are now tied as the Jazz's leading scorers at 20.4 points per game. In the one game that they played together, against the Knicks, Hayward poured in a phenomenal 28 points, a clear indicator that Utah's two top scorers can co-exist and flourish on the court together.
If Hill is back in action, it will make each member of the Jazz team better and will provide Utah with a desperately needed offensive boost. Furthermore, Hill is likely the best equipped of all of his teammates to contain James Harden who just this season has slid over to the point guard position, a spot in which he has excelled in Coach D'Antoni's system.
Harden is currently averaging 28.5 points and 12.8 assists per game. He's shooting close to fifty percent from the field and makes an average of three three-pointers per game at a solid 37.5 percent clip.
However, the one thing that dampens Harden's stats quite significantly is the fact that he is averaging a hefty 5.6 turnovers per game. Yes, he has the ball in his hands a lot more as the official point guard, but that figure truly makes his otherwise impressive assist numbers look somewhat weaker.
With that many turnovers per contest, his assist-to-turnover ratio is barely 2:1. Contrast that to George Hill on the other hand whose current ratio is a solid 5:1.
And if Hill is in the game and matched up against him, while it's probably not likely that he outscores a prolific scorer such as Harden, his lockdown defense will have a good chance to force Harden into committing several turnovers that will in turn knock both him and his Rockets out of sync.
Beating the Rockets depends heavily on slowing down James Harden and Hill will be the most capable one to do so. In being perhaps overly optimistic that George Hill is indeed active for this game, this match-up will without a doubt be the one to watch.
Key Stat – Turnovers
As I already mentioned, turnovers have been James Harden's key weakness and as such, it has also been a critical weakness for his team as a whole. As Harden goes, so do the Rockets.
Houston currently ranks 26th in the league at taking care of the ball with 16.5 turnovers per game. Yes, some of this is a result of the incredibly fast pace at which they play, but a team that is known for committing that many miscues certainly sets itself up to be defeated if that weakness is exploited.
The Jazz, on the other hand, are in a lot of ways the polar opposite of the Rockets. While Houston plays an up-tempo style of basketball, pushing the ball and shooting early in the shot clock, Utah plays a more controlled and methodical type of ball that has allowed them to be much more efficient in the turnover category.
Utah is currently tied for seventh in the league at taking care of the ball, averaging just 11.8 turnovers per contest. While Houston's focus lies almost entirely on offense, the Jazz's calling card is their defense. If Utah wants to be able to use their strength to overpower that of the Rockets, they'll have to rely on a staunch defensive effort that leads them to win the turnover battle, get easy looks and ultimately seal the victory.
Key Performer – Rodney Hood
I'll be honest, it was a bit difficult for me to pick a potential key performer in this match-up. If Derrick Favors were healthy he would be a likely pick as he played well in his two appearances against the Rockets last season and would be able to easily overpower Houston's new starting power forward Ryan Anderson.
However, with Favors sidelined, and some tricky match-ups across the board, it's hard to say who will be the standout for the Jazz.
Hayward will be matched up against renowned wing defender Trevor Ariza, Rudy Gobert will have to face off against the up-and-coming Clint Capela and while James Harden has been playing the point guard spot, it seems more likely that the recently-returned Patrick Beverly would be the one to match up against Hill (or Dante Exum if Hill remains sidelined).
Therefore, if this ends up being the case defensively, then Rodney Hood will be the one who gets the fortunate opportunity of being paired up against James Harden whose incredible offensive talent has in many ways been overshadowed by his reputation for playing lackluster defense.
With Harden's infamously loose defense, Hood should be able to have a big game by attacking the rim and (hopefully) catching fire from deep. I had slotted Hood as the key performer prior to Thursday's game against the Bulls, but to be honest I was quite disappointed with his inefficient shooting effort.
It seems his shot has regressed significantly over the past few games, so hopefully a contest against a less than daunting defender can help Hood regain his confidence. Against a Houston team that puts up so many points in a hurry, Utah's defense alone likely won't be enough to win. They'll need Rodney Hood to provide his own offensive punch to allow the Jazz to outscore the Rockets and come away with the victory.
Prediction
In my earlier outlook of the week, I had the Jazz beating the Rockets in a relatively high-scoring affair. However, I also had the Jazz winning their two contests at home against the Grizzlies and Bulls, but that obviously didn't happen. After two dismal performances, I must say I'm a little hesitant to endorse this Utah squad as the likely winners in this contest.
I hate to pin so much on just one player and I dislike even more to have a wishy-washy prediction, but after seeing how poor Utah's offense has been over the past few games in comparison to how well it was developing with George Hill in the game, I'm going to go ahead and make two different projections for the outcome of this contest.
More from Purple and Blues
If Hill plays, I think Utah pulls out of their funk and finds a way to win by a score of 109-101. Houston has a prolific offense, but I'm confident that if Utah's formidable veteran leader is on the court, their defense and discipline will be enough to slow the Rockets down.
However, if Hill sits out for a seventh straight, I'm going to have to give this one to the Rockets in a game that I predict they'll win 110-98. Without him on the floor to defend, create opportunities for his teammates and convert on crucial shots himself, I don't believe Utah will have the firepower to match Houston's relentless attack.
So call it a cop-out or putting too much dependence on one guy, but I truly believe George Hill's return to action will make the difference between victory and defeat in this contest.
All stats courtesy of NBA.com and ESPN.com
This article originally appeared on