Utah Jazz at Charlotte Hornets: Keys to the Game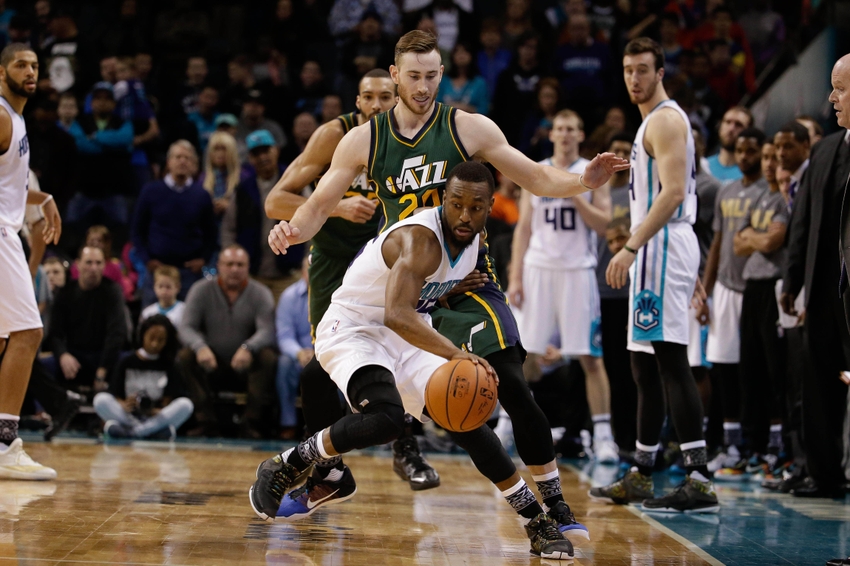 The Utah Jazz will have to be at the top of their game if they hope to come away with a win over the Charlotte Hornets, the toughest team they've faced yet on this five-game road trip.
The Utah Jazz have gotten off to a tremendous start in their five-game road trip, winning contests against the New York Knicks and Philadelphia 76ers in back-to-back bouts. However, maintaining a perfect record on the trip is about to get much more difficult as the Jazz will take on the Charlotte Hornets on Wednesday night.
The Hornets have gotten off to a somewhat surprisingly hot start, beginning the year at a franchise best 5-1. While it is yet early, they are currently the second best team in the Eastern Conference, just a half game back from the Cleveland Cavaliers for first place.
Nevertheless, it may be a little early to assume that the Hornets are truly as good or that they will finish as high as their current record indicates. They have yet to play any true elite teams this year, with their victories coming over the Bucks, Heat, Nets, Sixers and Pacers and their lone loss coming to a Boston Celtics team that despite being projected as a top Eastern Conference team has underperformed so far this year.
And while the Jazz themselves certainly don't have the track record to consider themselves an elite team, they are hoping to prove such to be the case this year. Thus, the Hornets may find themselves in arguably their toughest match-up of the season so far.
The Jazz lost in double overtime to the Hornets last season in Charlotte, but ran away with the victory in Salt Lake City. Utah is clearly improved from last year, but this still figures to be an extremely difficult task for them in their third game of a long road trip.
However, it also stands as an incredible opportunity. As I mentioned, this is the year that Utah hopes to turn the corner towards becoming an elite team and true elite teams win tough road games like this one that the Jazz will face on Wednesday night.
The win in San Antonio could definitely be classified as a statement win, particularly given the struggles Utah has had on the Spurs' home court in recent years. However, the Jazz have also struggled mightily in winnable games on the road in general such as the one they'll face against Charlotte.
It might be a bit much to consider it a statement game, but a win over a rising 5-1 Hornets team would still be huge for the Jazz and an eye-opener for the rest of the league. If they are to do so, these are some crucial aspects of the game in which Utah will have to dominate.
Key Match-up – George Hill/Shelvin Mack and Kemba Walker
This point guard match-up may very well determine the outcome of the game and it's disappointing that so much rests on the question of whether George Hill will be active for the night's contest or if he'll still be ailing from his recently sustained thumb sprain.
Hill sat out Monday's contest against the Sixers and it was unclear whether or not it was simply for precautionary measures or if he is truly expected to miss extended time. His status for Wednesday night remains questionable, but Utah will certainly miss his floor leadership, consistent scoring and lockdown defense that will be crucial to slowing Kemba Walker.
And speaking of Walker, he has been absolutely phenomenal for Charlotte so far this year and has almost single-handedly been the driving force that has pushed the Hornets to their incredible start. He leads the team in scoring at 24.3 points per game while also posting 5.5 assists and knocking in threes at a spectacular 48.7 percent clip.
I've always viewed Walker as underrated at his position and Utah will most certainly have their hands full trying to contain him as he has been red hot so far this season.
And the chances of slowing him down become all the more unlikely if Shelvin Mack, who started for the Jazz in the contest against the Sixers, is matched up against him in place of the injured Hill. There's almost no hope that Mack would be able to outscore Walker, so the Jazz would have to rely on Shelvin to have essentially the defensive game of his life to win this player match-up.
While it's not outside the realm of possibilities that the Jazz win without Hill, it certainly dampens their chances. As we draw nearer to game time, hopefully the announcement will be made that G-Hill is ready to go and prepared to challenge Kemba throughout the night.
Key Stat – Three-Point Percentage
Despite how well Walker has performed from behind the three-point line, the Hornets as a team currently are posting a middling 33.5 percent average from deep. The Jazz as a team, meanwhile, are converting on 40.2 percent of their threes.
This will almost certainly be a determining factor in the outcome of the game. Of course containing the Hornets' three-point game begins with slowing Kemba Walker, but outside of him there are several other deep-ball shooters that could come alive at any time if the Jazz get at all lackadaisical on defense.
Nic Batum, Marvin Williams and Marco Belinelli are all capable of lighting it up from beyond the arc and Utah will need to have answers to each of them in both their perimeter defense and in their own three-point shooting.
In the Hornet's lone loss to the Celtics, they posted a season-low 28.1 percent (9-of-32) three-point percentage. If Utah is going to add a second game to the Hornets' loss column, they'll likely need to post a defensive effort that brings about a similar result.
Key Performer – Rodney Hood
I have a feeling that this is going to need to be a big game for Jazz shooting guard Rodney Hood. He's been solid in nearly every game this season, but if Utah is going to find a way to win the aforementioned three-point battle and take it to the Hornets, Hood is going to be a critical piece.
Like Walker and the Hornets, Hood has gotten off to an extremely hot start as he is currently converting on 47.6 percent of his three-point attempts and averaging nearly 18 points per game.
In last year's double overtime loss to the Hornets, Hood struggled to find his shot, but he bounced back in the team's second bout as he logged 24 points on 50 percent shooting from the field in the win, so he should be going in to this contest with confidence.
Also, Hornets defensive specialist Michael Kidd-Gilchrist left midway through the Hornets game against the Pacers on Monday due to back spasms and is currently listed as day-to-day. If he is unable to play, it's likely that Charlotte's other solid defender, shooting guard Nic Batum, will be tasked with checking Gordon Hayward.
Beyond Kidd-Gilchrist and Batum, however, the Hornets don't boast much defensive depth at the two or three-spot, which could further aid in Hood putting up a big night.
Prediction – Jazz 89, Hornets 86
I'm going to go out on a limb and stick with my same prediction from earlier in the week. Both head coach Steve Clifford of the Hornets and Quin Snyder of the Jazz are defensive-minded and I expect this game could be a real grind-it-out type of affair, but that the Jazz will come out on top by a narrow and low-scoring 89-86 margin.
However, this prediction comes assuming that George Hill will be active and ready to play normal minutes as a starter. It may seem a little extreme to completely pin a win or loss on the activity of one player, but Kemba Walker has truly been too good. Without Hill, I just don't see the Jazz able to throw enough at him with only the likes of Mack, Exum and Neto to slow him down.
More from Purple and Blues
So while a contest between Utah and Charlotte isn't normally considered must-see TV by the casual NBA fan, this game could truly be a battle between two teams that are looking to rise up the ranks and prove themselves as legit forces in their respective conferences.
While the Hornets look to close the distance between their record and Cleveland's, the Jazz will be attempting to get the "road loss" monkey off their back with a potentially borderline statement win over a tough Charlotte team on the road.
Utah needs to win just one of their next three games to come away from their road trip with a winning record, but if they can do so early with a win over Charlotte, who is arguably the best team they'll face on the trip, it will provide an enormous boost for the team moving forward as they continue their tough five-game road slate.
All stats courtesy of NBA.com
This article originally appeared on