Utah Jazz at Atlanta Hawks: Keys to the Game
Jared Woodcox/FanSided via Purple and Blues

Fansided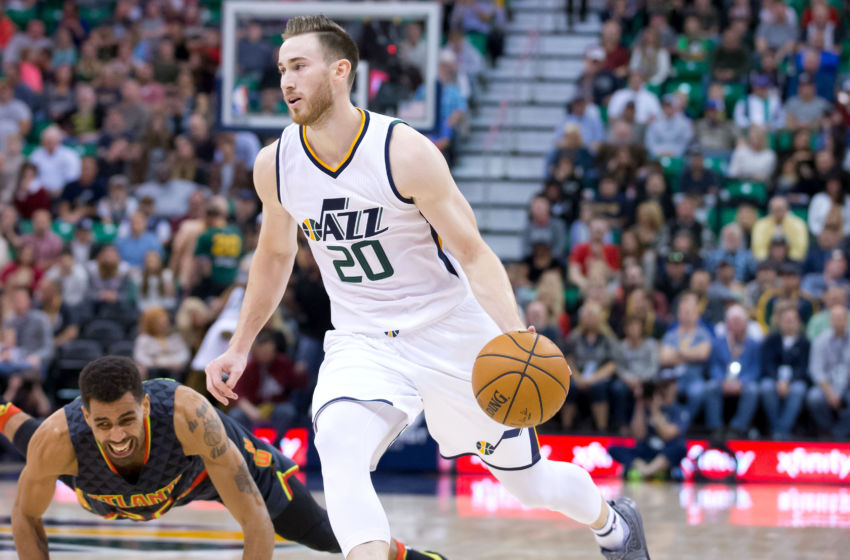 The Utah Jazz will look to get their three-game road trip started out on a high note as they take on the Atlanta Hawks tonight.
The last time the Utah Jazz and Atlanta Hawks faced off, the home team Jazz came away with a commanding 95-68 win. Utah looked simply unstoppable on both ends of the floor as they held Atlanta under 20 points in two quarters (11 in the 2nd and 14 in the 3rd) while shooting a solid 43.8 percent from the field and dominating on the boards by a margin of 55-40.
At the time it was a big bounce-back game for the Jazz who had recently lost four of five. Both teams have now settled somewhat and while the Jazz are currently in sole possession of fourth place in the West, the Hawks are working to move their way into fourth place in their own conference as they trail the Toronto Raptors by just half a game.
So this will most definitely be a clash between two teams with a lot to play for and you can bet that the Hawks will be looking to avenge the embarrassing loss they suffered at the hands of Utah earlier in the season.
Still, they're just 6-4 over their last 10 and while All-Star Paul Millsap is a consistently solid player, Dennis Schroder is improving rapidly and Dwight Howard is a constant threat, some of Atlanta's role players have failed to mesh well and the Hawks have struggled to string together many games where they play well for all 48 minutes.
Therefore, the Jazz with their superior depth should be quite capable of taking advantage of a solid, but less than foreboding Hawks team. As long as they play even half as well as they did in the previous contest against Atlanta, Utah will very likely come out on top.
Key Match-up – Joe Johnson and Paul Millsap
OK, I know that there might be some raised eyebrows on this one, but in honor of one of my recent pieces detailing how Joe Johnson could very well be Utah's answer at the power forward position, I've decided to slot him in this spot against Atlanta All-Star Paul Millsap.
While at some point it may end up being the most logical course of action, there's no indication that Joe Johnson will be the starter at power forward tonight. However, his phenomenal play at the position against Charlotte could very well prove that such should be the case. In the final period of play in Utah's latest win, Johnson logged all of his time at the power forward position and was phenomenal.
Of course he'll be in for a tougher challenge against Paul Millsap instead of Charlotte's Marvin Williams, but it could also be a great test to see how capable Johnson truly is of manning the four-spot by putting him up against one of the league's greats at the position. Millsap is indeed an undersized power forward, but is also very capable on both ends.
Nevertheless, if Johnson can replicate his stunning 18-point performance from the game against Charlotte while using his deceiving strength and expert basketball IQ to slow Millsap defensively, this could very well be a match-up that's won by the Jazz.
Formerly, the Derrick Favors and Paul Millsap match-up would have been the one to watch and honestly I'm hoping that at any time now, Favors busts out of his slump and becomes that exhilarating competitor that all Jazz fans are craving to see.
While perhaps that will happen tonight, it's been long overdue, so I believe it's much more likely that Johnson will again find himself on the floor during the game's crucial waning moments where he'll more than likely be tasked with propelling the Jazz to victory by playing flawlessly at the stretch-four position.
If he does so, it will give Utah an enormous advantage and likely lead to a regular season sweep of the Atlanta Hawks.
Key Stat – Rebounds
As I mentioned earlier and as you can see from the sad face of Paul Millsap above, the Jazz were absolutely dominant on the boards last time they played the Hawks, winning the battle 55-40. That was an impressive feat, especially considering that Atlanta ranks 10th in the league in rebounding at 44.2 per game and boasts two prolific rebounders in Millsap and Howard who average 8.0 and 13.0 rebounds per game, respectively.
So it will be tough for Utah to match their effort on the boards from the last time these two teams met where they pulled down 15 more rebounds than Atlanta, but they'll need to come close to that if they hope to win.
Yet while Atlanta is considered a top-rebounding team, the Jazz actually lead them quite significantly in rebounding differential as Utah grabs an average of 2.1 more rebounds than their opponent per game while the Hawks outrebound opponents by just 0.4 boards per game.
Therefore, while the +15 differential might be a tough order to recreate, based on Utah's performances all season, they should very well win the battle of the boards again tonight. And if they are able to do so, they'll likely control the game just like last time and come away with yet another solid win over the Hawks.
Key Performer – George Hill
I pinned George Hill as the key performer the last time these two teams met and he most certainly did not disappoint. Not only was he Utah's second leading scorer (Gordon Hayward logged one more point) with 23 points on 8-of-14 shooting and five made threes, but he also forced Hawks point guard Dennis Schroder into a horribly inefficient night.
Schroder went just 6-of-19 from the field and 2-of-7 from deep while logging just two assists and posting a plus-minus of -20.
And while I typically like to switch up who I think the key performer will be, the fact of the matter is that for all that Schroder does well, this is simply a match-up that greatly favors George Hill. Hill's size and length make him absolutely too much for Schroder to handle on both ends of the court, especially given that Dennis isn't known as an overpowering defender by any means.
And although George Hill had some struggles last month, he looked much more like his old self in Utah's latest win over Charlotte as he finished with 25 points on 8-of-11 shooting with five made threes.
Hopefully that's a sign that he's over his cold streak and that he will be able to garner even more confidence tonight in a very favorable match-up against Atlanta.
Prediction – Jazz 96, Hawks 91
Although the Jazz won in blowout fashion against the Hawks earlier in the season, I don't quite expect a repeat of that performance. Atlanta was in the middle of a tough five-game road trip and was in a bit of a slump at the time but they've definitely turned things around since then.
Plus Atlanta has a lot to play for as a top-4 seed in the East is well within reach and they'll have the advantage of playing on their home court in tonight's contest.
But in all honesty, the Hawks aren't that much better of a team at home as they're just 15-10 inside Philips Arena as compared to 15-11 on the road. So while I certainly expect a closer contest than last time, just as I predicted in this morning's week outlook piece, I still expect Utah to come away with a 96-91 win over Atlanta.
More from Purple and Blues
Utah's last extended road trip was far from kind to them and while this one is just a three-game stint rather than five, they will need to get off to a good start tonight by beating Atlanta who boasts the best record of the three teams they'll play on the road.
And considering how well the Jazz played against them the last time around and the many favorable match-ups that they enjoy across Atlanta's roster, I fully expect them to be able to do just that.
All stats courtesy of NBA.com
This article originally appeared on