Upcoming Atlanta and Miami Games Decide Taj Gibson Possible Trade Value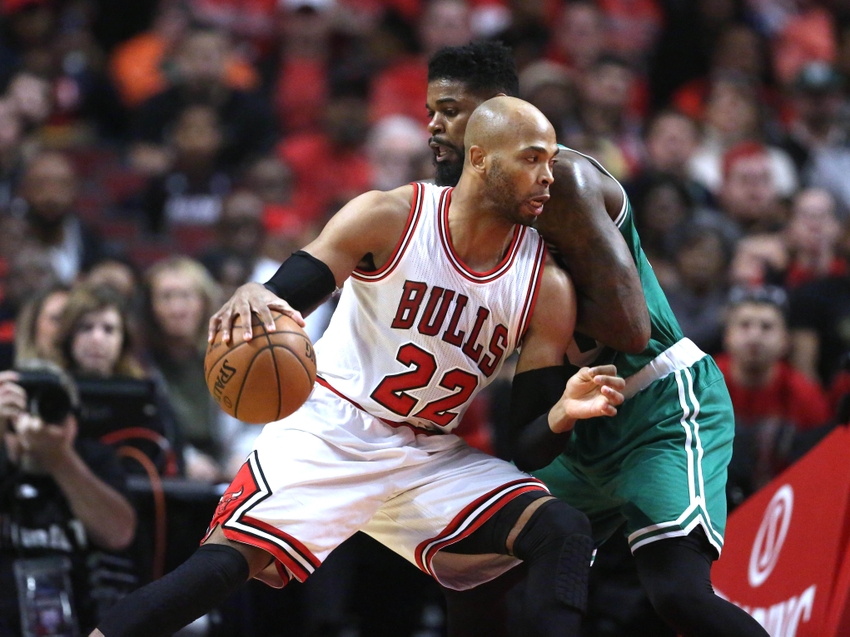 Taj Gibson has dominated against weaker NBA teams that do not clog the lane or swarm him. Upcoming games against Atlanta with Dwight Howard and Paul Millsap, and Miami with Hassan Whiteside may decide if the Bulls can keep him or play Cristiano Felicio and Bobby Portis more moving forward.
Against the Boston Celtics, Brad Stevens had his bigs swarm Taj Gibson and force him to lose the ball when he posted up; part of the several errors that turned into a big lead for Boston last Wednesday night.
Against the New York Knicks, Gibson wasn't able to stop Derrick Rose exploding to the hoop. Last Saturday against Indiana, the Bulls bogged down into iso-ball and we all know Gibson doesn't pass the ball when it goes inside to him.
Gibson can't really run up and down for 82 games and we know that the moment he gets fatigued, he is going to get hurt. In that case, Fred Hoiberg gets to play Cristiano Felicio and Bobby Portis again, and remember that they actually played superb in the post-February Bulls run last year, as well as winning the Las Vegas Summer League this year.
The true test of Taj Gibson as a future Bulls roster member may rest in games against the strongest post players in the league.
This week, the Bulls will have another back-to-back set with the Atlanta Hawks and Dwight Howard and Paul Millsap anchoring the front court, along with a game in Miami on Thursday against max contract star Hassan Whiteside.
Howard has been almost unstoppable for the 4-2 Hawks and will be an intimidating presence in the paint, not to mention Millsap and the constantly rim-attacking Dennis Schroder, who is their lead guard. The Hawks have held opponents to 96.8 points per game, which is sixth overall in the NBA. If Atlanta clogs the paint on defense, Gibson must prove that his mid-range game works against a top East team to force the rim defenders to come out.
Against Miami, Gibson must also bring his A-game on offense to force Hassan Whiteside to help out and open the lane for Jimmy Butler and Dwyane Wade to drive against his former team. The Bulls might have an easier time against the Heat, even if they have held their opponents to 98 points per game, which is ninth in the NBA. The Heat have a 2-4 record so far and are already regretting letting go of Wade.
If Gibson gets his stats and outplays both Howard and Whiteside in the paint, that raises his trade value for the Bulls immensely, or it may force Gar Forman to rethink about keeping him instead. But given the circumstances, it looks like the Bulls should start playing Felicio and Portis sooner and develop them as roster players staggered at the power forward position.
Gibsonj has an extremely strong off-ball game as shown in the video above. But, when posting up against heftier bigs and swarmed or if forced to put the ball on the floor, Gibson tends to turn the ball over. I hope he plays well and the Bench Mob plays well too to spell him minutes so he doesn't get used up as the year ends.
If Gibson struggles early, expect more Bulls losses in a tough back-to-back schedule against two of the strongest centers in the NBA today.
More from Pippen Ain't Easy
This article originally appeared on