Unfollow The Official Oklahoma City Thunder Twitter Account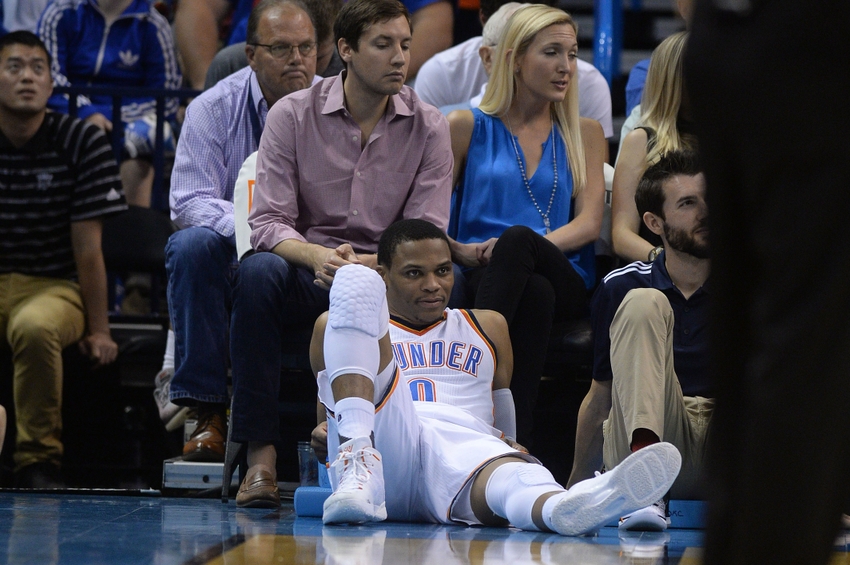 Twitter is the best place in the world. It's also a pretty terrible place, but that's why they invented the block and mute button. So, when used correctly, Twitter is the best place in the world.
Twitter is like a giant chat room. Remember AOL Chat Rooms? Those were a great place to make new online friends who shared the same interests as you. Now, that's Twitter. Just search for terms or topics that interest you, see who's tweeting about it, and get to chatting with them.
Sports Twitter is the best Twitter. With all of the GIFS and videos and real-time interactions, you never feel like you're missing the game, even if you're missing the game. Writers really get a chance to show their personality on Twitter because they aren't shackled by any publication restraints.
Oklahoma City Thunder Twitter is the worst Twitter. Not the fans. I follow a lot of Thunder fans, a lot of Thunder fans follow me. I enjoy interacting with everyone. I can honestly say that I haven't come across a dumb Thunder fan who truly upsets and angers me with how stupid they are. Thunder fans are the best. The official Oklahoma City Thunder Twitter is the worst.
If you're a Thunder fan, you probably follow the official account. Why wouldn't you? It's the official Twitter account of your favorite basketball team. They provide official statements, videos, news, stats, behind the scenes looks, etc… of the Thunder.
Unfortunately, that's about all they do. And they don't even do that very well.
The Thunder Twitter account is bland. On a team that has Russell Westbrook, the most charismatic and entertaining basketball player in the league today, Thunder Twitter decides to model itself after Kyle Singler.
During the game, the account will tweet out stats and updates that are five minutes behind and videos of plays that you don't care to see or you already saw a half hour ago when someone else tweeted it. After the game, there are no post-game quotes or interviews, just more favorable stats for the Thunder. You would think that OKC has never lost a game based on the tweets of their official account.
When something bad happens to OKC or the other team just does something amazing, there's no joking or self-deprecation. Just more stats that make you believe OKC is up by 20.
Where is the fun? The excitement? The personality?
More from Thunderous Intentions
Check out the Portland Trail Blazers or the Atlanta Hawks twitter accounts. Those two accounts are engaging and funny. They know that Twitter is a place to have fun, to interact with fans, and to be a fan themselves. They have to toe a team line, but they prove that it's possible to say good things about the team you're tweeting for without ignoring any negativity that is just the reality of sports.
I'm sure that the official Thunder account is bland by design. I have a hard time believing that the guy behind the account is Mark Brendanawicz, although that would certainly explain where he went after he left Pawnee. It doesn't have to be this way, though. Twitter is meant to be fun and engaging. Sports are meant to be exciting and frustrating. Again, this is why sports Twitter is the best.
I could possibly forgive Thunder Twitter for being so generic if they did giveaways. You're not gonna provide me with any insightful or memorable tweets? Fine, at least give me a chance to win a signed Steven Adams jersey. BUT THEY DON'T DO THAT EITHER! This would be a great way to interact with your loyal fans, prove you have a pulse, and reward them for still following you despite your inept tweeting ability. Instead, nothing. It's like the account wants you to unfollow it.
Want your voice heard? Join the Thunderous Intentions team!
And that's exactly what you should do. Unfollow the official Oklahoma City Thunder Twitter account and follow the Thunderous Intentions Twitter account. We give away free words every single game, have an opinion on games, and interact with our fellow fans. You could always follow me on Twitter as well, but you'd probably just unfollow me when the wrestling tweets pour in.
This article originally appeared on