Two Good Reasons for Optimism for the Indiana Pacers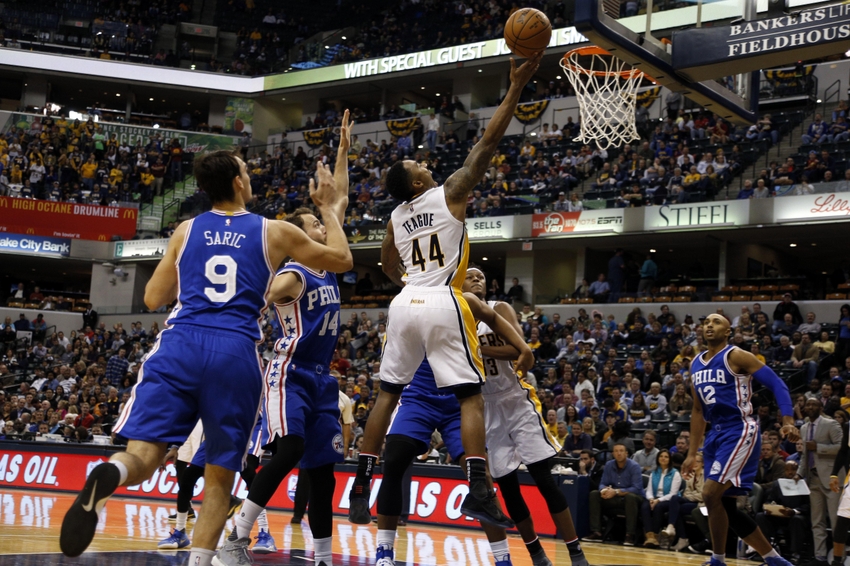 Things haven't gone the way the Indiana Pacers expected them to after one of their most active offseasons in years, but there is still reasons for optimism.
The Indiana Pacers have started off the year with just 5 wins in their first 11 games after their ballyhooed offseason. Worse still, 4 of their losses have been by 9+ points.
To Pacers fans used to rooting for Eastern Conference finalists, all hope seems lost. It's still early, though.
A few of us here at 8 Points, 9 Seconds have taken a look at reasons for optimism.
Jeff Teague can't be this bad, right? 
Even after his recent standout performance against the Sixers (30 points, 9 assists, 10-16 shooting), Jeff Teague's number for the season are… underwhelming. Teague's numbers, thus far:
PPG: 14.2
APG: 6.4
SPG: 1.7
So far, so good! Seemingly pretty in line with his career numbers, not a banner year, but solid enough. The problem for Teague's season so far lies in his efficiency numbers. Dig a little beyond the box score numbers, and you see the ugly underbelly of his season:
2P%: 42.5 (Career: 47.5%)
3P%: 24.3 (Career: 35.1%)
TS%: 48.8 (Career: 54.3%)
PER: 14.5 (Career: 17.0)
Every one of these numbers is significantly below Teague's career numbers. If fact, each of these numbers are either the worst of Jeff Teague's career, or the worst since his rookie season. He does have some mileage — entering his 8th year, at 28 years old — but he should be at or very near his prime. That is why these numbers can be viewed in a hopeful light.
Teague has not been good this season, and has been pretty atrocious by his standards. At 28 years old, he shouldn't be in steep decline physically. While expecting All-Star Jeff Teague is probably unlikely, he should be able to get back around his career average.
If he can get back to his career averages (and back to his general standard of defense, at least), the Indiana Pacers should be a better squad. With the Pacers last 2 losses coming by a combined 10 points, including one in OT, Teague being a bit better could have a big impact on this Pacers team. — Will Furr
Rebuilds Take Time, Even If You Have LeBron James…
And, in case you missed it the Indiana Pacers don't have Lebron James.
When LeBron and Chris Bosh joined Dwyane Wade and the Miami Heat in 2010, they started slowly, going 9-8 in their first 17 games. Then in 2014, LeBron and Kevin Love joined Kyrie Irving and the Cleveland Cavaliers. The started out 5-7 before going on a 8 game winning streak that propelled them to a successful season and an NBA finals appearance. In both cases, it took time for the teams to gel and live up to their very high potential and expectations.
More from 8 Points, 9 Seconds
There is no reason to expect the 2016 Indiana Pacers to be different. The Pacers turned over 40% of their 10 man rotation this offseason (not to mention adding a new coach and undergoing a drastic stylistic change) by adding Jeff Teague, Thaddeus Young, Al Jefferson, and Aaron Brooks. When you factor in the dramatic increase in Myles Turner's role, it's difficult to see them as anything similar to last year's team.
This change is highlighted by looking at some lineup stats. The Pacers' top returning 3 man group from last year is Myles Turner, Paul George, and Monta Ellis. They have played 872 minutes together over the course of their careers. Let's contrast that with groups from some of the more successful early season teams. In Golden State, Curry, Thompson, and Green played 1970 minutes together, just last season. In LA, Reddick, Paul, and Jordan logged 1852 minutes.That's over twice as many minutes, and that was just last season. Both of those units have been together for multiple seasons.
When you look at the relative newness of this team and account for the fact that far more talented, championship-level teams have struggled with unfamiliarity in the same way, it provides a little bit of room for optimism. — Jeremy Comstock
This article originally appeared on