Trail Blazers: What We Learned From the Opening Week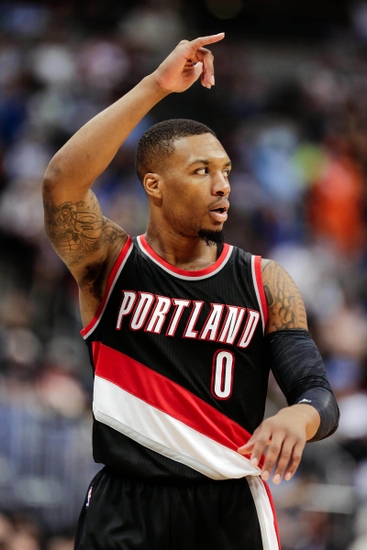 Trail Blazers Have a Successful Opening Week
The first week of the Trail Blazers' 2016 NBA season is in the books! Portland fans received a good mix of what to expect this season with the team's first three games. You have a grind out, full team effort victory against Utah to start, a gritty but disappointing loss against the Clippers, then Damian Lillard magic to end it in Denver. It's a good representation of every emotion we'll feel during the NBA season.
The Blazers grinded to a 2-1 week with their share of ups and downs. Here are three things we learned.
Damian Lillard Looks Better Than Ever
I'm sure every Blazer fan waited anxiously for Lillard to announce that he was going to the Olympics. After the disappointment of missing the national team, we wanted our star to illustrate his talents on the international stage. To our disappointment, Lillard passed up the opportunity, but he looks better than ever because of it. 
More from Rip City Project
Dating back to a Plantar Fasciitis injury Lillard suffered back in December of 2015, Lillard admitted that the constant stress on his foot couldn't allow him to fully recover from his injury (Which is insane when you think about how good he was at the end of the season). Using the summer to rest, Lillard is now 100% healthy. So far, the only word to describe him is "wow".
Starting against Utah, he looked like the fastest player on the floor. He blew by defenders numerous times, got to the rim and finished tough shots around the basket. Then he ended the week with his two clutch plays against Denver that utilized his quickness to perfection. On both the ally-oop and the blow-by floater, Lillard created so much separation from his defender that both shots were open for him to, you know, do Lillard things.  
Evan Turner is Still Learning
There have been some flashes of good play by Evan Turner, but overall he's only played like a solid role player. Whether it's a nice pull up jump shot, or some nice defensive stops, Turner has shown flashes of good play, but nothing to write home about. Despite only having the three game window, that large summer contract starts to creep into the back of your mind.
So far, Allen Crabbe has been the sixth man off the bench for coach Terry Stotts. His lock down defense and built in chemistry has propelled him to a great start to the season. This was a storyline to watch, and although Crabbe has the minutes right now, it will be interesting to see how Terry Stotts utilizes both players as the season progresses. 
More from Rip City Project
Now the biggest difference between the two players is that Turner needs the ball in his hands in order to be effective on offense. Turner's move is dribbling to the key for his mid range jump shot, which is a new ingredient for Portland that will take some getting used to.
Any new player has a learning curve to deal with, and Turner's style of basketball just makes it more noticeable on this Portland team. However, after watching teams deny our guards game after game last season, another playmaker with the ability to find his own shot could be valuable against good defensive teams. We'll just have to see.
Blazers Might Have Their Own "Death Lineup"
Everyone is excited to see the Golden State Warriors play their five All Stars in their so called "Death Lineup." However, if you looked closely at this last Denver game, Portland may have their own version.
Late into the fourth quarter, Stotts replaced Mason Plumlee with Crabbe, leaving Lillard, C. J. McCollum, Crabbe, Maurice Harkless and Al-Farouq Aminu on the floor. That gave the Blazers two things: First, five players that can hit the three, which caused the defense to stretch. And second, five quick players that can disrupt the defense by trapping.
This second aspect is key, because Portland's defense was instrumental in stealing this game. They closed the game on a 9-0 run because Crabbe and Aminu were so disruptive to the young Nugget guards. They forced turnovers and bad shots to close the game, leaving the door open for Lillard to work his magic. This new trap defense is exciting for Portland, as it illustrate our team's growth on that end of the floor and has the potential to give teams a lot of headaches.
I expect and hope to see this lineup to combat Golden State on Tuesday, in what will be one of the NBA's best chess matches to start the season.
This article originally appeared on