Trail Blazers vs Lakers: Three Things to Watch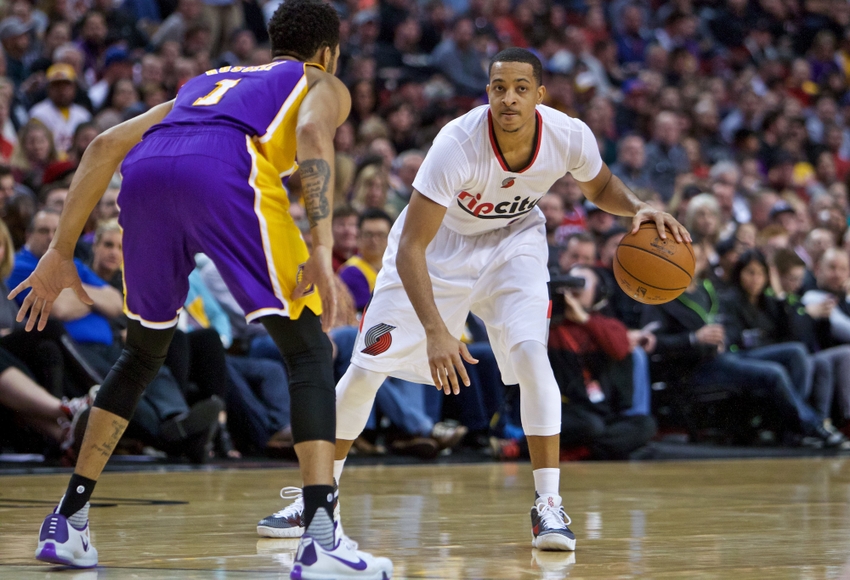 What are the biggest things to watch for tonight as the Trail Blazers head to Los Angeles to face the Lakers?
The Trail Blazers will be looking to remain undefeated when they visit the Lakers in Los Angeles tonight. The Lakers might be an easy target in the regular season, but they haven't been a pushover so far in the preseason. The Kobe-less Lakers have come away victorious in two of their three exhibition outings, and D'Angelo Russell looks like he is finally ready to prove to everyone why he was a top draft choice in 2015.
Want your voice heard? Join the Rip City Project team!
Terry Stotts' squad hasn't looked bad themselves, as they've pulled out two solid home wins to start the preseason. It is obvious that this is the deepest team in recent memory for Portland, and it is about to get deeper. Meyers Leonard is the latest player set to return to action for the Trail Blazers, so he could be the next member of the team to announce his return in a dramatic fashion.
We would now like to jump into three major storylines that could unfold during tonight's contest. We may have already mentioned a few themes, but we will go into further detail in the coming slides.
Who will be the next big performer?
The Trail Blazers are only two games into the preseason schedule and they've already had two unlikely players have stellar performances. Shabazz Napier has been everyone's darling this October. His effective eleven point performance on four of six shooting against the Jazz already has people applauding Neil Olshey (GM) for robbing the Magic once again. Noah Vonleh joined the party with his heroic fourth quarter against the Suns in Portland's second game.
Will the third game bring about a third unlikely hero? Meyers Leonard has made positive impressions on nearly everyone who has been present at the Trail Blazers' training facility this month, so tonight will be the first opportunity for him to transfer those good-vibes to the court. It is unclear how much work he will get in his first game back. If Leonard's shot is clicking, he could rack up a fair amount of points in a small amount of time.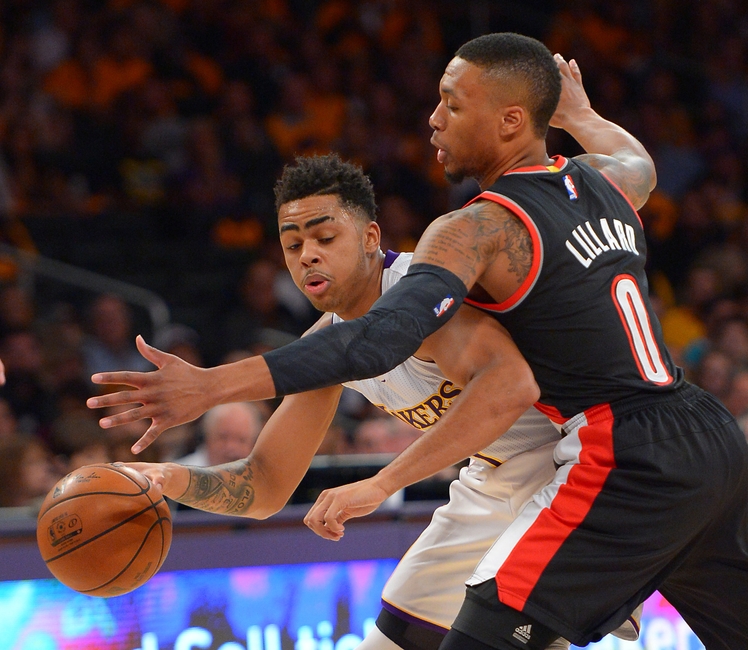 Can the backcourt avoid getting torched in consecutive games?
Devin Booker went absolutely bonkers against a shaky Trail Blazers defense last Friday. The Suns' youngster put up 34 points in 30 minutes of play, which only proved that Portland's perimeter play on the defensive end is still a work in progress. Unfortunately for Damian Lillard and C.J. McCollum, they will face another tough test in the D'Angelo Russell tonight.
More from Rip City Project
Russell is coming off of an impressive thirty-plus point performance of his own. The former Buckeye has shot over 50% from beyond the arc in his last two games, so slowing him down will be a tall order for the Trail Blazers' backcourt. Expect Stotts to use a combination of his skilled defensive players against Russell throughout the game. Allen Crabbe spent a considerable amount of time on Booker the other night, so a shot at redemption should immediately present itself.
Russell won't be the only threat lurking on the perimeter though, as Brandon Ingram (2nd pick in the 2016 NBA Draft) will be looking to make an impact. Ingram's size (6'9″) should put Portland's ability to effectively cross-match to the test.
Turner's turn to start?
The Trail Blazers have played two games so far in the preseason and they have used a different starting small forward in each game. Allen Crabbe had a decent performance as a starter against the Suns, but he didn't exactly separate himself from the pack. Maurice Harkless seems to be the favorite after two games, as he played more effectively in the starting lineup in Portland's first game against the Jazz.
It could be Evan Turner's time to audition for the starting role tonight against the Lakers. He is only two preseason games into his tenure with the Trail Blazers, but he has already shown that he is a quick study. His lack of shooting range is obvious, but it could be neutralized when playing next to Damian Lillard and C.J. McCollum. Inserting Turner into the starting lineup will be a quick way to find out how effective he can be when he is placed next to two elite floor-spacers.
Placing Turner in the starting small forward spot will also impact how Stotts manages his bench rotation. Shabazz Napier will likely get another long look as the primary ball-handler for the reserves if Turner gets the start.
This article originally appeared on