Trail Blazers vs Clippers: Three Things to Watch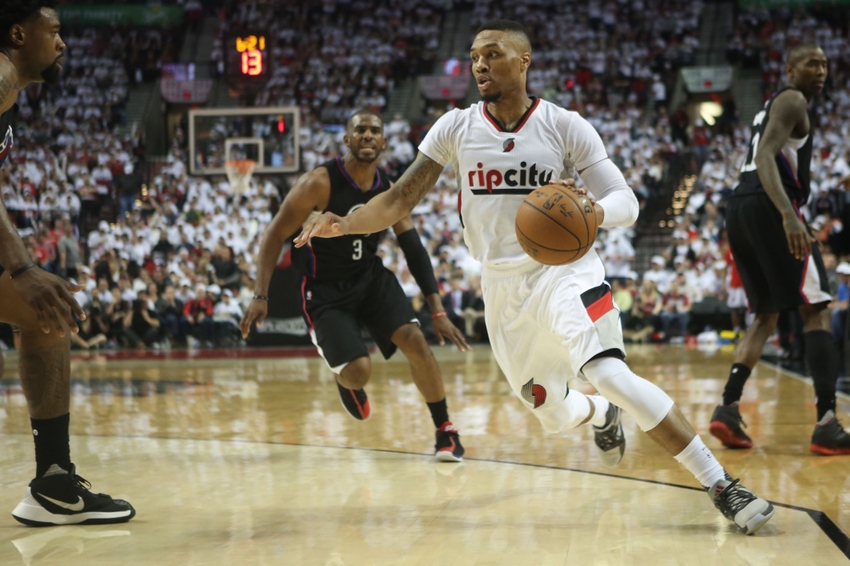 What are the biggest things to watch for tonight as the Trail Blazers play their second consecutive game in Los Angeles against the Clippers.
The Trail Blazers will look to continue their winning ways against a familiar opponent tonight in the Clippers. Terry Stotts' squad has opened their exhibition play with three consecutive wins, and there will be no love lost if they can make it four against their budding rival. Even though this is only a preseason game, these two teams and fanbases are beginning to circle these games on their calendars.
The last time these teams met was in the first round of last year's playoffs, but the lineups will be considerably different tonight. Both teams missed out on their primary target in free agency, which led to some not-so-flashy signings as the negotiation period moved on. With those signings comes uncertainty about potential roles, so both squads will have plenty on the line in tonight's contest.
We would now like to take a more thorough look at three major storylines that are likely to emerge as the game unfolds.
Small Forward Auditions
Both the Trail Blazers and Clippers have uncertainty at their small forward position, which could make tonight's competition fairly heated for a preseason scuffle. Players on each side will need to have good showings to advance their case of being starting material.
Maurice Harkless, Allen Crabbe, and Evan Turner have each had their turn in the starting lineup for the Trail Blazers. Nobody has ran away with the competition, but Harkless is starting to make a strong case for himself. His size is hard to replicate and he has been shooting the ball more effectively than both Crabbe and Turner. He managed to put up 14 points in his last game while coming off of the bench.
Turner has played adequately, especially when you consider he is the only newcomer of the three. The Clippers stifling defense in the postseason last year was likely a major factor in his signing, so it will be interesting to see what he brings to the table.
The picture is beginning to clear up for Terry Stotts, and it looks like Crabbe might be headed for a reserve role once again. That can all change though, a solid performance against a playoff caliber Los Angeles team will put the former Cal wing right back in the mix.
Can C.J. McCollum Get On Track?
To be clear – this isn't the time to panic about C.J. McCollum's performances so far in the preseason. Wanting to see more out of the dynamic guard is likely the result of heightened expectations after Damian Lillard's stellar performance against the Lakers.
Expectations aside, the first three games haven't been pretty for McCollum. He has only shot above 35% from the field in one game (against the Jazz), and he bottomed out against the Lakers by shooting a paltry 2-13. He has shown off his ability to bounce back quickly at several different points in the 2015-16 season, so tonight could be one of those nights.
A ridiculous scoring outburst is a lot to ask for, but a shooting percentage above forty should be a realistic goal for tonight's game against the Clippers. Doc Rivers seems to always roll out an extremely aggressive defensive scheme against Portland's backcourt, which would make this a solid test for McCollum.
Terry Stotts Meets His Coaching Nemesis Once Again
Terry Stotts is one of the most mild-mannered coaches in the entire NBA, but something about Doc Rivers brings out another side in him. It is clear that the two don't get along, and this preseason matchup will renew that rivalry.
While this is only a preseason game – last year's disagreements began before the regular season tipped off. An argument over the Clippers' bench getting too close to the action sent both coaches towards the scorers table in a fervor. That wasn't the first time the two clashed over the course of last year, as a clerical error by the Trail Blazers' staff accidentally scratched C.J. McCollum from the lineup. It was later discovered that Doc Rivers could have agreed to let Portland's guard play anyway, but he instead elected to have McCollum watch Los Angeles march to victory in street clothes.
These two teams and coaches are very familiar with each other, so don't let the preseason label fool you. Both of these teams will want to win, and an outburst of emotion wouldn't be that big of a shock.
This article originally appeared on