Trail Blazers Preview: Point Guard Rotation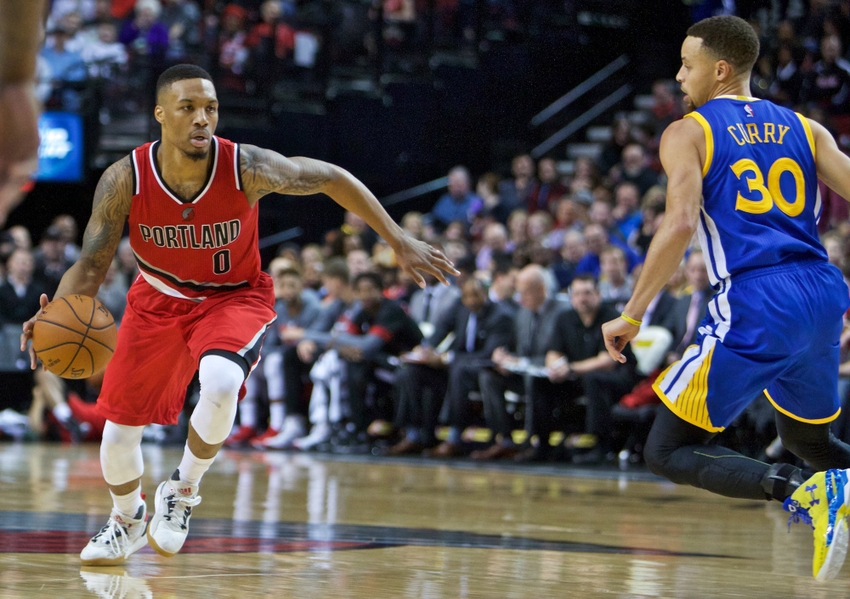 Join Rip City Project as they preview the Trail Blazers' roster position by position. Today's post features the point guard rotation.
The preseason is nearly upon us, so Rip City Project is working through the roster to get fans ready for the upcoming campaign. The Trail Blazers have some new faces and boast one of their deepest rosters in their history. Today's post will revolve around the point guard position. While everyone will recognize Damian Lillard's name at the top, the other names in this group are among the biggest unknowns on the roster.
Ironing out this rotation will be vital for Portland's chances in the postseason. Finding a true back-up point guard should be near the top of Neil Olshey's (Trail Blazers GM) list, as the recent years have demanded a heavy workload out of Lillard.
The players inside this post are labeled as point guards, which will leave out some obvious players with ball handling ability. Evan Turner might serve primarily as the facilitator for the second unit, but you won't find his name included in the coming slides. With that in mind, let's now jump into the point guard rotation for the Trail Blazers.
Damian Lillard
25.1 PPG / 6.8 APG / 4.0 RPG / .419 FG% / .375 3P%
Damian Lillard will be stepping into his second year as the unquestioned leader of the Trail Blazers. The former Weber State guard continues to impress as his career advances. His best season as a pro occurred last year, as he stepped up in a big way after LaMarcus Aldridge's departure. Despite his statistical gains, Lillard's name was omitted from the All-Star Game in Toronto. The 2016-17 campaign will give him another shot to prove his detractors wrong.
Expecting his PPG and APG numbers to increase this coming season might be a stretch, as the Trail Blazers have diversified their talent pool over the summer. C.J. McCollum will likely assume a larger role in the offense from the outset of the season. Outside of McCollum, Turner will likely cut into some of Lillard's ball handling duties. The combination of the two should slightly reduce his scoring and passing numbers.
An increased efficiency should be expected though. With Turner acting as a facilitator, Lillard should be able to find more open looks off of the ball. Cracking the 40% mark from deep might be a bit of a leap, but it is possible. A player that produces at such a high volume is at a disadvantage when it comes to efficiency, but Lillard did come close in his second season (.394 3P%).
Expecting another year of quality performances from Portland's leading man should be a given at this point. There will be increased expectations surrounding this team, but Lillard has proven in the past that he is up for the challenge.
Shabazz Napier
3.7 PPG / 1.8 APG / 1.0 RPG / .338 FG% / .327 3P%
Shabazz Napier will start 2016-17 on his third team since being drafted in the 2014 NBA Draft. Napier was traded to the Trail Blazers for cash considerations after Portland's roster began to take shape. Portland is hopeful that Napier will finally fill the role of reserve point guard behind Damian Lillard.
Napier has gotten off to a fairly rocky start, as his stint with the team in Las Vegas in early July was forgettable. At his best, the former UCONN star is capable of altering the opposing defense's approach. At his worst, Napier is an afterthought that rarely gets time on the court in meaningful situations.
Finding a way to reduce Lillard's court time in the regular season should be a major priority for the Trail Blazers moving forward. Napier's fit seems logical, as he is interchangeable with the majority of Portland's guards. Limiting mistakes, staying healthy, and hitting open shots will be crucial for his hopes of securing a solid role with the team.
Tim Quarterman
11.2 PPG / 3.6 APG / 4.6 RPG / .415 FG% / .343 3P%
*Stats from his final year at LSU
Tim Quarterman enters training camp as a long-shot to make the opening day roster for the Trail Blazers. His size and defensive abilities do make him an intriguing project for the future though. In his three years at LSU, Quarterman has consistently improved his shooting efficiency from beyond the arc. If he hopes to stick with an NBA roster, that is a trend that must continue in the coming preseason.
Quarterman's 6'6″ frame could be the biggest thing working in his favor, as the first two players in this slideshow aren't exactly what you'd call defensive stalwarts. If the 21-year-old shows he has the ability to grow into a difference-maker on defense – we could be looking at Terry Stotts' next development project.
Portland's improved depth will make it a tough road for the undrafted rookie to find a home on the regular season roster, but don't count Quarterman completely out. The Trail Blazers kept two undrafted rookies on their roster last season (Luis Montero, Cliff Alexander), so retaining his services isn't completely out of the question.
This article originally appeared on