Trail Blazers Player Grades: OT Loss to the Suns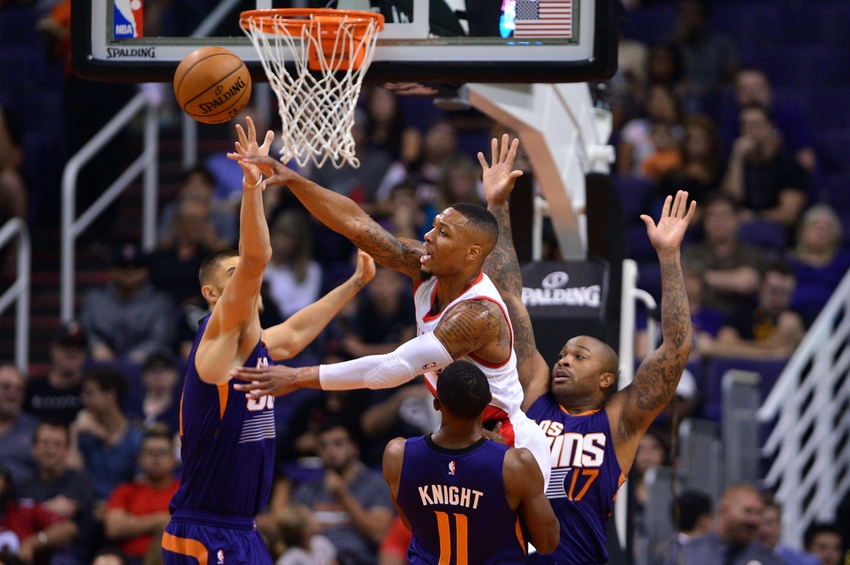 Player grades and analysis from the Trail Blazers hard fought 118-115 loss to the Suns
The Trail Blazers participated in their second overtime contest in three games, but they were unable to come away with the victory against the Suns. Portland's record has now dipped below .500 in this young season (2-3), which will put some early pressure on Terry Stotts' squad. Despite the loss, several players had solid performances yesterday. Let's now take a specific look at some of the contributions from Wednesday night.
Damian
Lillard
PG,
27 PTS / 5 AST / 5 REB
C
Yes Lillard racked up 27 points, but he was never able to establish his outside shot. The Trail Blazers could have broken the 40% threshold from beyond the arc if their star guard could have shot slightly better than his 1-8 mark last night. Eric Bledsoe was inside Lillard's jersey for most of the night, which led to some costly miscues at inopportune times (fumbled exchange with Meyers Leonard late in the game). He will get a favorable matchup against the Mavericks' suspect perimeter defense on Friday, which should help erase last night's subpar performance.
C.J.
McCollum
SG,
24 PTS / 4 AST / 4 REB
C+
McCollum started the game on a terror, but he was unable to sustain that level of production over three quarters. The former Lehigh guard failed to repeat as the overtime hero against the Suns. He was able to create a ton of space on his shots late in the game, but he couldn't connect on those looks.
Maurice
Harkless
SF,
13 PTS / 5 REB / 1 STL
C
Harkless hit on two of his four shots from beyond the arc, which was a welcome addition after struggling through the first four games. He is normally a reliable defender, but T.J. Warren was able to put up 27 points from the small forward position in the Suns' victory.
Al-Farouq
Aminu
PF,
8 PTS / 5 REB / 4 STL
C
Aminu didn't add any fuel to the dumpster fire that has become his shooting percentages, but he didn't erase the doubts surrounding his effectiveness either. On the plus side, he was very disruptive on the defensive end. Getting in the opponent's passing lanes and creating baskets in transition should be his focus until his shot recovers.
Mason
Plumlee
C,
4 PTS / 12 REB / 2 BLK
D
Four points on eleven shots isn't an acceptable rate for a starter, which is why Plumlee received the lowest grade so far. He continues to do a solid job in other parts of his game, but he was unable to get his shot going against a Phoenix team that was giving him a ton of space. Things won't get any easier when he meets Andrew Bogut in Dallas tomorrow.
Meyers
Leonard
PF/C,
12 PTS / 5 REB / 3 AST
B
This was the strongest outing for Portland's bench so far this season. Three reserve players reached double digit points in the defeat. Leonard's night was the most unexpected of the three, as he looked like a solid NBA player in his 27 minutes of work. This type of performance should be expected from him after he received a lucrative contract extension over the summer.
Evan
Turner
G/F,
11 PTS / 10 REB / 3 AST
C+
Turner put up his first double double as a Trail Blazers player last night, but he was unable to limit his turnovers on the offensive end. Ball control should become less of an issue as he becomes more familiar with his teammates. After three shaky games, Turner has been able to string together two solid performances.
More from Rip City Project
This article originally appeared on