Trail Blazers Outlook: Week Three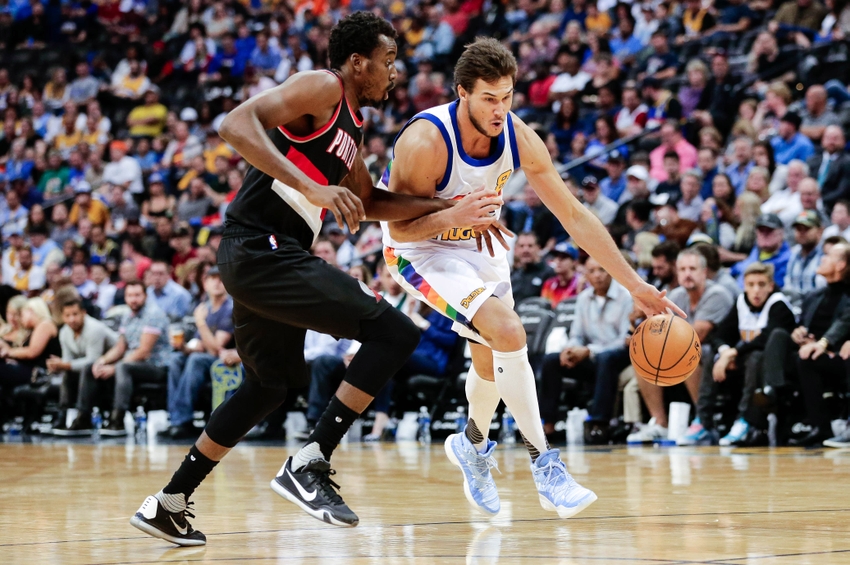 RCP previews this week's slate of games from the Trail Blazers
Week two was a difficult run for the Trail Blazers. A beatdown at the hands of Golden State was followed by a close loss against a young Phoenix.  Those losses put the team on the defensive heading into the weekend. Fortunately, a prolonged losing streak was halted with a road wins against Dallas and Memphis.
Week three presents the Trail Blazers with a chance to cushion their record above .500. Three of their four games take place at the Moda Center. All three of these games are against weaker teams (on paper). Somewhat strangely, Portland has yet to face an Eastern Conference team and will actually be facing three teams for the second time (including both teams they have battled into overtime).
More from Rip City Project
There are already some issues rearing their heads, despite the 4-3 record. Al-Faroq Aminu was vital to last year's success, but he has been underwhelming offensively this season. His points per game dropping from a solid 10.2, to a paltry 7.0 (stats courtesy of basketball-reference.com). Digging a little deeper, his field goal attempts have only dropped from 8.8 to 8.6. To make matters worse, his field goal percentage has dropped off a cliff. Dropping from .416 to .267.
So where are Aminu's woes really coming from? Perhaps it's a combination of the effort required to consistently guard bigger post players. It won't get any easier for Aminu either, as Stotts will continue to ride a smaller lineup that features the scoring of Damian Lillard and C.J. McCollum.
In addition to Aminu's offensive struggles, there is a team-wide issue with defense. These are the early days of the season, but the Trail Blazers have dropped from 20th in defensive rating last season to 22nd so far this year. The Warriors blowout has skewed this average (having played so few games), but there is no denying that the Portland D needs some work.
With these problems in mind, we will now take a look at the games on the schedule for the remainder of the week.
Suns vs Trail Blazers (11/8/16)
After losing an overtime thriller last Wednesday to the Suns, Portland has an early shot at revenge. T.J. Warren must be high on the scouts' radar after dropping 27 points in last week's meeting. Getting Tyson Chandler away from the glass is another key. His ability to crash the boards is a big part of how the 34-year-old still earns an NBA paycheck, but he can't be allowed to dictate the paint in the rematch.
Alex Len also proved to be a handful on both ends of the floor with eighteen points and three blocks. The promising young big man also led the Suns in both offensive and defensive ratings. Oh, and don't forget Devin Booker. A quiet 15 points in the last meeting was followed up by huge games against the Pelicans and Lakers, as Booker became the youngest player in NBA history to record back-to-back games with at least 38 points.
Despite the threats, this should still be a win for the Trail Blazers . In something of a recurring theme this season, the competence of the Portland big men will likely dictate the outcome of the game.
Trail Blazers vs Clippers (11/9/16)
This will be an extremely tough game to win for Portland – the second night of a back-to-back, on the road, against a rival and Western Conference powerhouse. The Clippers share the best record in the West (at the time of this writing), with their only loss coming at the hands of the Russell Westbrook led Thunder. They will also be coming into this game off the back of a day's rest, in latter part of a two game home stand.
Unsurprisingly, the bulk of LA's offensive production in the previous meeting came from Blake Griffin and Chris Paul, with 27 points apiece. For Portland, a good performance from all the starters (with the exception of Aminu – though 8 rebounds is not bad) and Allen Crabbe, was not enough to defend home court. To win this one on the road, a similar performance will be required from everyone.
Don't be surprised if the Trail Blazers head back to the Moda Center on the heels of a loss.
Kings vs Trail Blazers (11/11/16)
With a 3-5 record, the Kings find themselves in 11th place in the Western Conference. They'll come into the Moda Center on the second night of a back-to-back, having taken on a surprisingly feisty Lakers side on Thursday night.
Apply to Rip City Project.
Start your application process by filling out the fields below
Point guard, Darren Collison will return to duty on Tuesday against the Pelicans (having served an eight game suspension). How his return impacts the team will be interesting – in his absence Ty Lawson is averaging a commendable 6.6 assists per game.
There seems to be trouble or issues throughout this Kings roster. Rudy Gay, the team's second-highest scorer, has already been quite vocal this year about wanting be traded. Any success the Kings have will come down to the mercurial DeMarcus Cousins. Easily capable of dominating a game, it just depends which version of Cousins turns up. Last week he dropped 30 points on the Heat, but blew through all six of his personal fouls in the final quarter.
The Trail Blazers' steady ship should be able to surpass the mutiny that is brewing in Sacramento.
Nuggets vs Trail Blazers (11/13/16)
Portland play host to Denver (3-3 currently) to close out the week. The Trail Blazers will look to separate themselves from the Nuggets after barely squeaking by them in the last meeting. Expect Terry Stotts to take advantage of playing at a manageable altitude this time around, which should result in strong performances from the starters.
Defending the Moda Center against this young division rival will be no easy task, as they like to get out and run on offense. According to TeamRankings.com, Denver currently leads the league in game pace (at home) with 119.2 possessions per game. This is way ahead of the rest of the league, by almost 10 possessions per game.
Another key factor will be controlling the boards, as Denver out rebounded Portland 61-45 in the last meeting. This resulted in the Blazers giving up a disappointing 16 offensive rebounds. That being said, we should still see Portland come away with another victory.
Anything less than a 7-4 record by the end of the week will feel like an underachievement.
This article originally appeared on