Trail Blazers Outlook: Week Four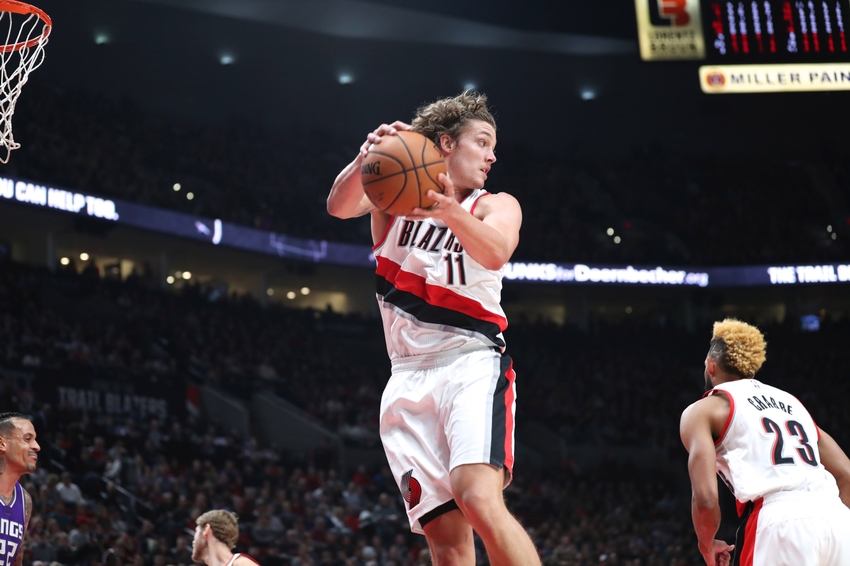 As the season standings start to take shape, the Trail Blazers find themselves exactly where early predictions put them, in a dog-fight with Utah for the 4th seed.
A 3-1 record from week three gives the Trail Blazers a 7-4 overall record to build on as they play host to, then visit, their first Eastern conference foes. The schedule toughens up as Portland embark on their first extended road-trip of the season. Fortunately, two of their opponents are "weaker" teams and gives Rip City the potential to sneak some road wins.
With Al-Farouq Aminu now out for the immediate future with a left calf injury, Terry Stotts' hand has been forced to address a few issues. Firstly, it gives other Trail Blazer's the chance to produce in extra minutes. It also highlights whether or not Aminu's offensive struggles are an individual concern or wider team problem.
Secondly, it means that Stotts has to look away from the small ball line up he has favored so far this season. Despite the success garnered early on with the smaller unit, Portland have glaring weaknesses in the frontcourt on both ends of the floor. If there appears to be a significant improvement in Aminu's absence, could we see the Trail Blazers revert to a more traditional line-up? And would that mean that Maurice Harkless returns to the bench?
Bulls vs Trail Blazers (11/15/16)
The Bulls come to town a very different incarnation from last year's team. The offseason acquisitions of Rajon Rondo and Dwyane Wade had some scratching their heads, suggesting an apparent weakness from deep. The numbers don't lie, despite ranking 11th in the league in 3PFG%, the Bulls sit in 27th in terms of three-point attempts.
This is where the Trail Blazers have an advantage and should look to pull ahead. Their 29.9 attempts per game rank 7th and they hit them with deadly efficiency – 37.5%, good for 3rd throughout the NBA. Of course it's one thing to look at the offensive stats, but it also helps that the Bulls D is bottom five for opposition 3PFG%.
With Aminu unavailable, Terry Stotts will likely look to Meyers Leonard and Mason Plumlee again to hold down the front-court. They'll match up with a feisty Bulls front-line of Taj Gibson and former Rip City fan favorite, Robin Lopez. Per 36 minutes, the Bulls starting bigs corral 6.7 more rebounds than the Trail Blazers (expected) starting duo.
We know that rebounding has already been highlighted as an issue with Portland. Their 41.2 rebounds per game is a league worst. Though the Trail Blazers should be able to pull out the W, this could be close one. With Chicago hauling in 47.7 rebounds (2nd overall), in turn leading to 16.4 second chance points per game, the Bulls are dangerous.
*Stats courtesy of basketball-reference.com and nba.com
Trail Blazers vs Rockets (11/17/16)
In the first of a five game road trip, the Trail Blazers head to Houston to face a sputtering Rockets team. The switch to point guard has been the catalyst to James Harden returning to his MVP-esque standard of play we saw in 2014-2015. Harden is averaging 30ppg, 13apg and 8.1rpg – all career highs. The problem is, his play is not necessarily correlating to wins, as Houston starts the week with a 5-4 record.
This team is built to capitalize on Harden's style of play. He's the perfect guy for, Rockets head coach, Mike D'Antoni's system. But don't get tricked into believing this a pure "Run and Gun" team: Houston's pace is six spots lower than Portland. The Trail Blazers shouldn't struggle to keep up with the pace. The strategy for beating the Rockets is simple – cut the head of the snake by neutralizing Harden. Unfortunately, executing this will be a lot harder on the court.
Winning in Houston will be difficult, but not impossible. The Rockets lead the league in three-points attempted, but the Blazers should be able to slow the conversion rate of these attempts, ranking 9th in opponent makes and 5th on opponent 3PFG%, giving up just .313. If they do this, they can take away vital points from the team with the sixth highest offensive rating (points per 100 possessions) in the league. Just don't be too surprised if Blazers drop this one.
*Stats courtesy of basketball-reference.com
Trail Blazers vs Pelicans (11/18/16)
The scheduling Gods have looked kindly on the Trail Blazers with this one. A back-to-back to kick off the road-trip, but fortunately it's against the team that are swiftly becoming the whipping boys of the NBA. It's crazy to think that just two seasons ago, the Pelicans were the team of the future. Now, franchise player Anthony Davis is frustrated with the team's performance so far and could be out again after leaving Saturdays thumping at the hands of the Lakers with a back injury.
Of course, a terrible start and a disgruntled star puts pressures on a franchise and in particular a head coach. And it's no surprise that the Pelicans Alvin Gentry's name is already swirling in rumors that his job is on the line.
On a positive note for New Orleans, point guard Jrue Holiday could return to action this week, but whether or not he is in game shape is another matter. With or without Davis, the Trail Blazers should take this one. Even with the ridiculous stat lines the Pelican's big man has been putting up, it's not been enough to so far, even against lesser competition.
Trail Blazers vs Nets (11/20/16)
Finishing out the week, the Trail Blazers find themselves in Brooklyn with an early afternoon tip (3:30pm ET). Despite their 4-5 record, the Nets are actually playing above their preseason expectations. Rookie head coach, Kenny Atkinson, has five players averaging double-digit points (and another two within sniffing distance) despite no player logging over 29 minutes per game. Brook Lopez leads the way with 19.4ppg.
The Nets have the second fastest pace in the NBA, but despite this, they rank 20th in offensive rating and 21st in field goal attempts. A large part of this is that they rank 4th in turnovers with 17.3 per game, a natural byproduct of constantly trying to push the tempo.
Like all teams (it would seem), Brooklyn have an advantage over the Trail Blazers in rebounds per game (the Nets are top five) but that's really the only area. And contrary to popular thinking, the Trail Blazers seem to be winning without needing to dominate the boards. Despite being on the road, this should be another Trail Blazers win putting them 3-1 for the week and giving them a 10-5 record overall.
*Stats courtesy of basketball-reference.com and nba.com
More from Rip City Project
This article originally appeared on