Trail Blazers Host Phoenix: Three Things to Watch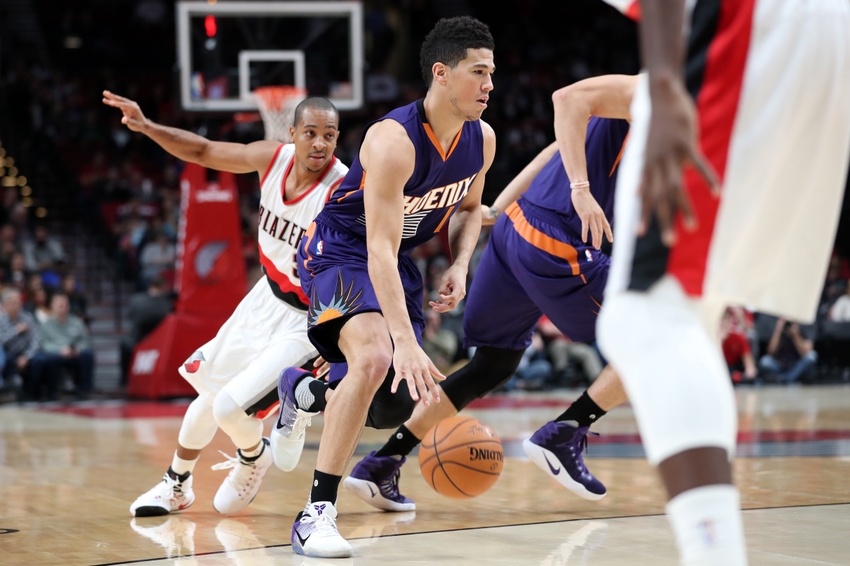 Three things to watch for as the Trail Blazers attempt to get revenge on the Suns
I don't know if you heard, but there is a fairly important election happening at the same time as Portland takes on the Suns. No matter what happens, be sure to drop off/send in your vote on time and vote on everything, not just the top of the ticket.
Alright, now to the game. Just one week after visiting them in the desert, Portland hosts the Phoenix Suns on Tuesday night in the Moda Center. The crazy game last week ended with a crazier three pointer at the buzzer courtesy of Eric Bledsoe. For a team that isn't supposed to ruffle any feathers, the Suns took it to Portland with their own gritty system to combat Portland's finesse.
This time around, Portland will need to recognize their mistakes and get up on this team early. The last thing you want to do with a young and inferior team is let them believe they can win. When that happens, your focus falters and the opponent can capitalize.
Throw in a coach that might know a thing or two about your offense, and you can't take anything for granted. Let's now jump into three specific things to watch for tonight.
Player vs. Coach
As the new coach of the Phoenix Suns, Earl Watson hasn't been enjoying a lot of success after taking the reins last year. He's off to another rocky start this year, but one of his two wins came against Portland last week. The Suns' backcourt of Bledsoe and Devin Booker gave Portland fits, but we should give credit to Watson for a well coached game down the stretch as well.
Watson played his final season as a player in Portland, where there were rumblings that he wanted to pursue a coaching career. As his last season progressed, Watson soaked up as much knowledge as he could from the Portland coaching staff, while mentoring two young up-and-comers named Damian Lillard and C.J. McCollum.
So it's safe to say Watson might have some knowledge of Portland's system. Not only that, but he knows the natural tendencies of Portland's two star players. Watson is too smart of guy to not use that as an advantage, like his use of physical guard play during the season's first meeting. Terry Stotts might have to surprise Watson again to get the win, similar to last week's Meyers Leonard layup at the end of regulation.
Team Three Point Shooting
Portland has two of the best three point shooters in the game. However, it's becoming increasingly obvious that for a three point based offense, Lillard and McCollum might be our only two reliable options. Allen Crabbe is probably our next best outside shooter, but he only receives limited amount of looks per game as our sixth man.
More from Rip City Project
Now if Phoenix's guards harass our backcourt again, we will need outside shooters to step up. We've groaned too many times with a wide open Al-Farouq Aminu three clunker, and Evan Turner's mechanics prove that he is going to need a lot more practice outside the arc in order to be a consistent shooter. We need some more outside shooting threats in order to bury teams when we have a lead, as a quick 9-0 run can be lethal in today's NBA.
So does that mean more playing time for Crabbe or Leonard? Maybe throw in Jake Layman or Shabazz Napier after their recent performances? At any rate, there needs to be more consistency outside the arc in order for the Blazers to beat Phoenix. This is especially true with our main threat Lillard nursing some small injuries that he suffered against Memphis.
Playing Loose
One thing that noticeably makes the Cavaliers look like the champs is how loose and fun they're playing. The Warriors will have some growing pains for a while, but eventually they will get it together, start playing with more swagger and fun, and begin to resemble the team we know they can be.
This is what has been missing from Blazers games this season. Although we've retained most of our young core, the hungry/prove the doubters wrong mentality of last season hasn't reared itself yet. Instead, this team has looked stiff, competing against themselves and deterring any sort of flow to their play. Sure we've won some games and Lillard has played out of his mind, but this is a team game, and the chemistry needs to be the star, not a player. For example, we're yet to see a brilliant Portland run this season. There were many instances last year where the Blazers flowed with their offense on 12-0 runs, knocking in threes before capping it off with a Moe Harkless or Mason Plumlee dunk.
As cliche as it is to say, look for Portland to have some fun against Phoenix and play looser than they have in the past. They're fresh off a win against another gritty team in Memphis and now they're back home in the comfort of Portland. This is how our new players can get used to playing with one another and we can continue to climb the Western Conference.
This article originally appeared on