Trade Proposal: Nikola Mirotic for Knicks' Mindaugas Kuzminskas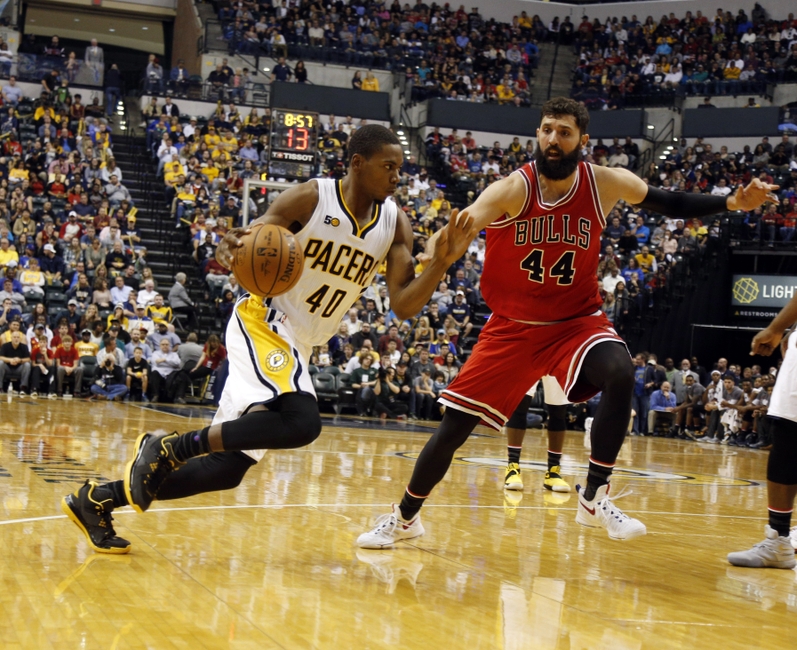 As good as Nikola Mirotic is at scoring when he is on, only an outstanding year will make him eligible for any contract extension worth taking. Gar Forman is a sensible GM, so he might want to look at Mindaugas Kuzminskas of the New York Knicks as a possible steal/Mirotic replacement and poach Justin Holiday back as part of a trade package.
I really like Nikola Mirotic.
No NBA big forward can really guard Mirotic when he is attacking facing the basket one-on-one. And unlike most Bulls fans, I love his pump-fakes that get him free throw attempts, rather than bricking the ball.
But, Mirotic's inconsistent play so far may not warrant a hefty increase in any possible contract extension with Gar Forman's team.
The Bulls have two possible first round draft picks next year and may drop Rajon Rondo next year if they get into the sweepstakes for a better core piece, given that Rondo is already showing signs that he is a huge liability matched up against good guards.
Enter Mindaugas Kuzminskas, a 6'9″, 215-pound stretch forward who was a pick up by the New York Knicks this year. Kuzminkas might be groomed in a hurry to be a microwave shooter for the Bulls' Hoiball offense.
On the Knicks' official website, he is described as follows:
Kuzminkas has averaged 8.3 points and 2.9 rebounds in 221 career games over seven seasons with Siauliai (Lithuania), Zalgris (Lithuania) and Malaga (Spain). He is a four-time Lithuanian All-Star (2010, 2011, 2012, 2013), three-time Lithuanian National champion (2011, 2012, 2013), two-time winner of the Lithuanian National Cup (2011, 2012), two-time Baltic League champion (2011, 2012) and winner of the 2012 Lithuanian Super Cup.
Kuzminkas' game might be more of a fit for the pace-and-space game because he attacks the rim outright unlike Mirotic, who fakes or times his drive's first step when his man is off-balance. Kuzminkas can shoot the long ball too, and he plays transition defense better than Mirotic. Like Bobby Portis, he is a high-energy, rim runner on offense.
Kuzminkas may be languishing in a Knicks team that is several players deep up front and may never play strong for them given his playing time. He is already 26 and is actually in his prime as a professional basketball player.
Mirotic plays hot and cold too often and is more suited to a deliberate style of play that has a team setting him up to score than a flow offense. Although he is amazing with Doug McDermott and Bobby Portis when they are hot, the inconsistencies in Mirotic's game as a scorer who needs on-ball situations, rather than flow-offense quick sets and as a weak defender, may force Gar Forman's hand to look for a trade situation by the deadline or pay too much for Mirotic.
Unless Nikola Mirotic plays more consistently shooting the long ball and puts up the numbers the team expect of him, which I still hope he does before the February trade deadline, Gar Forman may be looking at options for the enigmatic Montenegro native. I hope the Bulls look at Kuzminskas, the Lithuanian microwave stretch-four if they ever choose to move Mirotic.
The Bulls still have R.J. Hunter deep on the bench as a possible long range shooting option for the team if they really need knock-down, 3-point threats.
More from Pippen Ain't Easy
This article originally appeared on