Trade Proposal: Nerlens Noel to Raptors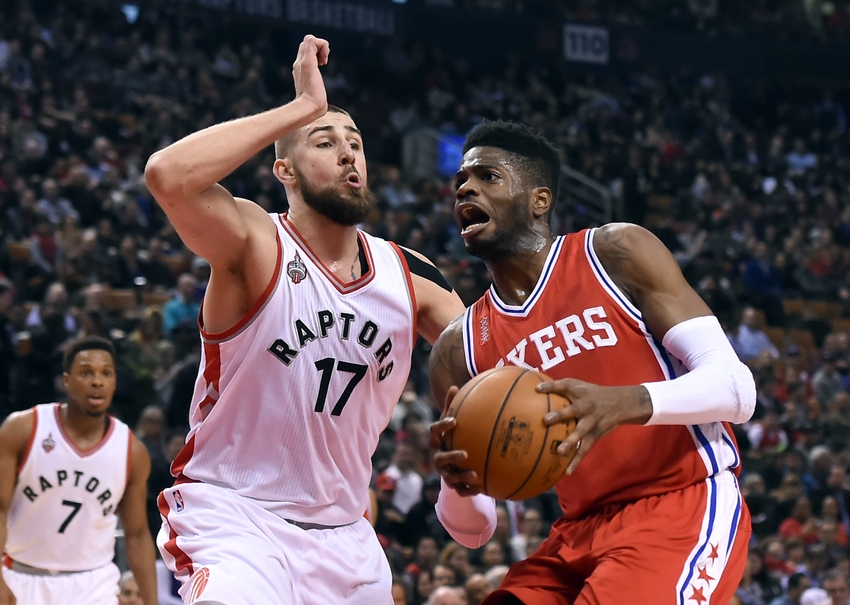 An injury to Valanciunas may mean the Raptors must look outside their current roster for frontcourt help.
The first time I read the rumours about the Toronto Raptors being the potential new home for Nerlens Noel, I shrugged my shoulders. However, Rapture Nation, I suggest it's time to pay attention. While our team might have been able to do without Jared Sullinger, the loss of Jonas Valanciunas may force the hand of President Masai Ujiri.
While JV is officially day-to-day, behind the scenes Raptor management has to be concerned. His knee injury may prove chronic unless he rests for a considerable period of time.
In Philadelphia, the 76ers are off to their usual dreadful start to the season. Nerlens Noel, the #6 draft selection in 2013, appears to be the forgotten man in their frontcourt. They have an excessive number of recent lottery picks clamoring for time on the floor, and the future likely belongs to Joel Embiid, Ben Simmons and Jahlil Okafor.
Nerlens Noel is a thin, but not scrawny, 6'11", 238 lb. power forward/center. He's 22 years old and has 142 NBA games under his belt, though none this season due to a knee injury (shudder). His return to the 76ers (presumably) has been guesstimated as early December.
Does this make any sense?
At this point, you might fairly question why I'm even bothering creating a trade proposal for an injured player – to replace an injured player. There are several things to take into consideration:
ITEM: Sullinger's return won't be until the new year (that's me talking, based on the nature of his foot ailment).
ITEM: Noel will never be cheaper than he is now. He hasn't been offered a rookie extension, so his pay stub is $4.38 million this season, and $5.84 next. The Sixers are under the salary cap, so they can take back a higher stipend if they choose to.
ITEM: Without JV, the Raptors have minimal rim protection. We saw in the playoffs how important a beast in the paint can be, and Noel is certainly capable of top-drawer defense when healthy. He's averaged 10.5 points per game in his career, so he's not a one-way contributor.
I could go on, but I won't. Here's the deal:
Raptors get
PF Nerlens Noel


76ers get
PF Patrick Patterson & 2017 Milwaukee pick
Assuming all the Raptors big men ever get healthy at the same time, the starting frontcourt becomes JV and Noel or Sullinger. Siakam and Poeltl, plus the loser in the position battle, come off the bench. (Bruno and Bebe – who knows?) The only capability that group doesn't offer is deep shooting. But we don't have that now (2-Pat is at 15% so far from beyond the arc), so nothing is lost.
All those young, talented big men on the roster would solidify the Raptors to a degree we've never seen. We know these guys get hurt, so having depth is essential.
What do you think, Commenters?
More from Raptors Rapture
This article originally appeared on