Trade Proposal: Atlanta's Paul Millsap to Raptors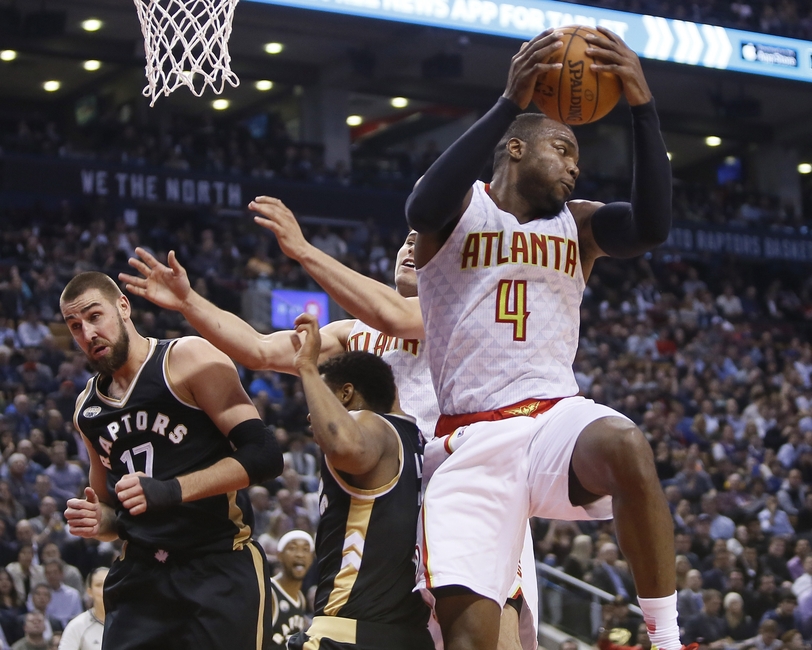 The Raptors need a superstar, and none of the current roster looks like one. Can we trade for the versatile, never injured, Paul Millsap of the Atlanta Hawks?
Recently a member of Raptors Rapture Nation asked about trading for Paul Millsap, the Atlanta Hawks' do-everything (Small or Power – who cares?) forward. I promised I'd give the matter consideration, and I have.
I don't need to spend a lot of words selling you on Paul Millsap. Some guys offer tantalizing hints of potential, others just perform. Millsap is firmly in the latter group; he's the polar opposite of Terrence Ross, and would look great on the Toronto Raptors.
Millsap has been one of those rare players who has added elements to his game every season. He was viewed as just an undersized rebounder when he was selected with the #47 pick in 2006, the same draft in which Andrea Bargnani was selected #1. Millsap stands only 6'8″ but his remarkable ability to grab rebounds hasn't let up in the pros. While making the push from second-round afterthought to starter, he learned how to shoot the three-ball, and has made at least 74 long bombs in his three seasons in Georgia. He's also made the All-Star team every year he's been a Hawk.
Millsap has been richly rewarded for his all-round prowess and is in the second year of a 3-year, $59 million deal.
The skinny
In constructing a Trade Proposal, I have to consider what position our new man is going to play. You can't make a blockbuster deal for a 10-year NBA veteran, then park him on the bench. I'm therefore returning DeMarre Carroll to Atlanta, along with backup power forward Patrick Patterson and a draft pick.


Hawks get
DeMarre Carroll, Patrick Patterson, 2017 first-rounder
Financially, the deal "works", almost to the dollar. The Raptors save about $ 177,000., which in their budget is Snapple money, with a bit left over to pay the executives' dogwalker.
However, Hawks' management would blanch at the Trade Machine's conclusion about the deal's impact on their team. Supposedly they would lose 8 more games, while the Raptors would win 7 more. Obviously the deal doesn't fly, so the Raptors would have to add a significant sweetner.
Whether our first-rounder owed by the Clippers would be sufficient to swing the trade is most unlikely. It's top-14 protected, which shouldn't matter, as the Clippers aren't likely to be in the Lottery. In fact, the pick is probably going to be in the 20s, which isn't going to get the Hawks excited. The Raptors' pick won't either.
If I'm crafty Mike Budenholzer, the Hawks head honcho (triple alliteration!), I'd ask for Norman Powell as well, at which point Masai hangs up.
Conclusion
The only way I can this trade coming to fruition is if Patrick Patterson has a wonderful first 25 games or so. Once his PER resets upwards (and PER is one of the Trade Machine's primary determinants), the deal might look appealing to Atlanta. I'm not worried about Carroll being acceptable to them – he will be.
This trade, while a long shot, could turn out to be one of those rare transactions which help both teams.
What do you think, Rapture Nation?
More from Raptors Rapture
This article originally appeared on