Toronto Raptors: Patrick Patterson's Big Year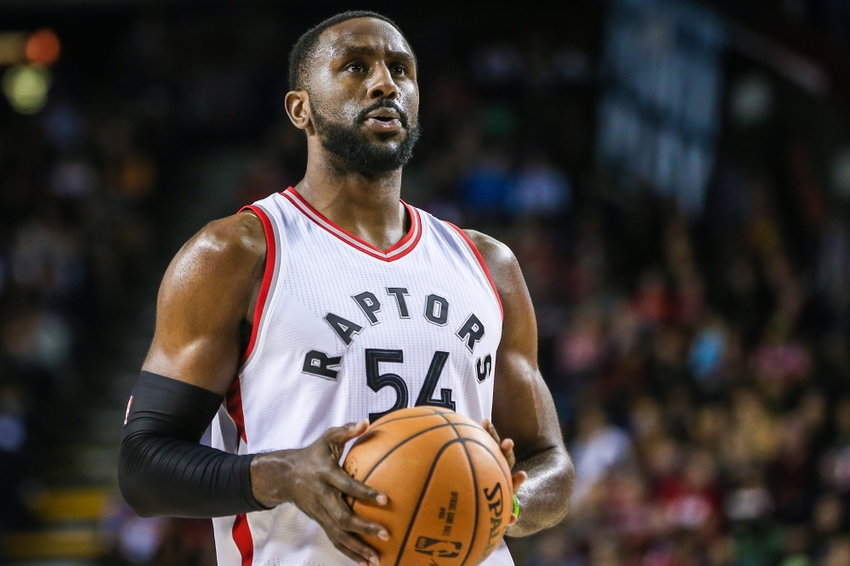 Since arriving in Toronto almost three seasons ago, Patrick Patterson has grown to become a key contributor for the Toronto Raptors.  Now with his upcoming free agency looming, he'll be looking for something to prove.
It's a tough act to follow, but the Toronto Raptors enter this season looking to maintain what they accomplished last year.
A historic season on numerous levels, the Raptors will be heading into the year with much of their nucleus from last year intact, minus a key change here or there.
But key questions still remain, with arguably the biggest being the looming free agency of Kyle Lowry, who reportedly plans to opt out of the final year of his contract, according to Adrian Wojnarowski of The Vertical.
Being one of the centerpieces of the team, Lowry's probable free agency has already caught plenty of buzz and speculation even before the season has started.  However, Lowry isn't the only Raptor who will be heading towards a (potential) summer full of intrigue.
From his arrival as part of the Rudy Gay trade almost three years ago, Patrick Patterson's development into becoming a steady contributor for the Raptors has been a largely overlooked one, at least with followers who aren't fans of the team.
Patterson's overall numbers may be modest as he's averaged just 7.8 points per game (on an effective field goal percentage of 53.6 percent) and 4.9 rebounds per game in his two and a half seasons with the team.  However, what Patterson lacks in sizable production, he more than makes up for it on the whole in a variety of ways.
There was no better example of Patterson's impact on the Raptors than last year than per NBA.com/stats, Patterson had the highest net rating (+9.3 points per 100 possessions) of any regular rotation player for the Raptors on the season.  In addition to that high mark, Patterson ranked third among power forwards in ORPM (+2.19), with only Draymond Green and Kevin Love ranking ahead of him.
Even with his shooting struggles early in the year, Patterson not only managed to make an impact on the fifth-best offense in the league, but thrived doing so coming off the bench.
Now with a new season inching closer, his last under his current contract, Patterson is looking build on what's been a successful tenure in Toronto.  That's something the Kentucky product touched upon when talking about expectations for this season as Doug Smith of The Toronto Star relayed recently:
"I want to be successful. I want my team — most importantly — to be successful," said Patterson, who could very well treble the $6 million he'll make with Toronto this season when he becomes an unrestricted free-agent in July. "I want this to be a successful year for all of us, myself included, so going into this year the focus is a lot more different.

"My attitude and demeanour, the way I carry myself on and off the court, is going to be drastically different than years before."
Due to the stop-gap addition of Jared Sullinger, Patterson's role coming off the bench is likely to stay the same to start the year, according to Raptors head coach Dwane Casey.
Considering it's a role Patterson's been more than used to at this point, it's not particularly surprising that Casey would opt not to make any changes to a formula that's been an overwhelming success in the regular season.
Whether things will change over the course of the season remains to be seen, but Patterson's role doesn't take away from how important this year will likely be for the future of his career.
He's more than made his mark as a role player and at 27 years old (28 by the time next offseason), next summer will be the reward of many years of hard work, which will serve him well in the years to come.  Of course, the question of whether that payday comes from the Raptors is a curious one, especially with the team having well-known priorities with Lowry.
For now, those questions will have to go on the back burner now that the season is almost upon us.
The focus for Patterson, and the Raptors in general, is on the challenges of staying near the top of the East and whatever pitfalls that may lie ahead.  While Patterson's proven many things so far in his career, trying to juggle what's both good for him and what's good for the team may be his biggest challenge yet.
This article originally appeared on