Toronto Raptors: Kyle Lowry Still Playing Too Many Minutes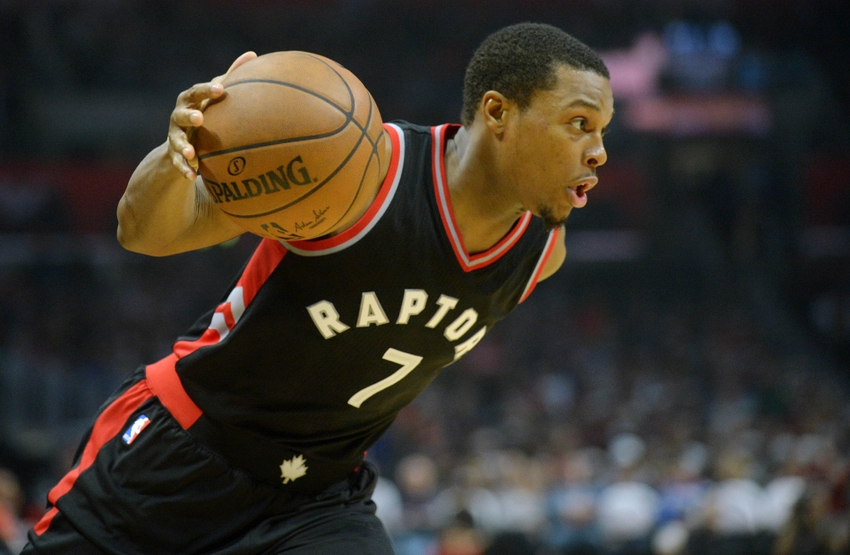 The Toronto Raptors rely on Kyle Lowry for their success. But if they want to preserve him, they're going to need to learn how to play without him.
The Kyle Lowry era has been incredibly successful for the Toronto Raptors. The team reached the Eastern Conference Finals for the first time in their history last year and are focused on taking the next step this season.
But the regular season success of this team has been heavily dependent on Lowry playing a ton of minutes. After being second in the league in minutes per game last season, Lowry now plays more minutes per game than any other player.
While cutting his minutes should be a priority, the team needs to learn how to play without him first.
The impact from Lowry can be measured rather easily if you look at the teams net rating with and without him over the years. Net rating captures how much better or worse a team performed against their opponent by points per 100 possessions.
Last year the Raptors had a plus-6.9 rating with Lowry on the court and minus-0.4 with him on the bench. This year the team has a plus-8.3 rating with him on the court and minus-10.3 when he sits.
The simple solution would theoretically be to stagger the minutes of Lowry and DeMar DeRozan. Several teams attempt to help elevate the bench by staggering the minutes of their stars. But the issue is that the team still struggles with DeRozan on and Lowry sitting.
This year the team has a plus-2.1 rating with DeRozan on the court and plus-11.8 when he sits. When you consider the amount of minutes the two play together, the discrepancy points towards how much better they are with Lowry, with or without DeRozan.
It also speaks towards how bad they have been with DeRozan playing and Lowry sitting.
These numbers aren't about the team being better without DeRozan. Rather, they are about the team failing to capitalize on his production with Lowry sitting. Per NBAWowy, DeRozan is shooting 50 percent from the floor when Lowry sits, better than his season average.
He also has an obscene usage rate of 48.9 percent, which means 48.9 percent of possession end with either a shot attempt or turnover by him when Lowry sits. As the net  number indicates, the team needs to find a more balanced plan of attack without Lowry.
Part of the issue has been the poor play of Cory Joseph. Joseph is averaging a career high in turnovers per game per 36 minutes and is shooting 40.7 percent from the floor and 27.8 percent from deep.
Joseph has had a few strong performances this year and his effort is still there, but he needs to find the consistency he has shown in the past.
Joseph's playmaking is incredibly important in lineups without Lowry because if he doesn't provide it, nobody else will. DeRozan assists on only 17.7 percent of his teammates' baskets when he is on the court without Lowry.
With Lowry he assists on 20 percent of his teammates' field goals. So nearly half the teams possessions end with a DeRozan shot or turnover, plus he passes less when Lowry sits.
So either Joseph must step up his play without Lowry, or DeRozan will need to adopt a more team-friendly approach when operating as a No. 1 option.
If the team fails to find lineups that work without Lowry, they must face a tough decision. Either they cut back on his minutes and accept more losses in the name of rest or they continue to run him into the ground and risk him breaking down, as he has for the last three postseasons.
Having a player of Lowry's caliber is a luxury. But the overuse of Lowry speaks towards the team using him as a security net, rather than finding a successful team system that can be productive with or without their star.
This article originally appeared on