Toronto Raptors expect DeMarre Carroll to be healthy for regular season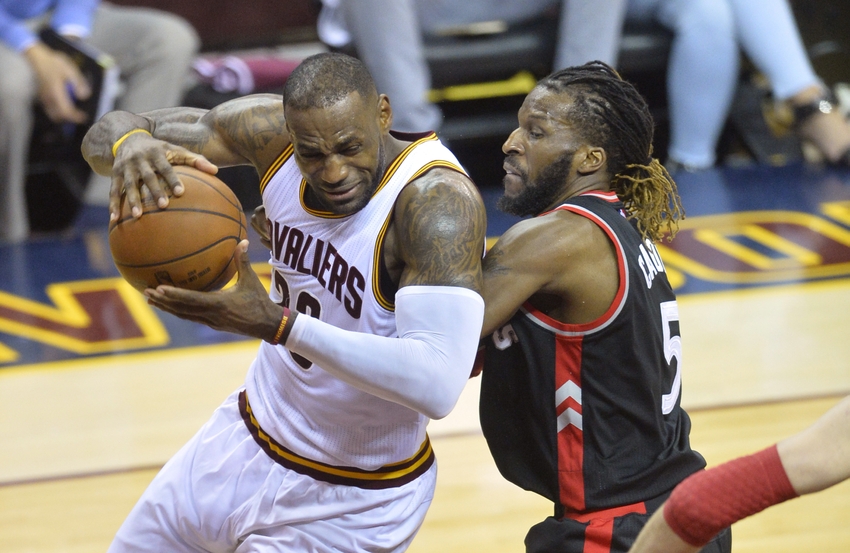 It was a very disappointing first season with the Toronto Raptors for forward DeMarre Carroll due to injuries. Will he be ready to go for the season-opener?
The Toronto Raptors were able to reach the Eastern Conference Finals in the 2015-16 season, and they did it with limited production from a key player. The signing of DeMarre Carroll was supposed to be one of the final moves to help get the team over the top. However, injuries held the talented forward back last season.
While the Raptors were able to have a great season last year, they did it despite not receiving much from their big offseason signing. After two very productive seasons with the Atlanta Hawks, Carroll signed a big deal with the Raptors in the offseason.
The Raptors landing Carroll in free agency was a bit of a shocker. Toronto normally isn't associated with being major players in free agency. However, they were able to convince Carroll to come up North. With a solid core of Kyle Lowry and DeMar DeRozan, Carroll appeared to be one of the final pieces to the puzzle.
More NBA from FanSided: 
LeBron James, Michael Jordan, and chasing ghosts
Talking Everything That Dunks Must Converge
Durant, Curry pose for pictures at media day
As a great two-way forward, Carroll was going to be an athletic dynamic to the wing for the Raptors. Unfortunately, Carroll was limited all season because of a knee injury. Last season, Carroll was only able to play in 26 games in the regular season. The statistics weren't pretty for Carroll either in limited time, as he averaged 11.0 points per game, and shot under 40%.
In the postseason, Carroll was able to play in 20 games for the Raptors, but the numbers weren't any better. He was still clearly limited by the knee injury in the playoffs like he was in the regular season.
Casey said they'll monitor Carroll's minutes in the preseason but expects him to play & be ready to go without limitation for opening night

— Josh Lewenberg (@JLew1050) September 27, 2016
The good news for the Raptors is that Carroll had a very productive offseason of healing his knee. Furthermore, the plan is to get Carroll some minutes in the preseason. Limited minutes in the preseason should help him get back into his groove.
The Raptors will once again be one of the better teams in the Eastern Conference this coming season. A healthy Carroll will make them an even better team, as they try to chase the Cleveland Cavaliers for the top spot in the conference.
This article originally appeared on