Toronto Raptors: DeMarre Carroll Finding His Groove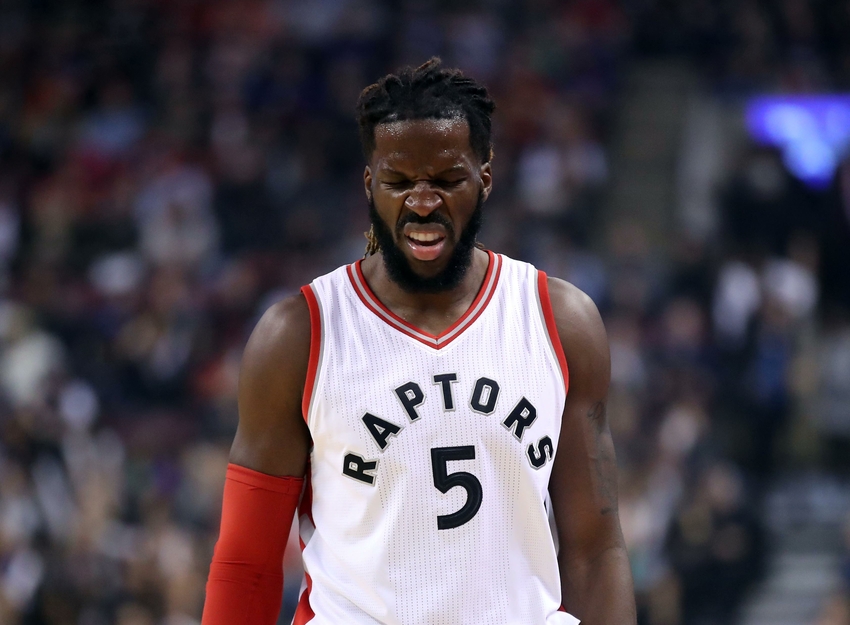 After battling through injuries, DeMarre Carroll finally appears to be finding his groove with the Toronto Raptors.
Things haven't gone as planned so far with DeMarre Carroll and the Toronto Raptors. The veteran wing has had a tough time staying on the court since coming north of the 49th parallel. Despite his injuries last season, Carroll managed to be one of the team's best two-way players and shooters.
This season things have been different, as he has been on a minutes restriction and fighting to find his rhythm. But his recent play seems to indicate that he is returning back to the level of play you would expect from him.
Carroll has provided double-digit scoring in seven of his last eight appearances. Over that time he is averaging 12.5 points on 55.1 percent shooting from the floor and 44.4 percent from three.
Both he and Terrence Ross have provided the team with reliable secondary scoring, after relying heavily on DeMar DeRozan and Kyle Lowry  early on in the year.
What Carroll provides to this team goes beyond just simply scoring and floor spacing. When he is playing well, he gives them lineup versatility with his ability to play small ball 4.
He also provides them with a savvy veteran defender who provides them with hustle plays and steals, as well as the willingness to do the little things that don't show up on a box score.
The trickle-down impact of Carroll playing better is possibly the most important part of him returning to form. If Carroll is providing the team with quality minutes, it solidifies his spot in the rotation and at small forward.
This means both Ross and Norman Powell, who are having strong seasons, can provide relief to DeRozan at shooting guard.
If they are playing more minutes at shooting guard, that means Cory Joseph doesn't need to play off ball and can reduce some of the minutes Lowry has been playing.
The Raptors have one of the deepest rosters in the league when they are all playing well. With the early season struggles of Carroll, Patrick Patterson, and Joseph, combined with the injury to Jared Sullinger, that depth was tested.
Both Lowry and DeRozan are in the top five in minutes per game. Now that there seems to be some reliability from their supporting cast, those minutes should be on the decline.
But back to Carroll, he can be the difference maker this team needs if he can keep his body from failing him. Carroll wasn't himself in last year's playoffs after returning from injury just a few games before the postseason.
It's worth imagining how much easier their path could have been if he was healthy. Carroll had this to say after the team's 122-95 win over the Philadelphia 76ers:
Like I told you before: When I'm healthy, I can be who I am and play the way I want to play
Just like his understated play, Carroll is not a man of many words. But his statement rings true, if he's healthy he has the ability to change the flow of the game. The team may still adopt a cautious approach with him moving forward.
They have elected to rest him on back to back nights and monitor his minutes early on. But as he gets healthier, the minutes and responsibilities have increased. Carroll can be the X-factor on a Raptors team that was already very good without him.
If he keeps trending in this direction, it bodes well for the chances of the team in the postseason.
This article originally appeared on