Top 5 Russell Westbrook Triple-Doubles This Season
Max Seng/FanSided via Hoops Habit

Fansided
Heading into the All-Star break, Russell Westbrook has 27 triple-doubles through 57 games. Which have been his most memorable so far?
The triple-double has been one of the benchmarks for outstanding single-game dominance since basketball statistics evolved beyond point-tracking. Despite the increase in pace and possessions per game, notching double-digit figures in three statistical categories is more than just a blip on the nightly radar.
The poster child for that achievement for the last 50 years has been Oscar Robertson, aka Mr. Triple-Double. Russell Westbrook is trying to erase that image as he paints over it with a Jackson Pollack approach, throwing his body across the canvas each and every night, with this year being his Number 5.
Not unlike Pollack, when Westbrook is at his most eccentric and active, good things happen. The Oklahoma City Thunder are 21-6 when Westbrook records a triple-double this season. And no, it's certainly not the most efficient season ever recorded, but it does have a certain likeability because of the sheer will Westbrook exhibits on a night-to-night basis.
Sure, Westbrook hunts for offensive rebounds at the expense of getting back sometimes, but when he skies among seven-footers to snag an extra possession for his team, that's a boost. And it was also a part of Scott Brooks' scheme, a point he explained on ESPN's podcast hosted by Zach Lowe, The Lowe Post.
It seems Billy Donovan hasn't changed that, and if anything, has encouraged Westbrook to go get more rebounds, understanding that if the ball is already in your lead ball handler's mitts, there's no outlet pass and the ball gets up the floor quicker and with less risk.
With all of that being said, let's look back on Russell Westbrook's five most memorable triple-doubles so far this year that double as Thunder wins.
5. Dec. 17, 2016 vs. Phoenix Suns: 26 points, 22 assists, 11 rebounds
This is the first of Westbrook's two triple-doubles against the Phoenix Suns featured on this list, with Russ notching a career-high assist total this night, in addition to shooting an efficient 9-for-17 from the field. Numerous Thunder players benefited from Westbrook's distribution, with five Oklahoma City players finishing in double figures this night.
Westbrook was also the benefactor of plus shooting by his teammates this night, including Anthony Morrow going 3-of-4 from deep and the team going 7-of-16 overall. Westbrook commanded more attention than usual from Phoenix in this particular meeting, thanks to the Herculean performance he put on earlier in the season that it opened up opportunities for the supporting cast.
After the first quarter, it seemed Westbrook realized the Suns were all but paralyzed in fear of his ability to go 0 to 60 in the blink of an eye, using his speed to penetrate amongst the trees with a pass-first mentality. That mindset led to countless backdoor cuts and open three-pointers, with the occasional Westbrook-Steven Adams pick-and-roll sprinkled in. Rookie Domantas Sabonis even got in the act with a couple screen slips for layups and one deep ball.
The game showcased Westbrook's growth as a player and maturity as a leader, recognizing what the defense was giving him and responding accordingly in the interest of what's best for the team. His 26, 22 and 11 look pretty good for the guy who many point to as the most selfish player in the association.
4. Jan. 7, 2017 vs. Denver Nuggets: 32 points, 17 rebounds, 11 assists, 7-for-12 from 3
According to Basketball-Reference, Westbrook is the only player to have a 17-rebound game with seven made three-pointers in NBA history. Of course that's an extremely specific stat line, but it encapsulates Westbrook's versatility and unique skill set when he's at his best. when his jump shot is falling, forget about it.
Of those 17 rebounds, five were offensive, generating five extra possessions for the Thunder against the Denver Nuggets they previously would not have had. Many of Westbrook's seven three-pointers were from well beyond the line, with Russ lulling the defender to sleep with a slow hesitation dribble before using his jetpack to rise up above the defense.
The book on Westbrook, as is the case with most players through history with his atomic athleticism, is to let him shoot. When he's hitting those shots you give him, what's the plan then? That was the question for the Nuggets on this night as Westbrook put the game out of reach with a flurry of threes late in the game. When his violent game gets infused with elite shot-making from deep, even the best athletes in the world have to pray something gives.
Also, Russ three-pointer celebrations are the best celebrations.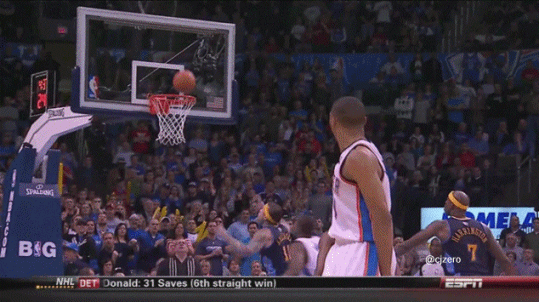 3. Jan. 23, 2017 vs. Utah Jazz: 38 points, 11 rebounds, 10 assists, game-winner
We've now officially crossed into the Russell Westbrook "bleep you" category. Westbrook had 14 points in the fourth quarter to push the Thunder over the edge against an imposing Utah Jazz team. The game ended up being a constant push-and-pull between the Jazz and Thunder, with Oklahoma City trying to get into transition and Utah trying to slow them down. Most of Russ' work in this game came from the midrange and post-ups against smaller Utah defenders.
Westbrook also shot only 11-for-29 this game, but was 13-for-17 from the free-throw line. Behind the game-winner, his biggest basket came with under two minutes left in the game and the Thunder down one. Westbrook felt he was hit, turned to the ref to indicate his displeasure with the no-call, and in one motion turned around from 20 feet and hit a jumper. Even the Utah commentators had to comment on the bizzarre nature of the basket.
The game-winner was nothing more than a high ball screen from Adams and subsequent downhill run from Westbrook to rise up in the midrange and send the Utah fans home dissatisfied. Granted, the Jazz were able to get a pretty clean look for the final shot, but it clanged off the rim. Westbrook's didn't.
2. Dec. 23, 2016 vs. Boston Celtics: 45 points, 11 rebounds, 11 assists in Boston
The Boston Celtics and their massive fan base have seen tremendous basketball for 60+ years, first in the Boston Garden and now the TD Garden. Many Celtics season ticket holders have seen every notable NBA player play on some form of that signature parquet floor with the leprechaun at the center.
Westbrook's showcase two days before Christmas Day may be in the discussion of most impressive individual performances ever put together in front of the Celtic faithful.
Bill Simmons and Joe House talked on The Bill Simmons Podcast about how Westbrook relished the Celtics fans uniting against him, snarling and mean mugging his way to absolute dominance of one of the top teams in the Eastern Conference.
This game ended up being a signature Russ game because of the myriad of acrobatic finishes through fouls and unabashed arrogance shooting from nearly 30 feet in clutch situations, and draining them. Neither Avery Bradley nor Marcus Smart had much success against Westbrook on this night, despite being two of the best perimeter defenders in the league.
The fact that it was done in Boston completes the story, giving those 18,000+ fans in attendance a memory they will not soon forget of Russell Westbrook singlehandedly dismantling their team. Boston knows good basketball, and on that night it was treated to a show the likes of which are rarely seen.
1. Oct. 28, 2016 vs. Phoenix Suns: 51 points, 13 rebounds, 10 assists, game-winner
51 points on 44 shots. That sentence makes coaches around the world cringe like nails on a chalkboard, but the Thunder ended up needing every point in their home opener. Westbrook notched points 48 and 49 on a layup to put Oklahoma City ahead, and the last two on free throws to help ice the game.
Westbrook was 17-of-44 from the field, and 15-of-20 from the free throw line on the evening. He made his push for 50 in the third quarter, notching 23 points, including a stretch where he scored 14 straight Thunder points.
It was a stretch that told the Oklahoma City crowd that life had officially moved on without Kevin Durant, and that the Thunder can still win games. It was a glimpse at Westbrook's ability to take over games with sheer force and will, the likes of which can only be replicated by LeBron James today.
That doesn't say that Westbrook is the best player in the world, or even the second-best, but that he has the ability to bring Oklahoma City back into games nearly singlehandedly (and sometimes out of them as well). It was the best example this season of how Westbrook is must-see television, and why he's the best attraction in the NBA this season.
When Russell Westbrook's 2016-17 season is discussed in the future, we'll remember specific nights where he came to your city and had his way with (insert team here). The best part is, he's not done yet and there's likely a few more signature performances left in his bag when the Thunder return from the All-Star break.
This article originally appeared on