Top 5 Point Guard Rankings: Russell Westbrook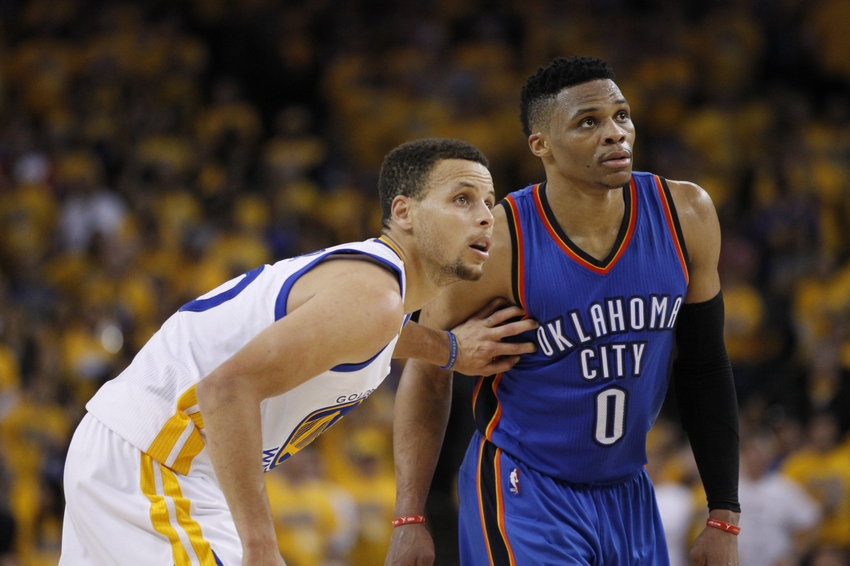 Now one of the biggest debates in the NBA is who's the best point guard. Some characterize pass first point guards as better, while others consider scoring point guards better. There are many factors to take into account. Today, we rank the Top 5 point guards.
What I'll try to do is make a judgment based on all around game.
(Note that this is not who has the best team or a career achievement award)
After careful consideration, I've narrowed the list down to five point guards. Russell Westbrook, Chris Paul, Steph Curry, kyrie Irving, and John Wall.
Next, I'll show how Westbrook matches up with each point guard and give you my final top 5 point guard rankings.
Westbrook vs Wall
This is a pretty interesting comparison. Both of these players are "athletic point guards". Their first step is lighting quick. End to end they're probably the fastest guards in the league.
One thing that John Wall was criticized on early in his career, similar to Westbrook, was his passing.
Can Wall be a true point guard?
While the Wizards don't get much national coverage, John Wall has shown he's one of the premier point guards in the league.
Many don't realize this, but John wall is a pass first point guard now. He rarely looks for his shot first.
However, assist wise he's almost identical to Westbrook, who's not considered a pass first point guard.
Last season, Westbrook averaged 10.4 assists per game. John wall averaged 10.2. Now, some may give Wall a little more of an edge here because he didn't play with Durant and Bradley Beal was injured much of last season. But, let's not forget when Durant went down towards the end of the 2014-2015 season, Westbrook was still putting up double digit assists with no problem.
Scoring wise Westbrook also has the edge. He averaged 23.5 points per game while Wall averaged 19.9. In addition, Westbrook shot a better field goal percentage at 45.4% to Wall's 42.4%.
Wall did, however, shoot better from 3-point range, about 5% better to be exact.
Russell Westbrook vs Chris Paul
Now this is a much harder comparison. Both point guards play wildly different from one another. Chris Paul plays more in the realm of a traditional point guard. Running the offense first, setting up teammates second, and scoring last. Chris Paul plays with great patience and doesn't force the pace of the game.
Also, Chris Paul shot a better percentage from the field and 3-point range than Westbrook. Paul averaged 10 assists compared to Westbrook's 10.4. Again, similar to John Wall, this is impressive because Chris Paul lost his second best player for most of the season in Blake Griffin. Even more impressive, Chris Paul still lead them to a 4th seed, while Westbrook didn't even make the playoffs when Durant went down in the spring of 2015.
Due to style of play, many consider Chris Paul the more efficient point guard.
Chris Paul had an offensive ranking of 10th at 119.2 while Westbrook's was 20th at 115.5 last season.
When it comes to win shares per 48 minutes Chris Paul is slightly above Westbrook ranking 4th to Westbrook's 5th. But, this doesn't plaint the entire picture because Westbrook played with Durant who was ranked 3rd. So, determining how many wins were attributed to Westbrook vs Durant isn't clear.
However, Westbrook had the higher player efficiency rating than Paul. As a matter of fact Westbrook ranked 3rd at 27.6, which may surprise a lot of people. Chris Paul ranked 5th at 26.2 so not far behind.
Westbrook vs Kyrie
Now this might break a lot of Kyrie Irving fans heart. But, when breaking down these two players there was an uncomfortable realization. Kyrie doesn't match up with Westbrook in any statistical or advanced analytical category.
Not one.
Now we love Kyrie for his flashy dribbling. In my opinion he has the best ball handling in the league and finishes at the rim better than most point guards.
And we love him from those classic Uncle Drew Pepsi commercials.
But, when it comes to point guard play it doesn't look good.
This might sound like I'm hating or a joke, however, I'm completely serious. Kyrie Irving doesn't come close to Westbrook in any category. To be honest, he doesn't come close to Steph Curry, John Wall, or Chris Paul.
He's not top 20 in any advanced analytical category last season. Not plus/minus rankings, player efficiency rating, value over replacement player, or win shares. Kyrie doesn't crack the top 20 in any of these, while Westbrook ranked top five in each of these categories last season.
To make matters worse Kyrie isn't much better at 3-point shooting than Westbrook. Westbrook shot 29.6% from 3-point range while Kyrie shot 32.2% last season. But, when it came to overall field goal percentage last season Westbrook's was slightly higher.
Also, Kyrie didn't average as many steals as Westbrook or points per game.
Now you can argue that Kyrie plays alongside Lebron so that effects his assist per game. Lebron ranked 9th in assists at 6.8 per game and Kyrie had 4.7 assists per game But, there's one problem Draymond Green ranked ahead of Steph Curry in assists at 7th, but Curry still ranked 10th in assists last season.
Plus, playing with Lebron shouldn't negatively impact all of the other advanced analytics. Especially, since playing with Durant didn't negatively impact Westbrook.
Westbrook vs Curry
Now this one is the toughest. Let's state some of the obvious facts. Curry is by far the better shooter. We don't even need to go into detail. Second obvious fact, Westbrook is way more athletic than Curry, he's quicker, bigger, and stronger.
Now let's talk assists, Westbrook averaged more at 10.4 compared to Curry's 6.7 per game last season. But, Curry led the league in scoring with 30.1 points per game to Westbrook's 23.5 points.
The lower assists of Curry can be explained away by his higher scoring numbers and playing with Draymond who averaged 7.4 assists.
The lower scoring of Westbrook can be explained away because of him playing alongside Durant and having  higher assists numbers.
When you take these facts into account Curry and Westbrook basically cancel each other out on points and assists. One chose to score more. One choose to pass more. Neither are a good measure of who is better.
So, let's look at other categories.
Westbrook is top five in a lot of areas.
But, Steph Curry was the MVP for a reason.
When it comes to win shares per 48 minutes, plus/minus, value over replacement, steals per game, true shooting percentage, and most importantly player efficiency rating Steph Curry ranked number 1 in all of these categories last season.
Top Five Point Guards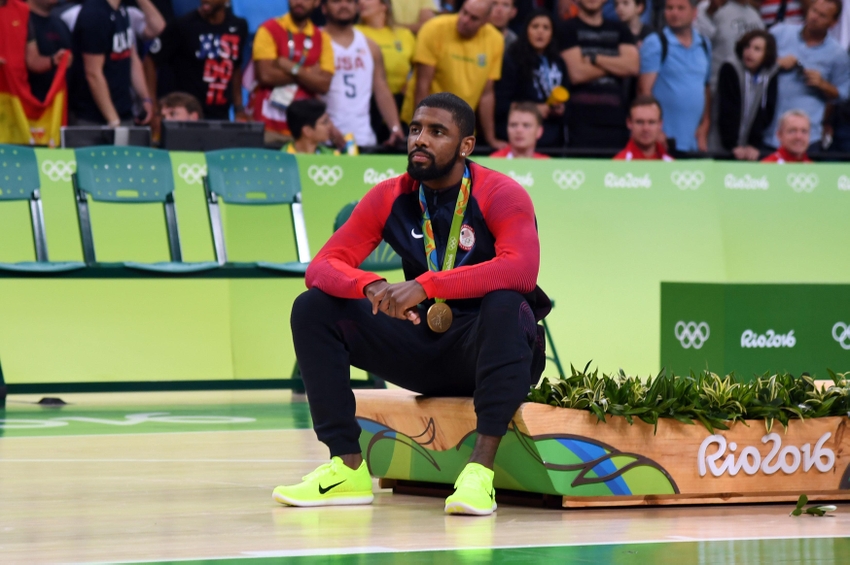 5. Kyrie Irving
Kyrie has incredible talent that you just can't deny. His ball handling and clutch shooting is top notch. He's not afraid of the moment, taking big three point shot after another in the NBA Finals vs Golden State. Also, he was selected to the USA Mens Basketball Team for the Oylmpics and won a gold medal this past summer in Rio. However, he's only number five on this list. Kyrie is better than every other point guard in the league by a significant margin, but he's worse than the top four point guards by a significant margin.
4. John Wall
John Wall is much better than people think. That's really all there is to it. Even though he missed the playoffs last season, he's taken his team to the Playoffs before, while Kyrie never did before Lebron came back to Cleveland. This stands out, especially when you consider their teams had the same level of talent and are in the Eastern Conference. Combining this with his assist numbers gives John Wall the edge over Kyrie.
3. Chris Paul
Chris Paul is third on this list because he's a much more efficient player than John Wall. Plus, last year when Blake Griffin was out he led the Los Angeles Clippers to a 4th seed in the Western Conference. In addition, Chris Paul is also the better shooter and was in the MVP conversation last year.
2. Russell Westbrook
Russell Westbrook is an amazing player. Probably the most athletic point guard to ever play in the NBA. His energy and effort is unmatched. Along with this, his numbers are slightly better than Chris Paul and way better than most point guards. However, you can't escape his so-so decision making at times, which caused him to have the 2nd most turnovers in the NBA last season.
1. Steph Curry
While everyone should consider Lebron James the best player in the league, especially after his NBA Finals performance against Golden State, we should still acknowledge that Curry is clearly the best point guard. Curry gets a lot of criticism. He's not great on defense, even though he led the league in steals per game last season. All he does is shoot jump shots, but he had the 8th best 2-pt shooting percentage and was one of the best point guard finishers in the lane. He's not tough, even though he played though injuries in the Playoffs. Curry deserved the MVP last season and he deserves the title as best point guard.
This article originally appeared on