Tobias Harris named NBA Cares Community Award winner for October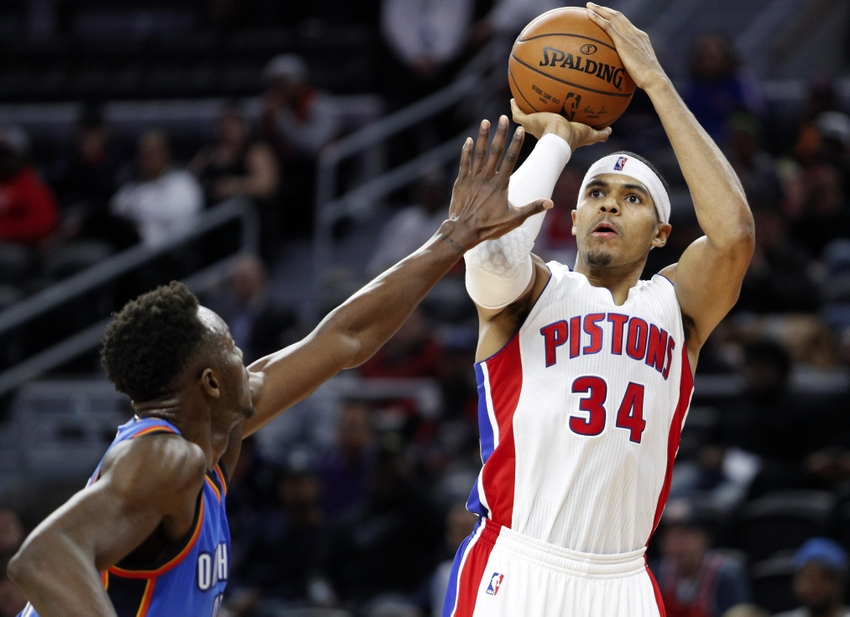 Tobias Harris has long been known as a great guy to have in the community. The Detroit Pistons forward was  just named the NBA Cares Award winner for October.
Detroit Pistons' forward Tobias Harris has always been known for his involvement in the community, regardless of the community he is in. With the Milwaukee Bucks and Orlando Magic earlier in his career, he was active with youth and charitable organizations in both cities.
He wasted no time doing the same thing when the Pistons acquired him in February.
Within days of being traded to the Pistons he was already out in the Detroit area speaking at schools. That involvement hasn't slowed since those early days. Just a couple of weeks ago Harris and fellow Piston Marcus Morris helped lead a panel during a private town hall meeting that saw Detroit community leaders, law enforcement and youth groups all gathered together under one roof to look for solutions to social problems in the city.
Harris' involvement with the Metro Detroit community has not gone unnoticed or unrewarded. On Wednesday afternoon, Tobias Harris was named the NBA Cares Community Assist Award Winner for the month of October.
In addition to the town hall meeting, Harris has been instrumental in creating mentorship programs such as the Tobias Harris School of Business Mentoring Program in association with the NBPA, and he has participated in basketball camps such as the Seeds of Peace basketball camp.
Harris participated in the Seeds of Peace basketball camp this past offseason, bringing together hundreds of teenagers and educators from places of conflict, particularly the Middle East, in an effort to empower a new generation of global leaders. Harris also partnered with the Yes We Can Community Center and UAS Inc. to help young athletes and their parents navigate the college scholarship process. The initiative included four days of training sessions to improve their basketball skills and fundamentals.
While the 24-year-old NBA star is leading the Pistons in scoring with 18.3 points per game, he has no shortage of heart for the young people in the Detroit area.
Harris will receive this award before the Pistons' game against the Boston Celtics on Saturday at the Palace of Auburn Hills, and Kaiser Permanente and the NBA will donate $10,000 on Harris' behalf to Feeding Children Everywhere.
This article originally appeared on