Timothe Luwawu-Cabarrot: TLC Showing Promising Start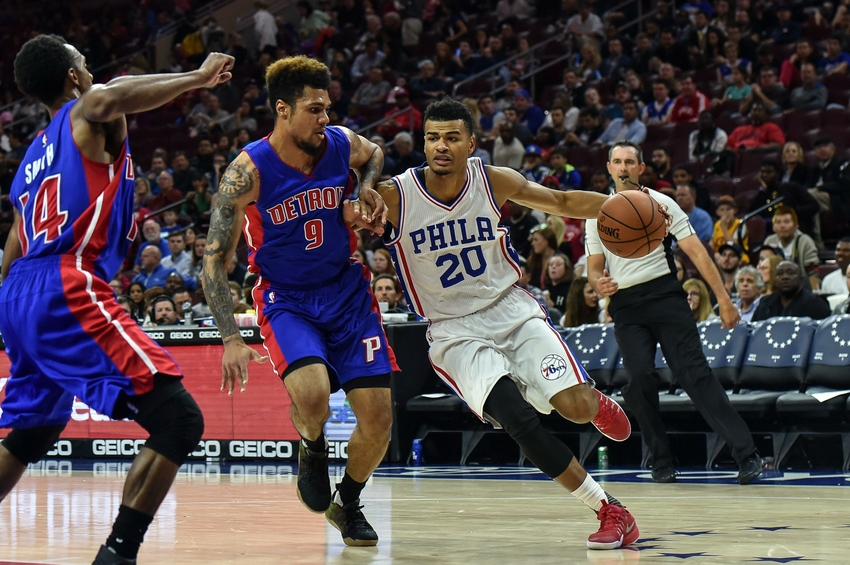 The Philadelphia 76ers selected Timothe Luwawu-Cabarrot out of France with the 24th pick in the 2016 NBA draft. So far, this 21-year-old shooting guard is off to a promising start.
Timothe Luwawu-Cabarrot, or TLC for short, began his 76ers career in the summer league. Playing  alongside Ben Simmons, he displayed tremendous athletic ability, solid shooting, and intense defense. It was encouraging to see TLC already out there and playing in his first year over as an international player.
Early in the year, he saw little playing time, only getting in during the last several minutes of already-decided games, garbage time. But slowly, due to injuries and struggles from the Sixers wing players, he has carved out time for himself in the rotation and has shown promising signs.
Obviously, Luwawu's statistical numbers are low. He's averaged only 7.2 minutes per game throughout 15 appearances. This December, he is averaging 10.8 MPG, and shows flashes on both ends of the court.  Still, he is pure energy that is still in the process of being harnessed by head coach Brett Brown.
Live Feed

timothe luwawu-cabarrot
He brings much needed athleticism and solid defense to the 76ers wing players. Of course, he is extremely raw. His body type and frame is improving, and maturing.  TLC still needs to fill out a little bit more to gain that strength needed at the NBA level. However, his crazy athleticism and overall raw talent and intangibles will guide him along for the future. From this point of reference, he is a long way away of what we all hope he can become in the future.
Comparison
Timothe Luwawu-Cabarrot has drawn several comparisons to different wing players currently in the NBA. Among those comparisons is Trevor Ariza. Luwawu compares to Ariza in several different ways. Both are extremely athletic, two-way players that can play above the rim and get out on the break. Ariza is a far more mature and sound defender than Luwawu is now (obviously), but if TLC can translate his athleticism to the defensive end every possession, watch out. Also, Ariza has never been a star in the NBA. He has always been a high energy player that competes hard and is a great starter and role player in the NBA. The hope for the future is that TLC can turn out to be something of Ariza's nature, and provide all those abilities for the 76ers for years to come.
Needs Improvement
There are still several aspects of Luwawu's game he needs to develop and perfect. Number one has to be developing a consistent jump shot. The foundation is there, and he has shown flashes behind  the arc. It will take tons of work and repetition from TLC to develop that jump shot and take his game to the next level.
The second thing that needs improvement from Luwawu is his ball handling. If he can sharpen that up and become more comfortable with the ball, his game will skyrocket. Part of the issue is his court awareness.  He fearlessly attempts to dribble through two or three defenders at times. With experience, he will learn to pass out of those multi-defender situations, or take the more indirect but safer route.  Due to his tremendous athletic ability and quick first step, it will only take a few strong dribbles to get to the rim.
The final major thing that TLC will need to improve to strengthen his game is his focus defensively. Everything is there for him on that side of the ball, but he needs to bring the same intensity and focus every play. Of course, that will also come naturally with maturity and experience in the NBA.
Impact in 2016-2017 Season
Even though he is seeing rotational minutes right now, Luwawu will just have to do his best to make the most of his minutes and opportunities the rest of this year. Unfortunately, he will lose minutes, as Robert Covington is fully healthy. Although 76ers fans and myself would love to see TLC in the regular rotation, it is unlikely.
He will have to make the most of his minutes he gets to earn time on the court. Again, Luwawu is extremely raw and has much to improve on. Hopefully, Luwawu works hard and develops his weaknesses. As of now, it's extremely promising to see the early development and skill set of Luwawu on display this year.
More from The Sixer Sense
This article originally appeared on