Time to dispel the myths and appreciate Russell Westbrook for who he is
Matthew Hallett/FanSided via Thunderous Intentions

Fansided
Russell Westbrook doesn't get the appreciation he deserves from analysts and former players. It's time to dispel the myths and nonsense and simply appreciate Russell Westbrook for the special player he is.
Russell Westbrook of the Oklahoma City Thunder has had to endure a lot of scrutiny in the press this year. The man is averaging a triple double and I have heard some commentators, mostly ex-players trying to talk down this feat which only one other player in history has achieved..
I was watching a San Antonio Spurs game early in the season. Sean Elliott was talking about how much easier it is for a guard to average larger rebounding numbers. This is because of the trend of the NBA center to shoot from deep, meaning that there are less big bodies in the middle to get the rebounds.
Must Read: Five stats that correlate to Thunder wins and losses
Interesting comments from a 6-foot-8 player who sits at 225 all time for three point shots made. He also never averaged more than 5.6 rebounds per game in a season.
This tells me that Elliott does not watch many Oklahoma City games. Why does it tell me that? I will tell you shortly.
I also was watching ESPN when Charles Barkley stated that guards can get more rebounds because the ball is being shot from further out so is therefore bouncing further off the rim. Please, guys, understand that the NBA is different from when you played but not that different.
Dec 30, 2016; Atlanta, GA, USA; Detroit Pistons center Andre Drummond (0) defends Atlanta Hawks center Dwight Howard (8) in the first quarter at Philips Arena. Mandatory Credit: Brett Davis-USA TODAY Sports
Current Day Players
There are seven current players in the top 50 all time rebounds per game, Andre Drummond, Dwight Howard, Kevin Love, Karl-Anthony Towns, Hassan Whiteside, DeMarcus Cousins, and Anthony Davis. DeAndre Jordan is sitting in 52nd place all time as the eighth best current day player.
Do you think that these guys do not know that the ball is going longer because of where it is shot from? That is a ludicrous statement from Barkley.
Related: Russell Westbrook officially ranks fifth for all-time triple-doubles
But back to Elliott. There are less big players clogging up the paint so Westbrook has an easier time getting rebounds? Of the 11 players above him on the list, Love is the shortest at 6-foot-10. How is that easier?
The next players this season who are not not a power forward or center on the rebounds per game list behind Westbrook are Kevin Durant in 21st and the James Harden in 25th. How is it that no one else can average the numbers that he is even though there are supposedly less big bodies clogging the paint?
Steven Adams does a tremendous job of holding his players back with a box out so that anyone from the Oklahoma City Thunder gets the rebound. Westbrook simply uses his speed, athleticism and game nous to read the ball and be there for the rebound.
Do we now question Wilt Chamberlain's Legacy?
Let's not forget the fact that Westbrook also is jumping over these big bodies to collect offensive rebounds. However, to pick apart Elliott's opinion even more, why not question if Wilt Chamberlain should be known as the greatest rebounding player of all time. He played when the average height of a center was 6-foot-10. Now, it is over 6-foot 11.
Surely his 22.89 rebounds per game would be less now, he would be playing against bigger players. No, Chamberlain was a one of a kind physical specimen on the basketball court and in my opinion, to this day, we have not seen his equal for stamina, athleticism and strength on an NBA court.
Must Read: Thunder player grades for first half of season
The justifications will come thick and fast, it was a different era, the pace was quicker, there were more rebounds to get. Chamberlain was simply good enough to get the rebounds on offer This season, Westbrook is good enough to get ten a game, the only guard to be anywhere near that number. If it were easier today, more players would be doing it, wouldn't they?
Is Russell Westbrook a stat sheet stuffer?
I have heard the shouted whisper of the fact that Russell Westbrook is indeed a stat sheet stuffer. He is playing to get numbers so that he can average the triple double. Again, I challenge anyone who watches the Oklahoma City Thunder to actually make that statement with authority.
Westbrook is the best offensive weapon on the team, he can create his own shot with effectiveness. The only other player with that ability on the team is Victor Oladipo,
Westbrook, being the point guard, also creates shots for others. He gets the ball to them when they are in their comfort zones. He is sitting second in assists, so has to be considered one of the best in the NBA at this skill. Is he stuffing his stat sheet when he lobs an alley-oop to Adams?
Is he stuffing his stats when the defense collapses on him and he kicks it out to Oladipo, Domantas Sabonis or Andre Roberson for a three? No, that is doing what a point guard does.
So where he is stuffing his stat sheet would then have to be rebounds right? Well, all I can say is please watch the games before you open your mouth. Once a shot has gone up, Westbrook is always working hard to crash the boards and help out his bigger players. That is called leadership.
For those who saw the Indiana Pacers game, if Westbrook was trying to collect triple doubles, would he not have tried to get the ball to a shooter for his 10th assist even in the closing stages? No, he took most of the shots himself at the end, unfortunately missing them. He does what he thinks that the TEAM needs for them to win.
Must Read: Five Shooters the Thunder Should Target
Lets compare with an actual stat stuffer
Towns has been seen to yell for a rebound when other players are in a better position. No one comments on this obvious stat stuffing. Also, this season, when Towns has a big night of more than 30 points, the Minnesota Timberwolves are 6-4.
When he goes for over 40, they are 0-2. I love watching Towns play, I really do. However, the below numbers show that Westbrook has the talent and ability to get his team over the line. Towns, does not. Of the 29 games where Westbrook has scored more than 30 points, the Thunder are 19-10. They are 5-3 when he goes for more than 40.
The Thunder are 19-6 when Westbrook has a triple double. That says to me that Westbrook is doing the team thing, not the individual thing.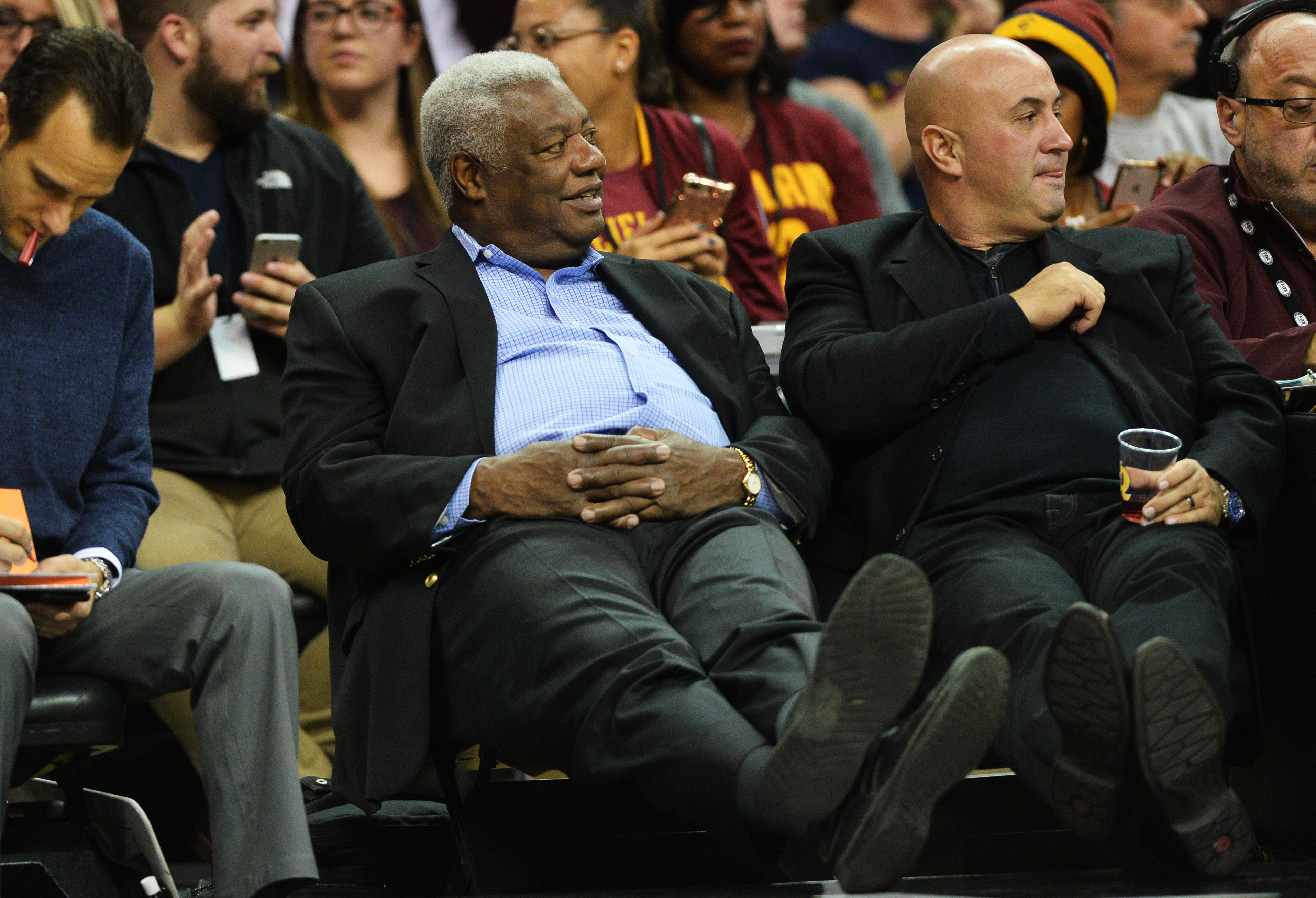 Oscar Robertson
In the 1961-62 season, Oscar Robertson did something that to this day has not been repeated. This was when he averaged his triple double for the season.. Robertson was 6-foot-5 compared to Westbrook who is 6-foot-3. This fact alone makes the rebounding easier.
Related Story: Can Russell Westbrook sustain these numbers all season
However, I am not here to take away from Robertson. What he did is something that has not been replicated in more than 55 years. Robertson holds the record by a long way for total triple doubles.
He was, quite simply a legend. Westbrook has a chance of matching the feat that only Robertson has done, lets just enjoy it.
Russell Westbrook shows commitment to the team.
Remember one other thing, when a forward who could play a bit left the organization in the last off-season to try and cherry pick a Championship, what did Westbrook do? He signed an extension to stay with the team. A team that should be going down a long way in the Western Conference standings.
What happened when he won the scoring title two years ago but the Thunder missed the Playoffs because of a lucky heave from Anthony Davis? He told the world he did not care because he now had to watch others play. Westbrook just wants to play and win.
When Westbrook wins the MVP award this season, if the Thunder do not make the Playoffs, don't expect him to be happy. He wants to play, he wants to win. Stop trying to diminish what Westbrook is doing, just enjoy it while you can. We may not see his like for another 50 years.
Make sure you join our live blog Saturday night when that previous Thunder star returns and Westbrook puts on full display his loyalty, team oriented mindset and his desire to win.
This article originally appeared on