Time for the Miami Heat to start Josh Richardson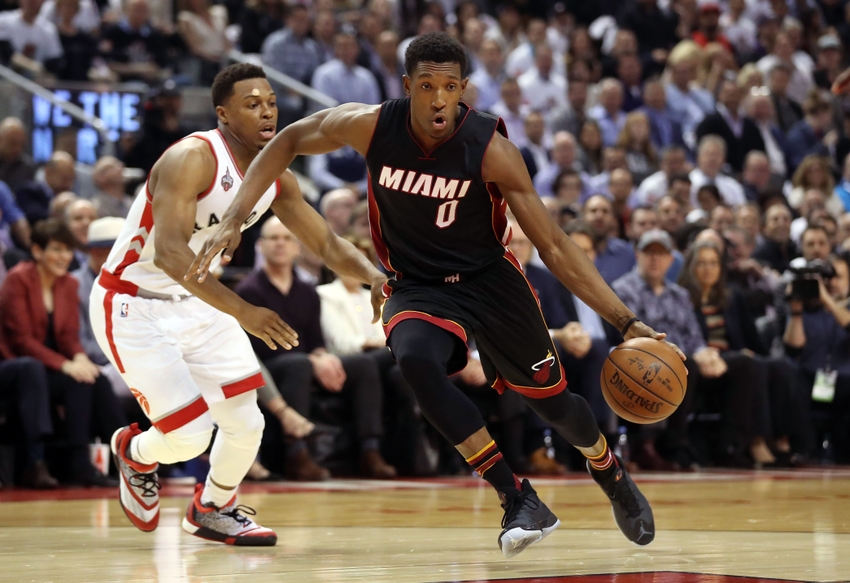 The Miami Heat are 2-4, and promising second-year guard Josh Richardson has yet to see his first start of the season. Can he help turn things around?
Josh Richardson has played in a couple of games this season since returning from an MCL sprain he suffered this summer. I understand not wanting to rush him back, but it's time to put Richardson into the starting lineup.
There's no need to hit the panic button whatsoever.  Not yet at least. It's early November and there are plenty more games to be played. With that being said, though, I am concerned. The Heat have scored an average of just 86 points in the last two games, and the offense just isn't clicking consistently.
With the exception of the Sacramento game, Dion Waiters has been a disappointment so far, averaging just 9.5 points per game on less than 32 percent shooting.  
Richardson is coming off a partially torn MCL injury that sidelined him for the preseason and the first week of the regular season. Since his return, he now has two games under his belt and you can see his progress slowly.
While his stats don't jump off the page, there is huge upside after seeing him back on the court. Richardson is crazy athletic and that's what Miami needs in their starting lineup.  That, along with his three-point shooting ability, complements both Whiteside and Justise Winslow.
Just last game alone, you can see the small differences that favor more Richardson as the clear starter.  In 27 minutes, Waiters only had 2 points with 1 of 9 shooting.  Yes, it's only one game, but that's not really the case with his sporadic up and downs averaging barely 10 points per game.  It's not bad, but it's not what Miami needs right now in a starter.  Richardson had 7 points last game in fewer minutes and managed to bring in 4 rebounds off the stat sheet.  You automatically see the fresh energy on the court and I think that's the minor switch needed in the starting lineup.  
According to the South Florida Sun-Sentinel's Ira Winderman, Spoelstra is giving Richardson time to "get up to speed." At 2-4, Spoelstra needs to make changes soon.
I believe the Heat are waiting for Josh Richardson to get up to speed in his return from his knee injury so he can play as the starting shooting guard, and therefore have Waiters play on the second unit with Johnson, to help ease the playmaking responsibilities amid Johnson's adjustment to point guard.
With the next four games coming against playoff contenders–including Wednesday night's marquee matchup against Dwyane Wade and the Chicago Bulls, the Heat need to rush Richardson into a bigger role.
This article originally appeared on