Time for the Miami Heat to scrap the James Johnson project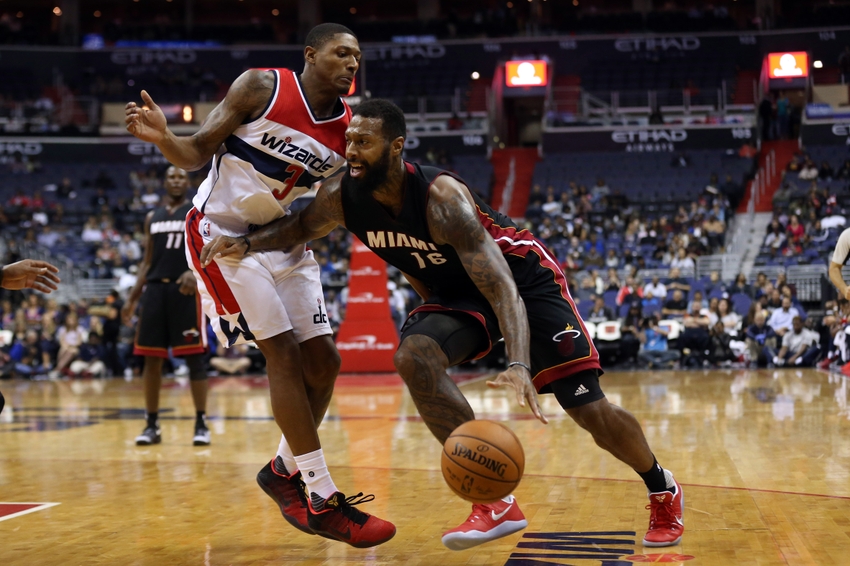 The erratic play of James Johnson should earn him Derrick Williams' role on the Miami Heat bench.
Five games into the NBA regular season is a little too early to be locked into lineups when a team is in the process of a rebuild. However some players on the Miami Heat roster have left coach Erik Spoelstra with his hands tied.
For instance, the future development of Justise Winslow has him fastened into the small forward position, even though the NBA's stats tracker has him at an effective field goal percentage of 35.7. Furthermore injuries to Wayne Ellington and Josh Richardson placed Dion Waiters at starting shooting guard despite averaging less than 38 percent from everywhere besides the free throw line. A 1.2 assist to turnover ratio also does not help his cause.
The power forward position is a little different though.
With Chris Bosh's Heat career likely over, the position is wide open when it comes to all ends of the rotation. While Luke Babbitt is the starter, James Johnson is averaging 20 minutes per game despite being so unproductive.
The South Florida Sun Sentinel's Ira Winderman has a theory to explain such reasoning:
"I'm not sure James Johnson has gotten the opportunity to get to where he could best serve the Heat, as a perimeter stopper. With the Heat most utilizing Justise Winslow in that role, I still believe there will be an opportunity to utilize Johnson against bigger, power threes, such as LeBron James and Carmelo Anthony, which might be why Spoelstra is keeping Johnson as an active participant in the rotation."
Unfortunately that excuse still provides an issue.
Unless Winslow's shooting percentages begin to blossom, there will be no concerns about his defensive matchups taking away from his offense. Thus he will continue to be cast in the role of perimeter stopper. Which eliminates that job from Johnson.
The backup forward's other function would be to provide energy as he did during Friday night's comeback loss to the Toronto Raptors. However he has a player efficiency rating of nine and a negative plus/minus mark in three out of five games–with a fourth registering at zero.
Johnson's contributions have proved why he remained available all the way towards the tail end of this summer's free agency. But why not give Derrick Williams a try?
For starters, Williams has had the more productive career out of the two–besting Johnson in almost every statistical category including points per game, three point percentage and rebounds. Not to mention, he also carried a 17.3 player efficiency rating as a backup for the New York Knicks last year and–by the numbers–outplayed Johnson this preseason.
All of which are solid reasons why Williams deserves at least a shot at contributing instead of being the only active Heat player not to spend time on the court.
If you believe Winderman, his towel waving days could be coming to an end with the return of Richardson and possibly Josh McRoberts. The addition of the two will insert more scoring into a rotation that ranks 23rd in the league, while creating enough cutting lanes for an athlete like Williams to thrive.
If those moves are not enough to get Johnson's uneven play off of the floor, fans will be in for one rollercoaster of a season at the 4 position.
More from All U Can Heat
This article originally appeared on