Timberwolves Wrap: Wolves blow halftime lead in Charlotte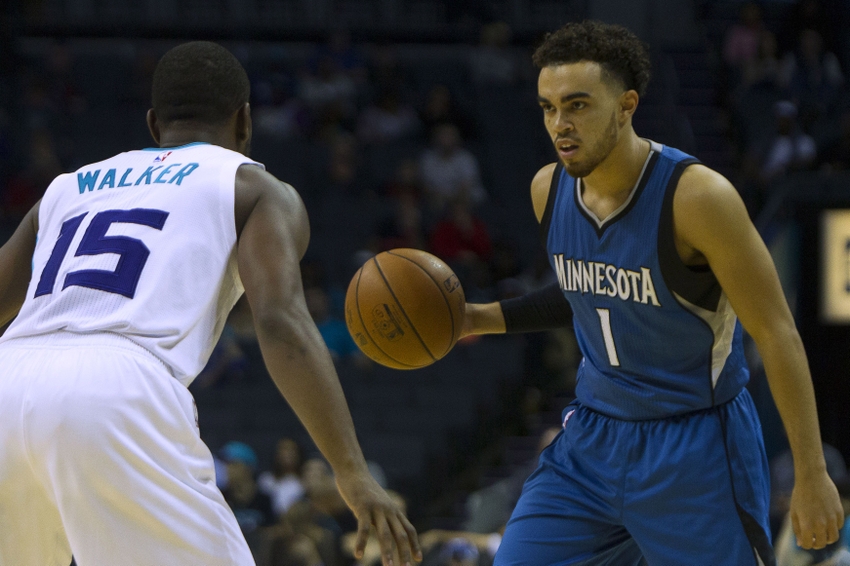 The Timberwolves followed up their victory in Saturday's preseason opener with a loss to the Hornets in Charlotte on Monday night by a final score of 98-68.
After an impressive comeback victory over the Miami Heat in Kansas City on Saturday night, head coach Tom Thibodeau expanded his rotation, playing 15 players with only one (Zach LaVine) playing as many as 28 minutes.
Only 10 players played on Saturday, and it seemed almost like what could be a normal, regular season rotation. On Monday, however, it felt more like a preseason game as 15 of the 16 available players saw the floor, with John Lucas III the only one who remained on the bench throughout.
In another preseason game that was not televised by either team's network, we once again had to rely on social media and box score stats to paint us a picture.
The Timberwolves jumped out ahead early, leading 25-15 after the first frame. Zach LaVine started out hot.
But the Hornets dominated proceedings early in the second frame.
The Wolves held serve for much of the rest of the second quarter and headed into halftime still up by seven points.
The Hornets completely took control in the second half, taking a three possession lead heading to the final frame and started the fourth quarter with yet another run.
It was more or less over after that run, and Thibodeau wasn't about to play starters extra minutes in this one.
Ricky Rubio only played 15 minutes on the night while Karl-Anthony Towns scored just four points in 21 minutes. Kris Dunn played 26 minutes and Tyus Jones made his preseason debut with 11 minutes off the bench.
It's tough to draw any conclusions from this one for a couple of obvious reasons: I didn't watch it live and 15 guys played relatively short minutes. But here's what I have from that: Dunn continues to struggle, LaVine continues to be aggressive (although he did not shoot any free throws), and Nemanja Bjelica is a new man under Coach Thibs.
Star of the Night
Zach LaVine: 30 points (13-20 FG, 4-6 3P, 0-0 FT), 4 rebounds, one assist, 2 turnovers
LaVine hoisted 20 shots in just 28 minutes. He didn't get to the free throw line, so it appears as though much of his damage was done from the perimeter. The 4-for-6 from beyond the arc is awesome, although it may have come with a number of mid-range attempts, too.
Tweet of the Night
Notable Lines
Karl-Anthony Towns: 4 points (2-6 FG, 0-3 3P), 6 rebounds, 2 assists, one steal, 2 turnovers, 21 minutes
Andrew Wiggins: 9 points (3-13 FG, 3-4 FT), 4 rebounds, 2 blocks, one steal, 26 minutes
Nemanja Bjelica 9 points (3-8 FG, 1-4 3P, 2-2 FT), 3 rebounds, 2 assists, one steal, one turnover, 20 minutes
Shabazz Muhammad: 12 points (3-13 FG, 1-3 3P, 5-6 FT), 5 rebounds, one turnover, 20 minutes
Who's Got Next?
The Wolves head back west for their second neutral site game in three contests, over the course of just five days. They'll take on the Denver Nuggets in Lincoln, Nebraska, and we'll be keeping on eye on the rotations once again.
This article originally appeared on