Timberwolves Wrap: Wiggins' 47 points downs Lakers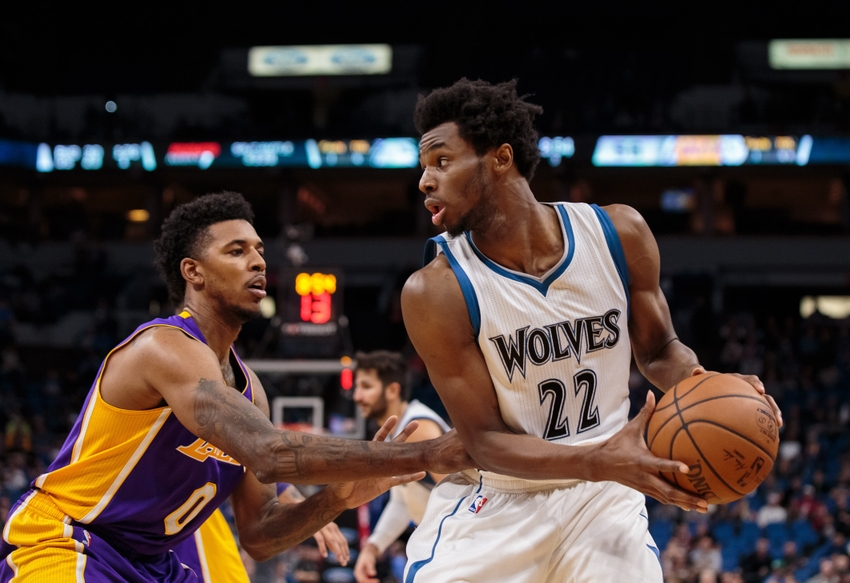 The Timberwolves dominated the Los Angeles Lakers in a much-needed home win on Sunday night behind a career-high 47 points from Andrew Wiggins.

125

99
After being destroyed by the Los Angeles Clippers on Saturday night, the Timberwolves turned around and did the same damage to the other team from L.A. on Sunday.
The Lakers were off to an impressive 6-4 start to the season after beating the Pelicans in New Orleans on Saturday, but ran smack into an Andrew Wiggins-led freight train on Sunday evening.
The Wolves' offense was on point right form the opening tip, but the defense scuffled in the first quarter as Minnesota couldn't slow down the Lakers on the other end of the floor. That lead to a nine-point lead heading to the second frame.
The Timberwolves' bench had the advantage, however, even on a night in which Zach LaVine, Shabazz Muhammad, and Brandon Rush were all unavailable due to a wide variety of apparently minor ailments. That meant that Nemanja Bjelica was inserted into the starting lineup and Tom Thibodeau was forced to use odd, two-point-guard lineups at times.
It also meant that Bjelica was allowed to flourish at his more natural position. After starting at the three-spot and playing well in the first half, the former Euroleague Most Valuable Player turned it on in the second half, eventually achieving a career-high 24 points on the night.
There was yet another third quarter lapse, however. After leading by 23 at halftime, the Wolves allowed the Lakers to trim the lead to single digits more than once, and needed a mid-to-late fourth quarter push to drive the final margin back up over 20 points.
The game was far closer than it should have been given the dominance that the Wolves demonstrated early and for long stretches throughout, but that's exactly how the season has gone thus far.
At any rate, it was good to see the Wolves move to 2-0 on the second-half of back-to-back sets and beat another young, up-and-coming Western Conference squad.
Tweets of the Night
Star of the Night
Andrew Wiggins: 47 points (14-21 FG, 2-5 3P, 17-22 FT), 4 rebounds, 3 assists, one block, 2 turnovers
Wiggins reached a career-high in points and was dominant throughout. He was aggressive in the paint and got to the line at will, and only utilized his tough, twisting turnaround jumpers when necessary.
He also continued to hit from beyond the arc at a high clip, and shot well from the free throw line as well. The rebounding and assist totals weren't great, but at least they were something. Plus, he only turned the ball over twice in 41 minutes.
Notable Timberwolves Lines
Nemanja Bjelica: 24 points (9-15 FG, 5-8 3P, 1-1 FT), 8 rebounds, 3 assists, 3 steals, one block, one turnover
Karl-Anthony Towns: 22 points (7-22 FG, 2-7 3P, 6-10 FT), 12 rebounds, 2 assists, one block, 2 turnovers
Ricky Rubio: 10 points (4-6 FG, 1-3 3P, 1-2 FT), 10 assists, 4 rebounds, 3 steals, 2 turnovers
This was a game in which the Wolves' top players needed step up, and boy, did they ever.
With LaVine unavailable, Bjelica made his first-ever NBA start. And without Muhammad and Rush able to play, Wiggins and Bjelica had to stay out of foul trouble and produce — which is exactly what they did.
Who's Up Next?
The Wolves will stay home and rest on Monday before hosting the 6-3 Charlotte Hornets on Tuesday night at 7:00 p.m. CT. Steve Clifford's crew has lost two straight, including a tough loss to Cleveland on Sunday.
More from Dunking with Wolves
This article originally appeared on