Timberwolves Wrap: Warriors pull ahead late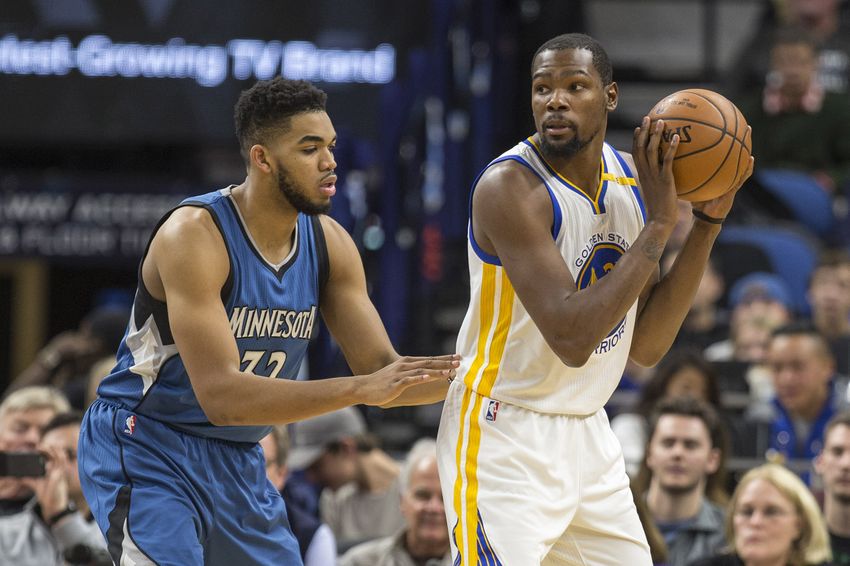 The Timberwolves led by 10 points heading to the fourth quarter against the Golden State Warriors, but the back-to-back Western Conference champs pulled ahead with ease down the stretch.

116

108
The Timberwolves played well for much of the game on Sunday night, but as it turns out, the Golden State Warriors know just how to close.
The Wolves trailed by just two points at halftime and actually won the third quarter by a 30-18 margin, but the fourth and final frame belonged to the mighty Warriors. The 2015 NBA champs closed the game with a 38-20 fourth quarter run, and seemed to barely break a sweat in the process.
The Wolves held both Stephen Curry and Kevin Durant in check in the first half, and while Curry put a solid third quarter together (he didn't hit his first three-pointer until midway through the frame), Durant didn't start scoring until the fourth.
But a 10-point lead wasn't nearly enough, as the Warriors erased the home team's lead in short order. Durant, Curry, and Klay Thompson came alive, and while the Wolves held Durant to just 6-for-21 from the field, Curry and Thompson finished at a combined 17-for-34.
The Wolves were okay on both ends of the floor and actually looked like they wanted to compete on this night, but that wasn't enough down the stretch. Once the Warriors began to score at will, the Wolves offense became rushed and inconsistent.
All things considered, this wasn't a bad loss for Minnesota, however disappointing it may have been. The real test will be if the intensity that the Timberwolves showed will sustain throughout the upcoming week.
Tweet of the Night
Warriors open the fourth 25-4. Out of nowhere they just found the gas pedal and have floored it.

— Jon Krawczynski (@APkrawczynski) December 12, 2016
Star of the Night
Klay Thompson: 30 points (11-21 FG, 4-12 3P, 4-4 FT), 6 rebounds, 2 assists, one block
Thompson was solid throughout, and his quick release baffled the Wolves' defense as a whole. It's partially a testament to the Warriors smooth offensive action, of course, but Thompson was key during the Warriors fourth quarter comeback.
Notable Timberwolves Lines
Who's Up Next?
The Timberwolves travel to the Windy City for a Tuesday night showdown with the Chicago Bulls. Tom Thibodeau's return to Chi-Town will take place on ESPN, before the Wolves will have three days off prior to a Saturday night home date with the Houston Rockets.
More from Dunking with Wolves
This article originally appeared on