Timberwolves Wrap: 45 for Davis and a loss for the Wolves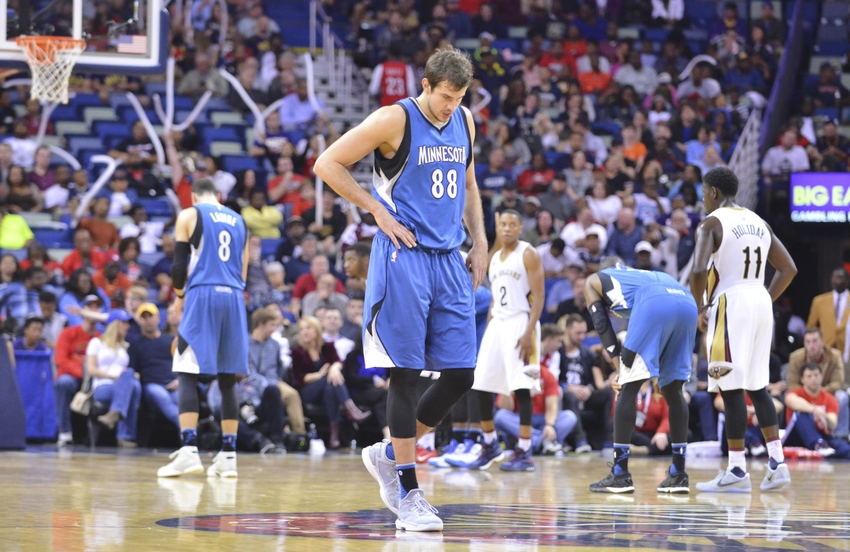 The Timberwolves tendency to throw games away in the third quarter reared it's ugly head once again as the Pelicans walked away with an easy victory.
Timberwolves fans have seen this game 27 different ways this season, already: a competitive first half followed up by a third quarter collapse and yet another loss.
But, really, things we're unsteady from the beginning.
With only four minutes gone in the game, E'Twaun Moore put the Pelicans up 9-2 on a pair of mid-range jumpers. Two minutes later, Anthony Davis grabbed a rebound and rocked the rim for two. Suddenly, the Pelicans lead had ballooned to 10, 17-7.
Zach LaVine came charging back, going three-of-five for sevenpoints while helping the Wolves to stable themselves atop a 12-2 run. This, combined with the Timberwolves 12-of-14 from the charity stripe cut the Pelicans lead to six.
However, Anthony Davis finished the first quarter with 21 of the Pelicans 31 points on eight-of-11 shooting.
The Timberwolves opened the second quarter on a 7-2 run to tie the game at at 33. The teams traded buckets until a high flying Zach LaVine threw down an emphatic dunk followed by a pair of free throws to give the Wolves their first lead of the night at 39-38.
Minnesota was able to stretch this lead to eight before the Pelicans slowly crawled back to reclaim the lead and finish out the half leading by a tally of 53-50.
While LaVine put up a solid 16 points on six-of-12 shooting in the first half, Karl-Anthony Towns and Andrew Wiggins combined for just three-of-16 shooting — a trend that would not change whatsoever in the second half.
The Wolves did start out surprisingly strong in the second half, as Towns hit a three out of a dead-ball situation and Rubio swiped the following in bounds pass for a dump off to Gorgui Dieng who finished with a nice hook shot.
And then, the bottom fell out once again.
Anthony Davis hit a three and completed an and-one before Tim Frazier then repeated the and-one process himself. Suddenly, the Pelicans were up, 66-57.
Three minutes later, head coach Tom Thibodeau was forced to call timeout after Solomon Hill threw down a vicious dunk and the Pelicans continued to lead 70-61. This dunk seemed to suck what life there was left out of the Wolves.
Like a train with no breaks headed downhill, the Pelicans accelerated. Davis and Frazier combined for threes, Omer Asik dunked while layups came from what seemed to be the whole team. The opposition led by 21 at the end of three quarters.  Davis had 39 points
Wiggins and Towns sat for the entirety of the fourth quarter, and rightfully so. The dynamic duo combined for 21 points on a horrific 6-for-30 shooting. Zach LaVine used garbage time to play aggressive and toss up meaningless shots, finishing with 26 points.
This game, like so many other Wolves games, had been decided in just three periods of play. In related news, Anthony Davis finished with 45 points and 10 rebounds.
Tweet of the Night
Player of the Game
Anthony Davis: 45 points (17-27 FG, 2-4 3P, 9-10 FT), 10 rebounds, three assists, two steals, one block
Davis simply could not be stopped. He was everywhere on both the offensive and defensive end. Also, this is the second time this year he managed to notch 45 points. While impressive to watch, it's frustrating to see it come at the Wolves expense.
Notable Timberwolves Lines
Andrew Wiggins: 13 points (2-19 FG, 0-3 3P, 9-10 FT), one steal
Karl-Anthony Towns: 9 points (4-11 FG, 1-3 3P), 11 rebounds, three assists, one steal, two blocks
Zach LaVine: 26 points (9-22 FG, 1-5 3P, 7-8 FT), one rebound, three assists, one steal
Ricky Rubio: 0 points (0-2 FG), one rebound, five assists, two steals
Shabazz Muhammad: 11 points (4-6 FG, 0-1 3P, 3-5 FT), two rebounds, one steal
LaVine is the lone bright spot here with Shabazz's albeit nice stats coming in garbage time. The trifecta of Towns, Wiggins and Rubio were absolutely terrible. All three of them need to be far more consistent on both ends if this team has any hope of generating noise in the Western Conference.
Something that Wolves fans don't see often is the teams starters playing under 32 minutes a game. That mark was achieved by all the starters, except for LaVine. In most cases, this would be a step in the right direction. However, due to poor play, Rubio, Dieng, Towns and Wiggins sat for the majority of the fourth quarter.
Who's next?
The Wolves head to the desert to face the Phoenix Suns, who slipped past the Orlando Magic yesterday, 92-87. The Suns, like the Wolves, are a team brimming with talent led by a future star, Devin Booker. Towns' former Kentucky teammate is currently averaging 19.9 points per game.
More from Dunking with Wolves
This article originally appeared on