Timberwolves vs. Spurs: Hosting the best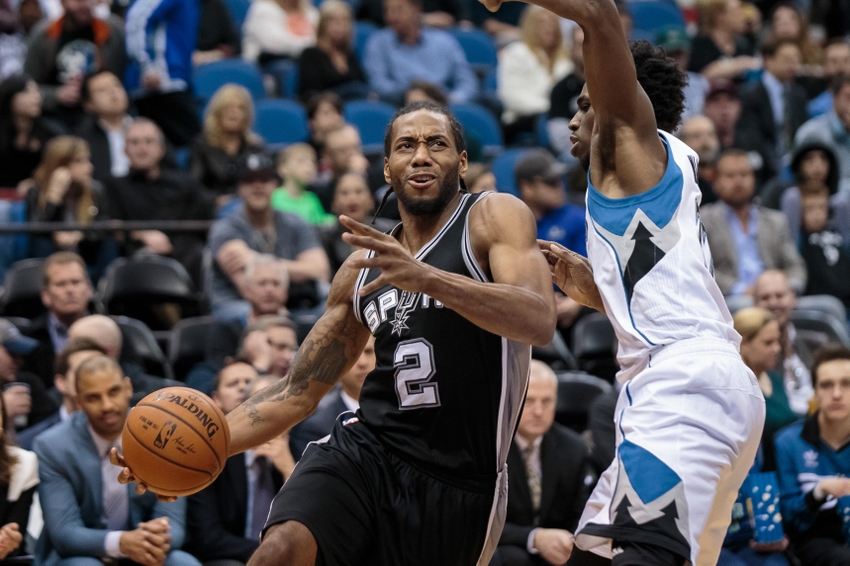 The Timberwolves followed an exhilarating comeback win on Saturday night with a pair of off days, but will now host one of the league's best teams in the San Antonio Spurs.
After an impressive, double-digit, comeback road win last time out against a good Charlotte Hornets team, the Timberwolves will have to back it up with what would be an even more striking win against the mighty Spurs on Tuesday.
The Wolves will be at home and have been resting since Saturday, but the Spurs are 17-4. San Antonio did play (and win) n Monday in Milwaukee, so Minnesota will have the "rest" thing going for them, at least.
The Andrew Wiggins vs. Kawhi Leonard storyline will be one to keep an eye on, as is the Karl-Anthony Towns vs. LaMarcus Aldridge match-up.
Click below to begin the preview…
Minnesota Timberwolves Preview
Record: 6-14 (3-5 home, 3-9 road)
Starting Lineup
PG – Ricky Rubio (6.5 PPG, 6.7 APG, 3.8 RPG, 1.5 SPG)
SG – Zach LaVine (19.8 PPG, 3.1 RPG, 2.7 APG)
SF – Andrew Wiggins (22.8 PPG, 3.9 RPG, 2.5 APG)
PF – Gorgui Dieng (9.9 PPG, 8.1 RPG, 2.4 APG)
C – Karl-Anthony Towns (22.6 PPG, 10.2 RPG, 2.3 APG)
Key Reserves
The Wolves bench played much better the past two games, as noted by yours truly on Monday.
Scoring was way up during Friday's loss in New York, but the bench's timely contributions early in the fourth quarter on Saturday was even more significant. Kris Dunn and Nemanja Bjelica played well each time out, and Shabazz Muhammad finally came to play on Saturday in Charlotte.
The Wolves will need this resurgence to continue if they're to begin digging out of their 6-14 hole, and especially when matched up with the San Antonio Spurs.
San Antonio Spurs Preview
Record: 17-4 (5-4 home, 12-0 road)
Starting Lineup
PG – Tony Parker (9.4 PPG, 4.4 APG, 1.9 RPG)
SG – Danny Green (7.5 PPG, 3 RPG, 2.2 APG)
SF – Kawhi Leonard (24.1 PPG, 6.1 RPG, 2.8 APG, 2 SPG)
PF –LaMarcus Aldridge (17.6 PPG, 6.8 RPG, 1.8 APG)
C – Pau Gasol (11.4 PPG, 7.4 RPG, 2.6 APG)
Key Reserves
Somewhat shockingly, 13 different players have started at least one game out of the first 21 contests that San Antonio has played. We're simply taking a stab at the starting lineup based on who started on Monday night in Milwaukee.
The top minutes-getting non-starters have been Patty Mills (11 points and 3.7 assists in 23.5 minutes per game, including four starts), Manu Ginobili (7.9 points and 37.9 percent three-point shooting in 19.7 minutes per game), and Jonathan Simmons (5.7 points in 19.1 minutes per game).
It's an extremely deep squad — only two players play north of 26 minutes per game, and there are a whopping 12 who average more than 10 minutes per game and have appeared in at least two-thirds of the Spurs' games to this point.
As always, the Wolves will have their hands full with the Spurs.
Three Things to Watch
1. Leonard vs. Wiggins. After a scorching hot start to the season, Wiggins has struggled mightily over the Timberwolves last nine games.
Over the first 11 games of the season, the third-year wing put up 27.4 points per game on 49.1 percent shooting, including an insane 52.3 mark from beyond the arc on four attempts per game. After dropping 35 points and 10 rebounds on the Sixers on national TV back on November 17th, Wiggins has averaged just 17.2 points per game on 35.1 percent shooting, including 22.9 percent from beyond the arc.
Leonard presents a unique challenge for Wiggins. He's one of the league's premier defenders, and appears to be something close to Wiggins' absolute best-case scenario as a player. He's averaging a career-high 24.1 points per game but his percentages from the field are down (.450 FG/.377 3P).
More from Dunking with Wolves
We can all hope for some one-on-one, Leonard v. Wiggins showdowns — even if they aren't likely to end well for Wiggins and the Wolves.
2. Spurs on the road. Gregg Popovich's Spurs are an eye-popping 12-0 on the road after a comeback, one-point win over the Bucks in Milwaukee on Monday night. (Strangely enough, they're just 5-4 at home.)
Can they continue this odd streak, or was barely escaping against the upstart Bucks the beginning of the end of what is surely, at least on some level, an anomaly?
3. Wolves' momentum. Can the Wolves build on the momentum that they seem to have created by playing solid teams tough last week and finally breaking through against a surefire Eastern Conference playoff team with a fourth-quarter comeback win over the Hornets on Saturday?
Or will the 72-hour layoff from Saturday until Tuesday be enough to sap some of the good vibes that Tom Thibodeau's crew created over the weekend?
Game Prediction
The Timberwolves haven't beaten the Spurs since the final week of the 2013-14 season in a game that was meaningless for both sides. Minnesota has lost seven straight to San Antonio over the past two seasons.
It certainly seems unlikely that the streak will come to an end on Tuesday, but here's what the Wolves do have 72 hours of rest while the Spurs just played, on the road, on Monday. They also should have some momentum after Saturday's big road win. And the Spurs are 12-0 on the road — they have to lose at some point, right?
We're not calling this one for the Wolves, however. It'll be 101-97, Spurs, as Minnesota hangs close but can't close it at the end.
This article originally appeared on