Timberwolves vs. Pelicans: Watch Out For The Brow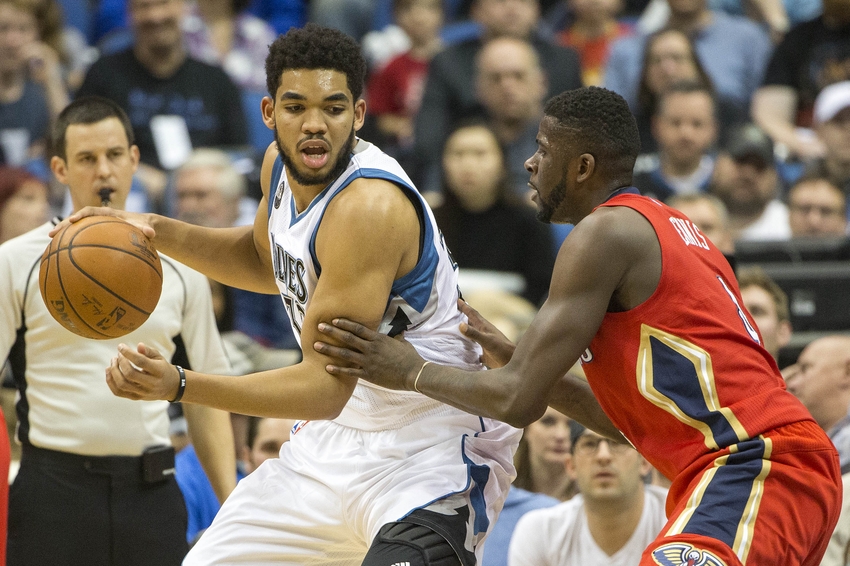 The Timberwolves and Pelicans have had nearly equally rough starts to their respective seasons as they face-off in New Orleans on Wednesday night.
So far this season, the Timberwolves have reinforced the idea that they have the talent to be better than many teams around the league.
The main problem, of course, is that they seem to blow every lead they get. Usually, the Wolves blow their lead in the third quarter, but in their last game, the lead was lost in the fourth.
The Pelicans have been struggling with injuries and haven't put anyone on the floor to help out Anthony Davis. They finally have Jrue Holiday, who has played well so far, back in the lineup.
Andrew Wiggins, Karl Anthony-Towns, and Zach LaVine have been playing very well for the Wolves. The biggest problem has been the rest of the roster. Defenses really only have to worry about those three guys scoring the ball, and it makes them a very easy team to guard.
The Pelicans are in a similar situation, as Anthony Davis and Jrue Holiday are the only players on the Pelicans that seem to be pulling their own weight. The Pelicans also are the worst three-point shooting team in the league shooting just 30.7 percent.
Minnesota Timberwolves Preview
Record: 4-9 (3-4 home, 1-5 road)
Starting Lineup
PG – Ricky Rubio (6.3 PPG, 7.3 APG, 4.9 RPG)
SG – Zach LaVine (18.4 PPG, 3.2 RPG, 2.5 APG)
SF – Andrew Wiggins (24.8 PPG, 4.4 RPG, 2.2 APG)
PF – Gorgui Dieng (10.1 PPG, 8.8 RPG, 1.2 BPG)
C – Karl Anthony-Towns (22.2 PPG, 9.2 RPG, 1.3 BPG)
Key Reserves
The Wolves bench has been very disappointing thus far; not a single Wolves bench player is averaging seven or more points per game.
While Nemanja Bjelica had ten points in just under ten minutes of play against Boston, Brandon Rush and Kris Dunn have been the major weak points. Most fans were expecting a lot out of Dunn, but he has not delivered as of yet. Shabazz Muhammad is another guy that is falling below expectations.
New Orleans Pelicans Preview
Record: 5-10 (home 3-5, road 2-5) 
Starting Lineup
PG – Tim Frazier (11.3 PPG, 7.6 APG, 3.5 RPG)
SG – E'Twaun Moore (11.7 PPG, 3.1 APG, 2.0 RPG)
SF – Dante Cunningham (5.6 PPG, 4.0 RPG, 0.5 APG)
PF – Anthony Davis (31.7 PPG, 11.3 RPG, 3.0 BPG)
C – Omer Asik (2.9 PPG, 6.5 RPG, 0.6 APG)
Key Reserves
E'Twaun Moore has played well in the absence of Jrue Holiday, averaging double figures in points as  Holiday is still coming off of the bench. Terrence Jones has also been playing well for New Orleans as well, scoring his fair share off the bench.
Solomon Hill just signed a four-year, $48 million contract but has been far from a 48-million-dollar man: Hill averages only 4.6 points per game while shooting 29.5 percent from the field.
Rookie shooting guard Buddy Hield is an exciting player to watch, and while he hasn't been putting up staggering numbers for New Orleans, he has potential to bang in long threes at any instant.
Again, this team centers almost totally around Anthony Davis. Not much will be expected from the bench of the Pelicans.
Three Things to Watch
1. Anthony Davis vs. Karl-Anthony Towns. Since the summer, people have been trying to make the conversation along the lines of 'would you rather have Anthony Davis or KAT?' Many would say Towns because of some combination of his superior outside shooting and Davis's injury record.
It should be exciting to see these two players against each other; both are big players that can be as mobile as a guard. Timberwolves fans know what KAT can do, and Davis has been putting up huge numbers this season.
2. Wiggins has a mismatch. If you'll recall, old friend Dante Cunningham used to play in Minnesota. He's not a bad player, but he's forced to get more minutes than he should in New Orleans, and it should be a significant mismatch to be taken advantage of by Wiggins.
This has the potential to be a 30+ point game for Wiggy. Unless the Pelicans can play team defense well enough to cover LaVine, Towns, and Wiggins, there should be a hole somewhere for Wiggins to get to the basket.
3. Potential blowout for the Wolves. Right now the Pelicans are running the offense through Tim Frazier. With Rubio guarding him and not a lot of offensive options this side of Anthony Davis for NOLA, the Pelicans offensive production should be suppressed.
Game Prediction
The Timberwolves should be able to get a win in this one; it really depends on Minnesota's defense keeping the ball from Anthony Davis.
The Pelicans played (and won) in Atlanta on Tuesday night, so they'll be tired and coming off of a road performance just 24 hours prior, plus a flight from Atlanta to New Orleans. The Wolves, on the other hand, haven't played since Monday night's deflating home loss to Boston.
Spit-balling a final score…let's go with 116-104, Timberwolves win.
More from Dunking with Wolves
This article originally appeared on