Timberwolves vs. Magic: Can the Wolves win a road game?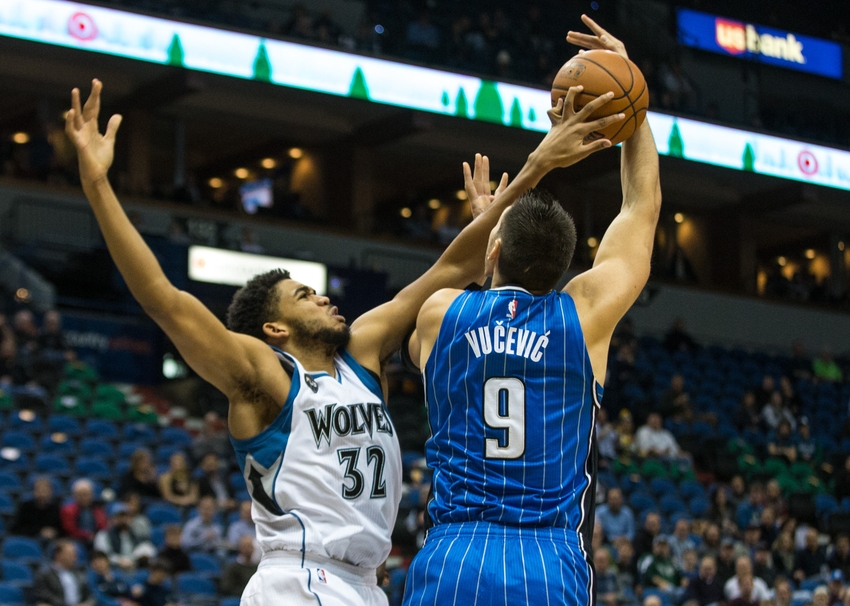 The Timberwolves will continue to search for their momentum, this time in Orlando, after losing three straight including their most recent to the Brooklyn Nets.
The Timberwolves have won just one game thus far this season. That's bad. Like, really bad-especially from a team that was as hyped as much as this one was.
Next up, the Wolves will face the Magic in Orlando, a rebuilding team with too many big men. Of course, they have two more wins than the Timberwolves to this point, as well.
At 3-4, the Magic were able to put together a three-game winning streak against Philadelphia, Sacramento, and Washington before getting blown out by the Bulls this past Monday by a score of 112-80.
With their only win coming on what was essentially a forfeit by Memphis, the Wolves need to come together, play defense, and get their first win on the road.
Minnesota Timberwolves Preview
Record: 1-5 (Home 1-1, Road 0-4)
Starting lineup
PG – Kris Dunn (5.3 PPG, 4.2 APG, 3.5 RPG)
SG – Zach LaVine (17.7 PPG, 3.8 RPG, 2.2 APG)
SF – Andrew Wiggins (23.2 PPG, 4.2 RPG, 1.3 APG)
PF – Gorgui Dieng (10.2 PPG, 7.8 RPG, 1.8 BPG)
C – Karl-Anthony Towns (22.2 PPG, 7.8 RPG, 3.2 APG)
Key Reserves

The Wolves bench looked much improved against Brooklyn, combining for 28 points despite Brandon Rush not seeing the floor at all. We aren't sure if this had anything to do with a pair of back-to-backs this week, but it bears watching on Wednesday in Orlando.
Tyus Jones had an exciting showing with 12 points, seven assists and five steals. Nemanja Bjelica has looked more comfortable and confident on a game-by-game basis as well.
Orlando Magic Preview
Record: 3-4 (Home 2-1, Road 1-3)
Starting lineup
PG Elfrid Payton (10.7 PPG, 6.6 APG, 2.9 RPG)
SG Evan Fournier (17.3 PPG, 2.9 APG, 2.6 RPG)
SF Aaron Gordon (11.6 PPG, 3.0 APG, 5.4 RPG)
PF Serge Ibaka (13.3 PPG, 5.4 RPG, 1 BPG)
C Nikola Vucevic (12.3 PPG, 10.7 RPG, 3 APG)
Key reserves
Jeff Green is the Magic's leading bench scorer. Another year, another team for journeyman guard D.J. Augustin— not to mention former Timberwolves great Damjan Rudez.
Mario Henzonja came over from Europe last year but has failed to live up to expectations thus far, providing only 5.6 points per game on an extremely poor 30.8 percent from the floor to this point.
Between a poor bench and a mishmash of players in the starting lineup, the Wolves should, in theory, overpower the Magic. But, we all know how that has gone so far this season…
Three Things to Watch
1. Tyus Jones' increased minutes.
During an impressive showing against Brooklyn, Tyus Jones played extensive minutes, including the entire fourth quarter. Throughout the game, Tyus showed poise and basketball I.Q. while running the offense. He continues to impress and should continue to be the biggest facilitator on team in Ricky Rubio's continuing absence.
While it would make sense for Tyus to be the starting point guard just based on quality of play, I do believe that Thibodeau is playing the long game here by giving rookie Kris Dunn the starting role.
2. Taking advantage of poor shooting.
The Orlando Magic are the worst-shooting team in the entire league with an effective field goal percentage of 45.6. Their offense, which ranks the 29th in offensive rating, features only two shooters with a field goal percentage higher than 46 percent.
The great news here is that the Wolves sit at second in the league in offensive rebound percentage.
3. Dunking foes meet on the court.
Enough said.
Game Prediction
Outside of the high-flying dunkers and excellent new (to their respective team) head coaches, these two teams could not be more dissimilar.
The Magic, while talented in specific areas, are rebuilding and in somewhat of a limbo state due to their cluttered lineup. The Wolves, on the other hand, are a talent-laden squad that is supposed to be a top up-and-comer in the NBA this season.
If things go as they should, (pssst…they most likely won't), the Wolves will win this one, 110- 92.
More from Dunking with Wolves
This article originally appeared on