Timberwolves vs. Clippers: A big test at home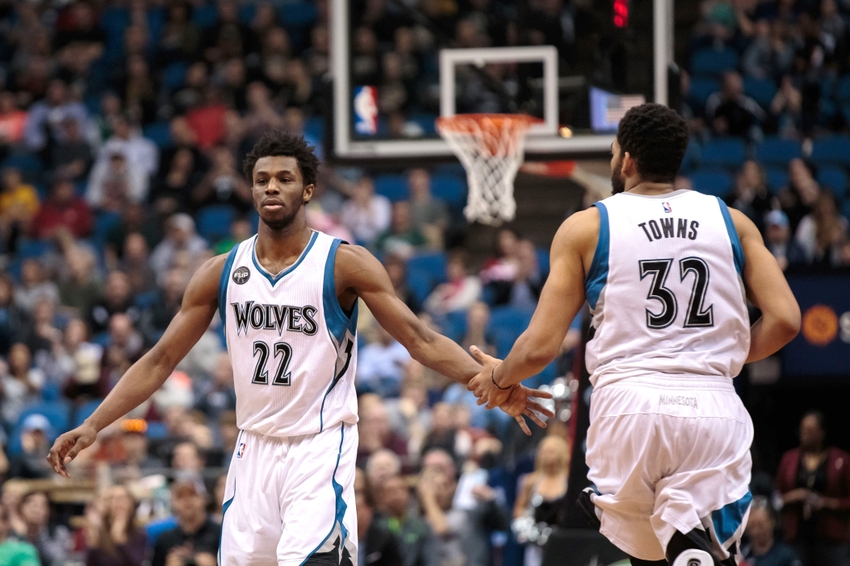 After opening the season 1-5, the Timberwolves won their first road game of the year on the second half of a back-to-back on Wednesday and look to build their first winning streak of the season at home against the Clippers.
The Timberwolves have only played one surefire playoff team thus far and were blown out in Oklahoma City one week ago.
Now, the mighty Los Angeles Clippers and their sparkling 8-1 record come to town.
The Wolves did receive some good news on Friday as Ricky Rubio returned to practice after missing 10 days with a sprained right elbow. According to head coach Tom Thibodeau, Rubio may even play on Saturday against the Clippers "as long as he feels pretty good".
And there wouldn't be a better game for Rubio to return; Chris Paul has been arguably the best player in the NBA through the first three weeks of the season, and is a tall task for anyone to keep in check, much less a struggling rookie such as Kris Dunn.
It's not like Rubio has stopped Paul in the past, of course — hardly anyone can say that they have. But Rubio + Dunn in reserve is more likely to have something resembling success than Dunn + Tyus Jones, despite Jones' strong play of late.
If Rubio returns, the Wolves should have a shot at pulling out a surprise win as the Clippers traveled on Friday after winning a close game in OKC and Minnesota has been off since Wednesday night.
Minnesota Timberwolves Preview
Record: 2-5 (Home 1-1, Road 1-4)
Starting Lineup
PG – Ricky Rubio (4.5 PPG, 6.5 APG, 1.5 SPG)
SG – Zach LaVine (20.4 PPG, 3.9 RPG, 2.3 APG)
SF – Andrew Wiggins (24 PPG, 4.1 RPG, 2 APG)
PF – Gorgui Dieng (10.4 PPG, 8.3 RPG, 1.7 BPG)
C – Karl-Anthony Towns (21.9 PPG, 8.3 RPG, 2.9 APG)
Key Reserves
In a strange twist, former 11th-man Tyus Jones is suddenly the most productive bench player.
After Rubio's injury in the second game of the season, Jones outperformed rookie starter Kris Dunn and has seen 23.2 minutes per game in the five contests that he has appeared in, and has played especially well of late.
Shabazz Muhammad has played the second-most minutes off the bench and has also been the best-performing of the bunch. Nemanja Bjelica has been disappointing thus far, and Brandon Rush hasn't even played the last two times out.
Los Angeles Clippers Preview
Record: 8-1 (4-1 Home, 4-0 Away)
Starting Lineup
PG Chris Paul (19 PPG, 8.6 APG, 5.8 RPG, 2.8 SPG)
SG J.J. Redick (12.2 PPG, 2 RPG, 0.4 APG)
SF Luc Mbah a Moute (4.3 PPG, 2.7 RPG, 1.2 SPG)
PF Blake Griffin (20.2 PPG, 9.7 RPG, 3.9 APG)
C DeAndre Jordan (10 PPG, 11.8 RPG, 1.9 BPG)
Key Reserves
The Clippers might be 8-1, but the bench is not a strength. In what might be the final ride for the Paul-Griffin-Jordan nucleus, their shallow, aging bench is led in minutes by the worst player that sees regular minutes for the Clips in Austin Rivers.
Rivers is seeing 23.8 minutes per game at mostly shooting guard after seeing nearly half of his minutes at the point over the past couple of years. Raymond Felton is playing most of the backup minutes to Paul, and Jamal Crawford is handling ball-handling duties as well.
Outside of Crawford, however, Mareese Speights has been the only productive bench player. Wesley Johnson is still Wesley Johnson, and Rivers simply isn't the answer.
All that said, the Timberwolves bench should have a real chance to flex it's collective muscle against the streaky backups for the Clippers.
Three Things to Watch
1. The point guard match-up. As a fan, any time you get a chance to watch Chris Paul, you have to take some time to enjoy it — minus the incessant complaining/flopping, of course.
Rubio could be fairly rusty if he plays after a 10-day layoff, but his consistent and discaplined team defense would be a welcome sight over the struggling Dunn. And while it would be hard to leave Tyus Jones on the bench after a pair of strong outings on the road last week, I'm not sure anyone thinks that he'd be able to hold his own against the best in the league.
2. Towns vs. Griffin and Jordan. Blake Griffin is off to an outstanding start to the season, and while it's unclear how often he and Karl-Anthony Towns will square-off directly, it'll be a fascinating match-up to keep an eye on. And, not that this actually means anything, ESPN's #NBArank slotted Towns at #11 and Griffin at #12…
The physical DeAndre Jordan is always a tough match-up for Minnesota's spotty work on the glass, and he continues to be a top-five shot-blocker and rebounder in the league. The Wolves will simply need to use both Towns and Gorgui Dieng to pull him away from the paint as much as possible.
3. The bench battle. The Clippers can get hot in a hurry with multi-Sixth Man of the Year award-winner Jamal Crawford, but after him, the bench lacks punch. Of course, the Wolves bench has been disappointing thus far as well, but if Tyus Jones sees the floor he should match-up decently against Raymond Felton, and we're still waiting for a true Nemanja Bjelica breakout as well…
Game Prediction
The Wolves won on the back-end of a road back-to-back on Wednesday, albeit against the Orlando Magic. The Clippers beat the Thunder in OKC on Friday night by two points — the same team and environment that handed the Wolves a 20-point loss just last Saturday.
But Minnesota is well-rested, and the aging Clippers (Rivers is the only player under 27 years old that receives consistent minutes) could struggle with their thin bench on the second night of a road back-to-back.
If Rubio returns and plays decently enough and Jones receives some bench minutes over Dunn, the Wolves will squeak out an exciting win, 102-100.
More from Dunking with Wolves
This article originally appeared on