Timberwolves vs. Celtics: A tough home challenge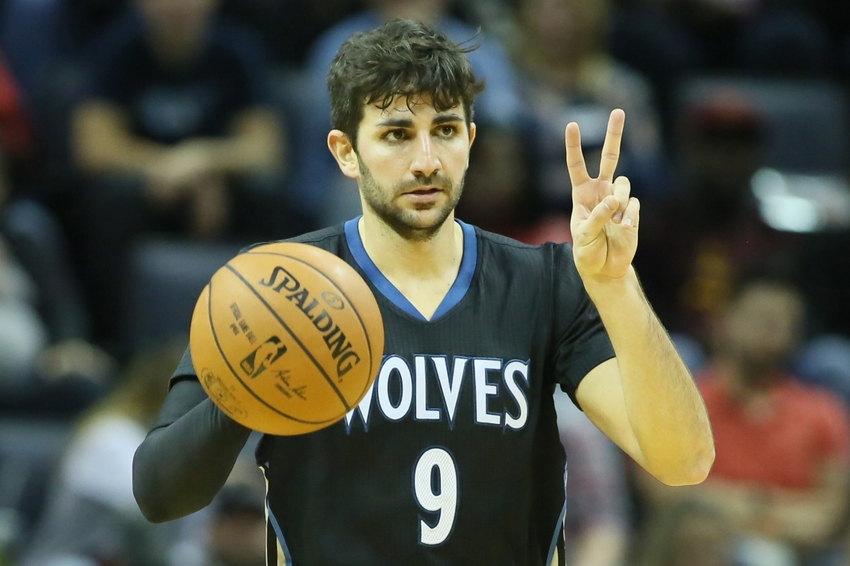 The Timberwolves have had a decidedly up-and-down past couple of weeks, and Monday offers a tough challenge in the 7-6 Boston Celtics.
The Timberwolves started the season 0-2 and eventually, 1-5. Since then, there's been a distinct win-loss pattern for the past 12 days, bringing the Wolves' record to 4-8 and keeping Tom Thibodeau's crew from managing a winning streak of any kind.
There hasn't really been an impressive win among them, either. The second night of a back-to-back on the road over the now-6-7 Magic was nice, as was a 26-point drubbing of the now-7-7 Lakers, also on the back-end of a back-to-back.
And the easy, nationally-televised win over the Philadelphia 76ers wasn't anything special, although a win is a win is a win.
But the bad losses have mounted. Early on, it was blowing 17-point leads — something that happened three times in the opening 10 days or so. A road loss to lowly Brooklyn was a tough pill to swallow, too, and the blowout losses to Oklahoma City and Memphis have been deflating in their own right.
So, in summary: the Wolves have won easily and in blowout fashion four times. They've also been blown out nearly wire-to-wire twice, as mentioned. The loss to the Clippers wasn't quite as ugly, but it also wasn't close in the waning minutes.
That's a 4-3 record in games that were decided early. And it leaves another five games that the Wolves just as easily could have won. After all, the Pythagorean win-loss measure (or, "expected win-loss", according to Basketball-Reference.com) would have the Wolves at 7-5, and their +1.7 point differential remains fifth-best in the entire Western Conference — better than the likes of Oklahoma City, Portland, Utah, and even Memphis and the Lakers.
That means that there has been a good amount of bad luck involved. Throw in the Ricky Rubio injury and growing pains related to having a new coach, and there's good reason to not have an all-out panic attack. Yet.
Here's your preview for Monday's tilt against the Celtics.
Minnesota Timberwolves Preview
Record: 4-8 (3-3 home, 1-5 road)
Starting Lineup
PG – Ricky Rubio (6.1 PPG, 7 APG, 4.4 RPG)
SG – Zach LaVine (19.1 PPG, 3.2 RPG, 2.4 APG)
SF – Andrew Wiggins (25.7 PPG, 4.4 RPG, 2.3 APG)
PF – Gorgui Dieng (9.3 PPG, 8.7 RPG, 2.4 APG, 1.3 BPG)
C – Karl-Anthony Towns (21.8 PPG, 8.4 RPG, 2.3 APG)
Key Reserves
Brandon Rush was ineffective in the first eight games of the season and has missed the past four with a toe injury. Shabazz Muhammad has been a disappointment thus far as well, and missed a few games due to injury before flopping in his return in Memphis on Saturday night.
Nemanja Bjelica has been largely quiet since his breakout against the Lakers just over a week ago, and Cole Aldrich has been, well, Cole Aldrich.
Kris Dunn has struggled, too, and the bench as a whole simply has not been able to find a groove of any kind, except for when third-string point guard Tyus Jones was steering the ship for a few games when Rubio was out and Dunn was elevated to the starting lineup.
It will be interesting to see if Jones ultimately receives some minutes either in place of or alongside Dunn or Rubio in the coming weeks if the Wolves' bench doesn't start producing soon.
Boston Celtics Preview
Record: 7-6 (4-2 home, 3-4 road)
Starting Lineup
PG – Isaiah Thomas (26.2 PPG, 6.5 APG, 2.9 RPG)
SG – Avery Bradley (17.9 PPG, 8.5 RPG, 3.2 APG)
SF – Jae Crowder (12.6 PPG, 5.8 RPG, 1.6 APG)
PF – Amir Johnson (7.5 PPG, 4.2 RPG, 2.3 APG)
C – Al Horford (13.5 PPG, 6.8 RPG, 2.5 BPG)
Key Reserves
The Celtics continue to have one of the NBA's deepest rosters, and are finally nearing a reasonable level of health. Crowder has played in just five games this season and new addition Horford has only appeared in four himself. Their additions to the starting lineup has allowed head coach Brad Stevens to enjoy the full scope of his roster's depth.
The likes of Marcus Smart (10.6 PPG, 1.4 SPG) and Terry Rozier (6.6 PPG, 45.2 3P%) will play heavy minutes off the bench, and the roster still boasts names like Kelly Olynyk, Tyler Zeller, and Jonas Jerebko.
The bench is just another clear advantage for Boston over the Wolves, and it will be key for Thibodeau's bench to step up their game this time out.
Three Things to Watch
1. The point guard match-up. Isaiah Thomas is really good. Like, really, really good. Unfortunately for the Wolves, point guard play has been arguably the biggest contributing factor to the Wolves' disappointing 4-8 start to the season.
Ricky Rubio missed five games due to injury and has struggled in the seven games in which he has appeared. Rookie Kris Dunn has struggled mightily as well. Tyus Jones has been the only relatively consistent point man for the team, and he hasn't played meaningful minutes in over a week.
Will Rubio and/or Dunn step up against the back court of Thomas, Bradley, Smart, and others? Or will Thibodeau turn to Jones if his top-two point guards struggle early in this one? One thing is clear: if the Wolves are to have a chance at winning this game, Rubio must play better than he has the past couple of games.
More from Dunking with Wolves
2. Andrew Wiggins — will he bounce back? The most positive story surrounding the 2016-17 Timberwolves to this point almost has to be Andrew Wiggins. The third-year swingman is scoring 25.7 points per game on 47.7 percent from the field and 50 percent from beyond the arc. He's even expanding his game ever so slightly to other areas of the box score, averaging 4.4 rebounds and 2.3 assists per contest.
But he has had two seven-point clunkers. First, there was the blowout loss in Oklahoma City just over two weeks ago. After a couple of off-days, Wiggins came back with a 36-point performance, including six-of-seven from long-range in a loss to the Nets in Brooklyn.
The other clunker was this past Saturday in the blowout loss in Memphis. The Grizzlies were extremely physical with Wiggins, and don't be surprised if Boston attempts to do something similar on Monday night.
How will Wiggins (and his teammates) respond?
3. The bench battle. If both benches play their best, well, it won't be much of a 'battle'. The Celtics' level of bench talent is head and shoulders above Minnesota's, but that doesn't mean that the Timberwolves' reserves can't give them a run for their money.
If Dunn, Bjelica, and Muhammad can pick up their respective games and lift each other up a bit, they would have a real opportunity to hold serve at home on Monday, allowing the Wolves' starters to have a chance to overtake Boston and emerge with a win.
Game Prediction
Both teams last played on Saturday but the Wolves have the home-court advantage in this one. That said, the Celtics are as healthy as the Wolves and are, quite simply, the better team.
The Celtics match the Wolves' fantastic coach with an all-world coach of their own in Brad Stevens, and Boston's bench depth gives them yet another advantage.
This one might be another frustrating, close loss for the Timberwolves. Let's call it 105-97, Boston.
This article originally appeared on