Timberwolves vs. 76ers: Getting back on track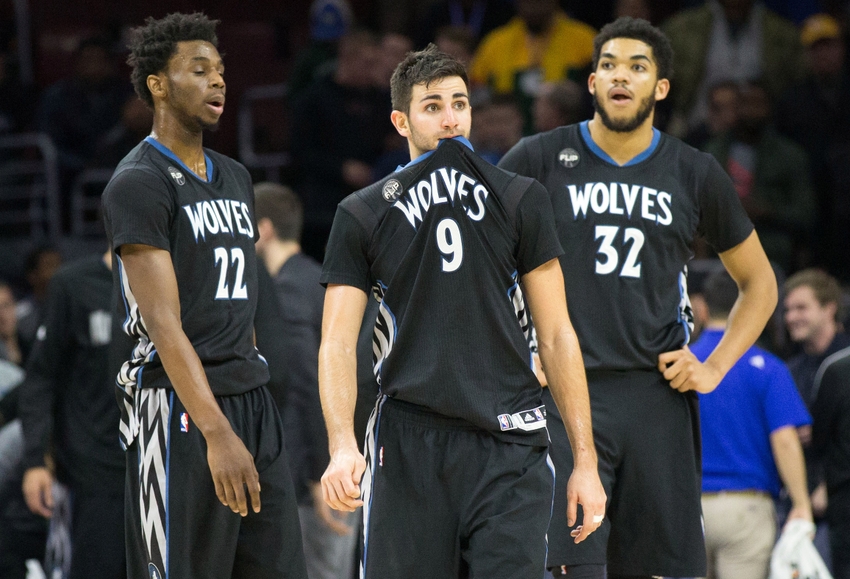 After another devastating third quarter collapse on Tuesday night, the Timberwolves have a golden opportunity to get back on track with a Thursday night date with the 1-9 Philadelphia 76ers.
We've hashed and rehashed the third quarter nightmares that have plagued the Timberwolves' 3-7 start on the season, so I'm not about to regurgitate that sadness in this space.
But it does need to stop, and Thursday against the lowly 76ers is the perfect opportunity to "win" a third quarter for just the second time in 11 games. (The only other third quarter in which the Wolves outscored their opponents was the easy victory against the hopelessly outmanned Memphis Grizzlies.)
The Wolves have been outstanding in both the first and second quarters throughout the season's opening 10 games, and decent enough in the fourth quarter as a whole that they should have more than three wins to this point.
The closing moments of these tight games haven't been all that great, but many of these games shouldn't have been as close as they've ended up, if only Minnesota had performed better in the third quarters.
Philadelphia started the season 1-10 before beating the now-2-8 Washington Wizards at home on Wednesday night. The Wolves will have the advantage in the rest department, although the idea of a back-to-back may not scare the young Sixers all that much.
As a reminder, this game will be nationally-televised on TNT, which has been a rarity for the Wolves in the past decade-plus.
And now, the match-up…
Minnesota Timberwolves Preview
Record: 3-7 (2-3 home, 1-4 road)
Starting Lineup
PG – Ricky Rubio (7.4 PPG, 7.4 APG, 4.6 RPG)
SG – Zach LaVine (19.7 PPG, 3.6 RPG, 2.4 APG)
SF – Andrew Wiggins (26.6 PPG, 3.9 RPG, 2.3 APG)
PF – Gorgui Dieng (9 PPG, 8.3 RPG, 2.5 APG)
C – Karl-Anthony Towns (22 PPG, 8.8 RPG, 2.8 APG)
Key Reserves
Shabazz Muhammad and Brandon Rush both sat out Tuesday's loss, and as of this writing are officially questionable to play on Thursday against Philadelphia.
Nemanja Bejlica was okay last time out in leading the bench unit with 20 minutes played, knocking down two of his four three-point attempts. Kris Dunn was good in the first half, putting up four points and three assists in just 13 minutes of play on the night.
The Wolves only used nine players on Tuesday with Muhammad and Rush out. Tyus Jones didn't see the floor at all, although point guard wasn't necessarily the issue. It will be interesting to see what kind of minutes Jones receives moving forward, and if Adreian Payne's energy minutes persist over using the likes of veteran Jordan Hill, especially in the face of repeated third quarter collapses.
Philadelphia 76ers Preview
Record: 2-9 (2-5 home, 0-4 road)
Starting Lineup
PG – Sergio Rodriguez (8.5 PPG, 7 APG, 3.5 RPG)
SG – Gerald Henderson (10.2 PPG, 2.8 RPG, 1.4 APG)
SF – Robert Covington (8.3 PPG, 4.4 RPG, 2 SPG)
PF – Ersan Illyasova (10.2 PPG, 5 RPG, 1.1 APG)
C – Joel Embiid (22.1 PPG, 7.3 RPG, 2.3 BPG)
Key Reserves
The 76ers finally have an intriguing combination of solid, young talent and decent veterans.
Rookie center Joel Embiid is on a minutes restriction and is not playing in back-to-backs yet, but he sat out Wednesday night's home victory over Washington and will be available on Thursday at Target Center. He's been fantastic, averaging 22.1 points, 7.3 rebounds, and 2.3 blocks in just 22.1 minutes per game through seven contests thus far.
If Embiid starts, that means that second-year center Jahlil Okafor (10.4 PPG, 3.8 RPG, 1.1 BPG) will be coming off the bench. Illyasova, who was recently acquired from Oklahoma City in exchange for Jerami Grant, started his first game as a Sixer on Wednesday night while rookie big man Dario Saric (9.7 PPG, 6 RPG, 1.8 APG) came off the bench.
The Sixers aren't really deep, of course, but having Okafor and Saric off the bench is a lot of front court talent that isn't starting. They'll give the Wolves' bigs a run for their money, to be sure.
Three Things to Watch
1. Karl-Anthony Towns vs. Embiid and Okafor. While Towns' per-game averages are in-line with last season, his play hasn't seemed to be nearly as inspired of late.
While Andrew Wiggins has been getting to the basket and knocking down threes with regularity, Towns has seemingly settled for a number of outside shots without making much of an effort to get to the rim or post up smaller defenders.
Of course, that can change in a hurry, and the reigning Rookie of the Year will no doubt be motivated to stick it to the #2-overall pick from last year's draft in Okafor, and this year's up-and-coming rookie big man in Embiid.
It will be a tall task, as Embiid especially has been dominate in the early going of this season.
2. Timberwolves bench rotation. The Wolves bench has been effective at times this year, but the rotation has been a bit unsettled.
First, there was Ricky Rubio's injury, causing Kris Dunn to slide into the starting lineup and Tyus Jones to play the backup point. Jones performed admirably, leading to a couple of games during which both Jones and Dunn received minutes off the bench, but the former never took his warm-ups off in Tuesday's loss to Charlotte.
More from Dunking with Wolves
Adreian Payne has suddenly received minutes over the past two games and has actually played decently well, save for a couple of classic "Payne moments": random contested mid-range shots, out-of-control offensive fouls, etc.
Nemanja Bjelica was outstanding in scoring a career-high in a starting role on Sunday, but only scored six points in 20 minutes off the bench on Tuesday.
Will veteran Jordan Hill see minutes against the Sixers' gigantic front court? Will the continuous third quarter collapses force Tom Thibodeau's hand in updating the way his reserves rotate into the game?
3. The third quarter. I really didn't want to bring this up again, but it's something beyond the elephant in the room at this point.
The numbers have been examined ad nauseam at this point, but here's your reminder: the Wolves are the NBA's worst third quarter team, by far. (The Hornets, who dominated the third frame on Tuesday, are the best.) They've lost nine of the 10 third quarters in which they've played to this point.
Tom Thibodeau apparently lit up his team post-game on Tuesday, and certainly made his thoughts clear to reporters shortly thereafter. We'll see if anything changes.
Game Prediction
As mentioned, the Sixers are traveling from Philadelphia after defeating the Washington Wizards on Wednesday evening. The Wolves have been at home for nearly a week and are 1-2 on this homestand, including Tuesday's loss to Charlotte.
If Muhammad and Rush are available to play, that would be a solid boost to a bench that's been mostly underwhelming. Perhaps more importantly, we'll see if Towns and Dieng are able to go to work in the paint against the likes of Embiid and Okafor. Beyond those two, the Sixers don't have much beef down low, so the Wolves may be in good shape if one of them ends up in foul trouble.
The Wolves need to win this game. Let's call it a 106-96 victory, with a nerve-wracking third quarter but not quite a full collapse.
Progress, right?
This article originally appeared on