Timberwolves Season Series Preview: Dallas Mavericks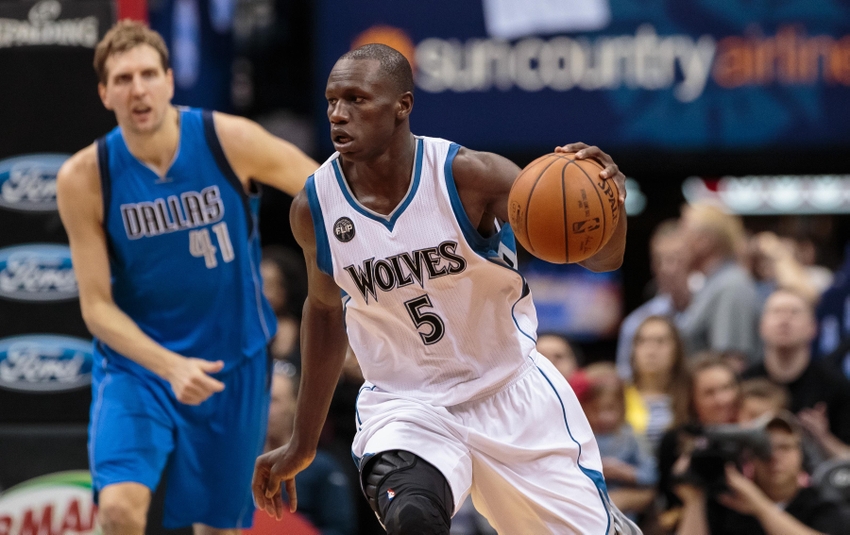 Welcome to Part 24 in our series previewing each of the Timberwolves' opponents and the respective upcoming season series.
Tale of the tape: Dallas swept the four-game season series with the Timberwolves a year ago, with the results of these games due in large part to the lack of offense from Minnesota.
The team only managed to average 90 points per game in the series, bottoming-out with a 78-point finish in April. Andrew Wiggins was the lone Wolf to shine on the offensive end, averaging nearly 23 points per game over the four games.
Despite being a fairly average team statistically, Dallas still managed to find their way to the #6 seed in the Western Conference. The Mavericks have been one of the most consistent teams in the West recently, only missing out on the postseason once since Rick Carlisle took over as head coach.
If the Timberwolves hope to reach this level of success, the Mavericks are one team that they will have to show improved performance against.
What's new? Harrison Barnes and Andrew Bogut headline the new roster additions.
Many believe Barnes will become the new face of the franchise, and Mavs fans certainly hope that to be the case with his hefty, four-year, $94 million contract. He never really blew anyone away during his time with the Warriors, but did show improvement in almost category from year-to-year. And being an Iowa native myself, I saw a lot of Barnes in high school, and I know he's capable of putting up great numbers.
Now that Barnes is the highlight of the offense, maybe he'll feel more comfortable being a shot-taker. I see a lot of similarities between he and Andrew Wiggins, and I look forward to watching that match-up unfold.
Also coming over from Golden State is center Andrew Bogut. The 11-year veteran has had a successful career thus far, and he looks to continue that with his third team. It is likely that Bogut will spend most of the season coming off the bench with the Mavericks, but he should still see a sizeable workload in that role.
How about another acquisition with a connection to Golden State? A…Curry?
No, of course I'm not talking about Stephen — the Curry I'm referring to is his brother, Seth. He's not the same dominant force that his brother is, of course, but should prove to be a solid bench option for a team that's not deep in great shooters.
Last year was Seth Curry's first season seeing real playing time. He appeared in 44 games for the Kings, shooting 45 percent from the field, and I'm curious to see how much time he will get off the bench in Dallas. Either way, it's a pretty interesting story.
Additionally, Quincy Acy comes over from Sacramento. He has battled injury in every season of his career, and that doesn't look like it will change this year as Acy is currently out with an ankle issue. Pending his health, he could play a factor in the Mavs' success. Most of his value comes on the boards, but he proves to be a decent inside threat on the offensive end as well.
Key losses: Raymond Felton, Zaza Pachulia, David Lee
What's the same? Deron Williams and Wesley Matthews return to the starting lineup in the back court, along with former Wolves player J.J. Barea. Williams began to return to form last season after a decline in production in his last season in Brooklyn. He fills more of a two-guard role rather than running the point, and it seems as though that position suits Williams better at this point in his career as his scoring has gone down.
Matthews is also entering his second season in Dallas. He'll need to improve his shooting if he wants to be considered a legit threat on the offensive end. His defensive ability, however, is underrated in my eyes; he has the ability to put a lid on players of any caliber. Hopefully, guys like Zach LaVine and Shabazz Muhammad can find ways to avoid that.
To this point in his career, Barea has been a fairly productive piece off the bench. However, with the loss of Raymond Felton, J.J. may find some time in the starting lineup. His nightly performance ceiling is pretty low, however, and the Wolves should have the advantage regardless of whom Barea is matched-up against.
Dwight Powell's role will likely be in the starting lineup, and his minutes will increase despite the addition of the two aforementioned bigs. He had a great end to his 2015-16 campaign, averaging 11 points and five rebounds. The 6'-11'' Canadian has never been a full-time starter, so it is unclear how he will fare in that position should his time there hold true.
Also returning are long time vets Devin Harris and Dirk Nowitzki. Many were on the fence regarding Nowitzki's status after last season, but he's back for his 19th campaign. The future Hall-of-Famer can still cause huge match-up problems, and that fade-away of his is still a dangerous weapon. Neutralizing him will come on the defensive end, whereas the quickness of the Timberwolves will likely wear him out.
Harris isn't the same player he once was, either. His value will be seen in a leadership role for the most part, as his minutes should stay right around the 20-per-game number from last season.
My prediction? The Mavericks roster is potentially a bit improved from last year. Luckily, however, the Wolves only see Dallas three times this season, and I feel confident in saying they will take at least one of the games in victory.
Two of the three match-ups will take place at the Target Center, a factor that plays in the favor of the Timberwolves, as Dallas has a solid home court advantage. That, along with Dallas' relatively small lineup, provide two distinct advantages that Minnesota could exploit.
The first game of the series will take place on January 9th in Minneapolis.
More from Dunking with Wolves
This article originally appeared on