Timberwolves Rumors: Tyus Jones Drawing Trade Interest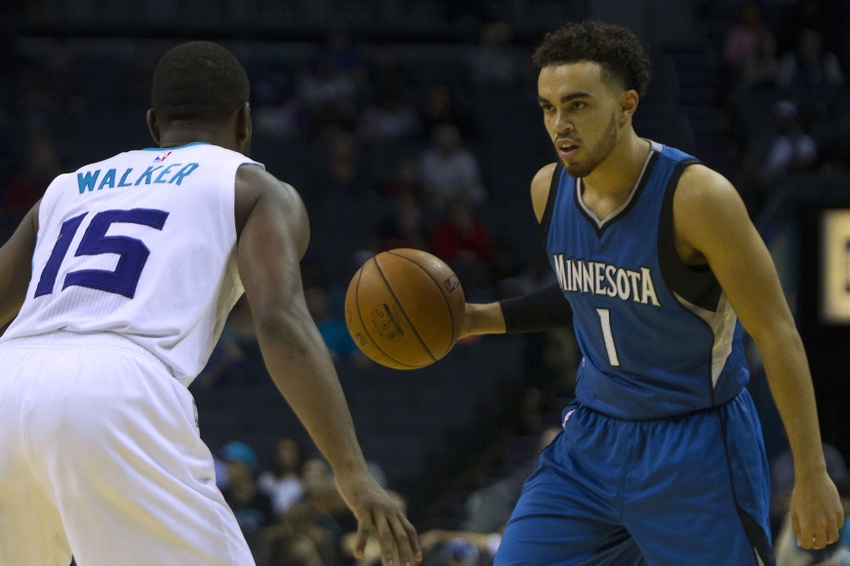 Minnesota Timberwolves Rumors: With the Timberwolves hesitant to move Ricky Rubio, could Tyus Jones be on his way out of town?
Minnesota Timberwolves rumors have been picking up steam recently. Teams that are looking for a starting point guard have been calling to gauge the Timberwolves interest in moving Ricky Rubio. The Sacramento Kings are one team that have pushed for a Rubio trade according to Adrian Wojnarowski of The Vertical.
Wojnarowski cites the Timberwolves reluctance to move Rubio is because they want to make sure Kris Dunn is ready to take over the starting point guard spot first. Dunn, who was selected with the 5th overall pick in the 2016 NBA Draft, isn't expected to take over until about 20 games into the season according to sources that talked with Timberwolves' head coach Tom Thibodeau.
Unless the Timberwolves are bowled over by an offer for Rubio, he looks like he will stick with Minnesota for now. While Rubio will more than likely be moved at some point during the season, now is not the time. But, that does not mean the Timberwolves are done working the trade market.
According to Wojnarowski, there is another point guard also drawing interest on the Timberwolves; Tyus Jones. Jones was the 24th overall pick in the 2015 NBA Draft. He left Duke after his freshman year, as he helped lead the Blue Devils to the National Championship during his lone season in Durham.
League sources said that the Timberwolves are more open to moving Jones in the short term than Rubio. Thibodeau is deadset on winning games this season, as he wants the Timberwolves to make a push for the postseason. With that mindset, Thibodeau is leaning on veterans more than unproven players such as Jones.
Veteran Jonh Lucas III, who played with the Chicago Bulls when Thibodeau was there, has been a part of the Timberwolves point guard rotation during the preseason. It has pushed Jones further down the depth chart, which was the problem during his first year in the NBA.
Jones had a quiet rookie season, as he wasn't a part of the Timberwolves full-time rotation. He averaged 15.5 minutes per game in 37 appearances, scoring 4.2 points with 1.3 rebounds and 2.9 assists. Those are underwhelming numbers, but Jones is only 20 years old and showed why he was a first-round pick in the 2016 NBA Summer League.
Jones won MVP honors at the Las Vegas Summer league, averaging 20.4 points, 6.8 assists, 3.8 rebounds, and 1.4 steals in 34.4 minutes per game. That performance helped improve his standing with other teams around the league according to Wojnarowski, and two teams have already come calling.
According to sources, the Philadelphia 76ers and New Orleans Pelicans have both expressed interest in trading for Jones. The 76ers are always a nice landing spot for young players looking to gain some traction in the NBA. But, the 76ers already have Sergio Rodriguez and T.J. McConnell in place at point guard.
That could mean Jones would struggle to find minutes in Philadelphia as he is in Minnesota. But the Pelicans could present him a chance to play right away. With Jrue Holiday tending to his wife until she gets healthy from brain surgery, the Pelicans only true point guard on the roster is Tim Frazier.
Free agent signees Langston Galloway and E'Twaun Moore could play point guard, but both would fall under the combo-guard category. Jones could give the Pelicans another legitimate point guard to pair with Frazier until Holiday returns to the team.
If the Timberwolves are going to be trading a point guard anytime soon, it seems like Jones is the most likely person to be packing their bags. The future of the franchise at point guard lies in the hands of Dunn, with Rubio currently holding it for him. That leaves Jones without a spot as Thibodeau looks to be leaning towards a veteran behind those two.
More from Hoops Habit
This article originally appeared on