Timberwolves Rumors: Teams still trying to trade for Rubio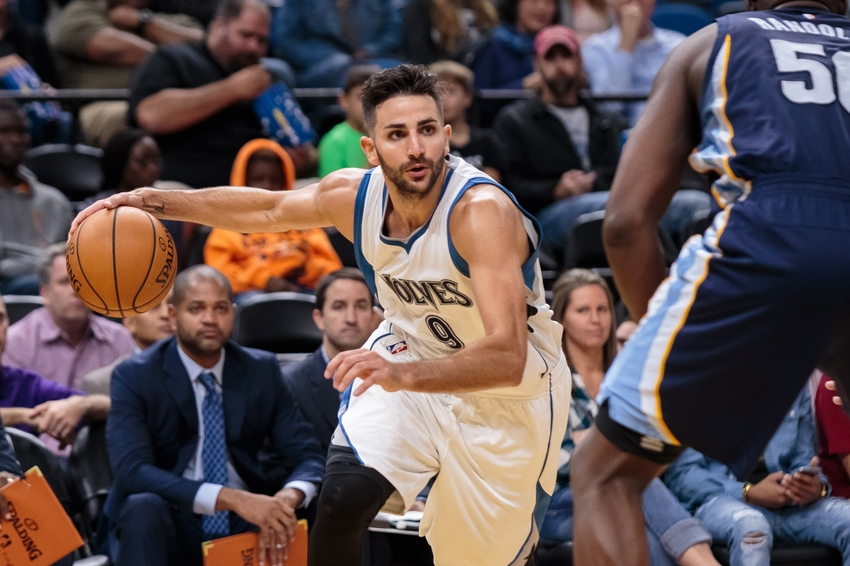 As the regular season is less than a week away, we have another report of multiple teams making overtures to trade for Timberwolves' point guard Ricky Rubio.
Scroll back through the summer months here at Dunking With Wolves, and you'll see more than a few articles discussing the overwhelming trade rumors that have circulated regarding Ricky Rubio since Tom Thibodeau took over the Timberwolves — especially since draft night in late June.
Indeed, the drafting of Providence point guard Kris Dunn fifth-overall spurred an avalanche of rumors, many of which began on draft night. But since late June, we've only heard that Thibodeau is not yet ready to consider moving his veteran starter.
And now, more of the same, although we have a few more specifics courtesy of The Vertical's Adrian Wojnarowski. Below are the opening lines of Woj's article from Wednesday evening.
There is still time until the 2016 NBA draft's fifth overall selection, Kris Dunn, takes over as the Minnesota Timberwolves' point guard – which is why the franchise is still resisting trade overtures for Ricky Rubio, league sources told The Vertical.

The Sacramento Kings are the most determined of several teams expressing interest in finding a pathway to a Rubio deal, league sources said, but Minnesota president and coach Tom Thibodeau is reluctant to move Rubio – outside of bringing back a no-brainer package, of course – until Dunn's progress illustrates this season that he's ready to fully take over the team.

Thibodeau doesn't anticipate Dunn becoming the starter until approximately 20 games into the regular season, league sources said.
We've heard of the Kings as an extremely interested party in the past, primarily from ESPN 1500 and KSTP reporter Darren Wolfson, so that isn't a surprise. Besides, what is Sacramento offering that would entice Thibodeau and the Wolves to move Rubio?
More from Dunking with Wolves
The bit about Thibodeau believing that Dunn could be the starter somewhere around the 20-game mark seems to be a bit aggressive — especially if you've watched Dunn play much during the preseason.
Wojnarowski goes on to say that the Wolves still plan on Dunn being the point guard of the future, as if that was in question at this point. But then Woj goes on to discuss the Kings' situation a bit further, and elaborates in terms of the Wolves' third point guard on the depth chart.
The Kings have maintained a consistent interest in Rubio for months, although it's unclear whether Sacramento has the makings of a trade package that would appeal to the Timberwolves. Sacramento has been determined to find a young point guard to run its team. The Kings were seriously engaged with Oklahoma City on a Rudy Gay deal that would have included the Thunder's second-year point guard, Cameron Payne, but those talks stalled after Payne broke his foot in September, league sources said.

Several teams – including Philadelphia and New Orleans – have shown interest in point guard Tyus Jones, 20, whom the Wolves are more open to moving in the short term, league sources said. Thibodeau has used non-guaranteed veteran John Lucas III – a 33-year-old whom he brought back to his roster several times with the Chicago Bulls – in the preseason point-guard rotation.
Rudy Gay isn't really a fit for the Wolves' current roster, and it's tough to see how he would be part of any tenable trade for Rubio.
The Tyus Jones trade interest in intriguing, to be sure, and echos what Wolfson had said earlier in the week on his podcast, The Scoop.
John Lucas III would be fine as a third point guard, but only if the Wolves receive something resembling value in return for Jones. The 20 year-old point guard probably has a ceiling as a solid backup, but is certainly worth hanging onto if requisite value is not returned on the trade market.
Once again, this will be a situation to monitor, although it would be a true shock if Rubio is moved prior to February's trade deadline. And if the Timberwolves are in the playoff conversation, he likely won't be traded until next summer.
This article originally appeared on