Timberwolves Rumors: On Ric Bucher's proclamation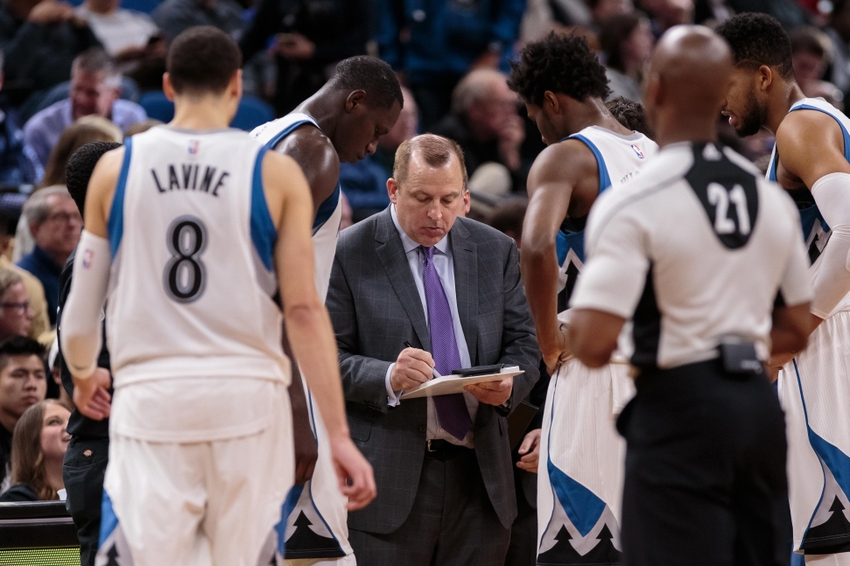 We're barely a month into the 2016-17 NBA season, yet a 4-10 start by the Timberwolves is causing some to claim that the trade winds are beginning to blow.
The most recent Timberwolves rumor is barely a rumor at all.
In fact, it's about a week old, but was given new life by NBC's Pro Basketball Talk on Thanksgiving — a slow day in the NBA, so who can blame Dan Feldman?
The original rumor from Ric Bucher is recreated in the above-linked article by Feldman, but I'll regurgitate it here as well.
Tom Thibodeau is not exactly a paragon of patience, which is why league sources expect that he is only a few more losses away from dealing one of his young stars for a veteran who can help him win now. His first look will be for a player he already knows and trusts because he's already had that player in his system. Would the Lakers consider advancing their youth movement and dealing former Bull Luol Deng? Would the Bulls consider parting with Jimmy Butler or Taj Gibson? Where Thibs looks is not certain, nor is who he'd be willing to move. But those in the league who know his hunger to win and win now are convinced he will begin calling around soon, if he hasn't already.
Wow. Lots to unpack here.
First, I'll start off by saying that Feldman did an outstanding job breaking it down. Basically, the rumor could be more or less fabricated on what we know about Tom Thibodeau and his competitive nature, or it could have been floated by other teams who are trying to pry a Zach LaVine or Ricky Rubio away from Minnesota.
The other option, of course, is that there is some truth to Bucher's claim.
I'm skeptical, and for a number of reasons. Let's start with the fact that Luol Deng isn't even eligible to be traded for a few weeks. And never mind the fact that the Wolves allegedly would have offered (or, perhaps, did offer) barely more than half of what the Los Angeles Lakers gave him in free agency over the summer.
More from Dunking with Wolves
Taj Gibson is a nice player, but wouldn't exactly fit the Wolves' existing roster or fix many of the problems that the Wolves are having currently.
Jimmy Butler is a possibility, but would also cost by far the most, and it isn't close. Plus, they're 9-6 on the season and not likely in any hurry to move their best players for some relative unknowns.
Think about it: the Wolves won't be moving Andrew Wiggins or Karl-Anthony Towns. Ricky Rubio likely wouldn't be of interest to the Bulls anymore, either, with Rajon Rondo in the fold and outside shooting already being somewhat of an issue in Chicago.
Shabazz Muhammad? Maybe, but he'd probably have to be the third-best piece in any Butler trade.
That leaves LaVine. Would the Wolves move him? Probably, in the right deal. But it would take a lot more than just LaVine to get Butler, and why would the Bulls do that?
Thibodeau may be impatient — heck, the fans and everyone else is impatient, so of course he is — but he isn't stupid. He also has a competent general manager in Scott Layden, who no doubt will make sure that nothing rash occurs.
Yes, this team needs veteran help. Yes, this team needs better defenders and has to find toughness somewhere. But we're only 14 games into the season with what is still the best young core in the NBA, and still a top-five head coach. Those facts didn't suddenly change in the past 30 days.
Look for a move to be made eventually. But don't expect it to be a blockbuster, and don't expect it to happen over the next few weeks.
This article originally appeared on