Timberwolves Player Preview: Tyus Jones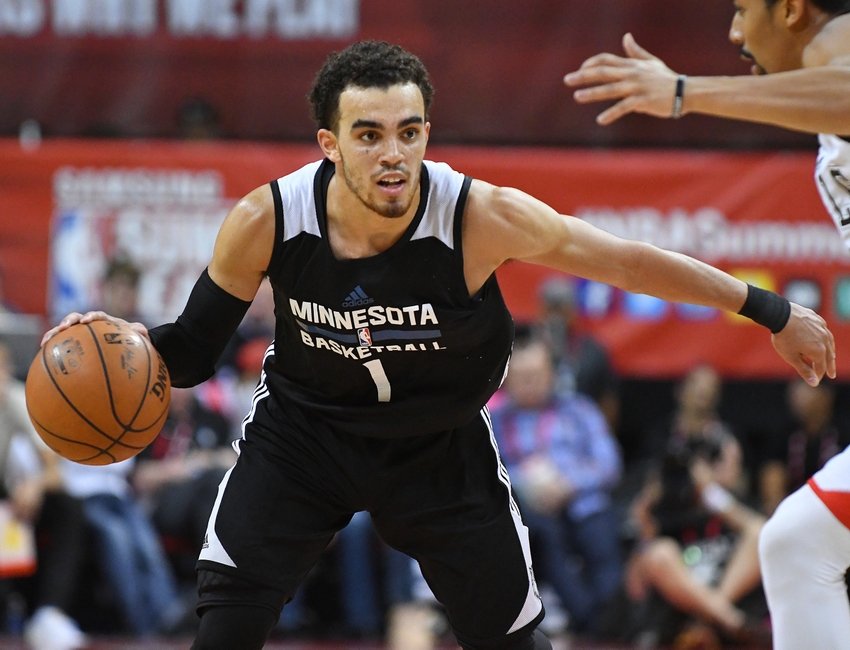 This is the fourth part in our series previewing the entire Minnesota Timberwolves roster, player-by-player from the least to the most minutes played last season.
Native Minnesotan Tyus Jones was the Timberowlves' second first-round pick just 15 months ago. Of course, the first first-round pick in June of 2015 was one Karl-Anthony Towns.
It's easy to forget that Jones was part of the same class; Towns is suddenly one of the top-25 or so players in the NBA, and Jones only appeared in 38 games as a rookie.
The late Flip Saunders actually traded for Jones on draft night, sending the #31 and #36 selections in the 2015 draft plus a 2019 second-round pick to move up and pick Jones at #24 — a pretty high price to pay to move up seven spots and hand out a guaranteed contract.
Jones led Duke to the national championship in spring of 2015 as a freshman, and has always possessed the leadership qualities and ability as a floor general to navigate big games and raise his teammates' level of play.
He began the 2015-16 campaign as the third (and maybe even fourth) option as the one-spot. The Timberwolves gave backup point guard minutes to Zach LaVine early in the season, and even used veteran Andre Miller over Jones last fall.
Jones only played in seven of the 33 games that Minnesota had on it's schedule prior to the calendar turning to 2016, and he only had one short stint in the D-League.
More from Dunking with Wolves
However, Jones played in 28 of the final 30 games of the season and the last 26 contests in a row. After Miller was waived and LaVine was moved permanently to the two-guard position, the Wolves were able to see what Jones brought on a nightly basis.
How did he play, you ask? Let's turn it over to Randy Spurlock's season-in-review of Jones.
The offense wasn't as smooth with Jones running the show, but he also spearheaded some offensively-challenged bench units. Jones seemed confident when bringing the ball up court; he kept his head up, scanned the defense, and usually got everyone in position to start the play. It was after that point when the second unit seemed to get lost, but that is on everyone, not just the point guard.

Jones seemed convinced that he could get the offense running and they would score points even if it didn't always work out that way, which was encouraging to see from him.
Randy also notes that other than a ghastly 1-of-10 shooting performance against the Clippers, Jones shot 39.1 percent from the floor and 34.1 percent from beyond the arc after the All-Star Break.
In fall of 2016, however, things have changed quite a bit in Minnesota's point guard landscape.
New front office boss and head coach Tom Thibodeau has been known to take very average (or worse) point guards and squeezing quality minutes out of them, from John Lucas III, who is actually on the Wolves' training camp roster, to Nate Robinson, Aaron Brooks, and more.
Jones is also a diminutive guard who excels in the pick-and-roll on offense, which seems to be a plus in Thibodeau's eyes.
That said, the only way that Jones will be seeing the floor this year is if Ricky Rubio is traded or there is some sort of injury. Also, Thibodeau seems to have a thing for overstocking the point guard spot, both with Chicago and with the current training camp roster.
He showed a lot in the Las Vegas Summer League, averaging 20.4 points and a league-leading 6.8 assists per game over eight contests while shooting 45.1 percent from the field and 40.6 percent from beyond the arc.
Jones really did look like a veteran when playing against young, un-drafted players and NBA castoffs — as he should have. But it was encouraging and showed a glimpse of what he could be in a year or two at the highest level of competition.
Ultimately, Jones could be a solid backup point guard in the NBA. He will always be at a disadvantage defensively, but if he can elevate his offensive game and be solid enough on defense, he'll be a legitimate NBA contributor.
Here's hoping that the Wolves don't need Jones' services this year, but if they do, he may be ready to contribute with Tom Thibodeau at the helm.
This article originally appeared on