Timberwolves Notes: NBA GMs love the Wolves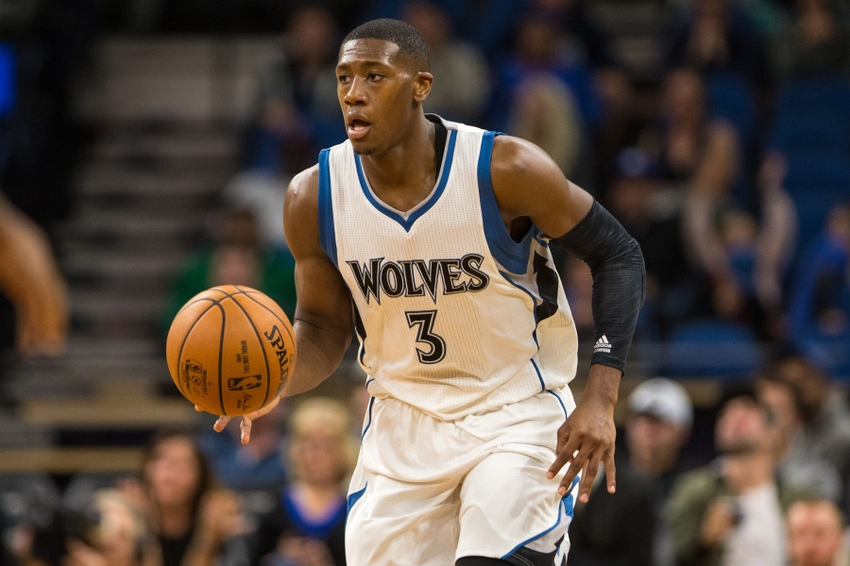 Earlier in the week, NBA.com released their annual preseason general managers survey, and the Minnesota Timberwolves were featured rather prominently in this year's edition.
The hype train is barreling down the tracks, ladies and gentlemen. And steering it this week were the actual general managers of the 29 other teams in the NBA.
Indeed, the 2016-17 GM Survey conducted by NBA.com was extremely complementary of Tom Thibodeau and his young team, both in expected and surprising ways.
Yes, general managers picked the Timberwolves as the "most improved" team in the league when it's all said and done, but it was by a significant margin — 56.7 percent of GMs picked the Wolves as the team to make the biggest jump, followed by Utah at 23.3 percent and New York at 10 percent.
Remember, this is different than, say, asking which non-playoff team from a year ago will make the postseason. In that sense, Utah should run neck-and-neck or even ahead of Minnesota. But with the question phrased as "most improved", the Wolves simply have to outperform last year's total by more than the 40-win Jazz from a year ago. Doable, to say the least.
But some of the more surprising and impressive answers were related to individual players. The one that takes the cake is the question of "If you were starting a franchise today and could sign any player in the NBA, who would it be?".
Usually, this question will return a mix of Kevin Durant and Stephen Curry, and even still some LeBron James and Anthony Davis answers. This year? 48.3 percent of general managers would hitch their theoretical wagon to a second-year player in Karl-Anthony Towns.
More from Dunking with Wolves
That's essentially half of the teams in the NBA that would pick KAT over any other player! Durant finished second with 20.7 percent of the vote and James third with 17.2. Others receiving votes included Curry, Davis, Kawhi Leonard, and Russell Westbrook.
Towns and Andrew Wiggins both placed in the "which player is most likely to have a breakout season?" question, with Towns (13.8 percent) finishing second to Phoenix's Devin Booker (31 percent) and Wiggins landing tied for fifth with the Lakers' D'Angelo Russell with 6.9 percent of the vote. Wiggins also received a vote as "best international player" in the NBA, a category that Milwaukee's Giannis Antetokounmpo won over Marc Gasol.
One more list for Towns: he already ranks fifth on the list of best centers with six players receiving votes. Impressive, to say the least.
The next-most named Wolf is rookie Kris Dunn, whom 46.7 percent of GMs think will win the Rookie of the Year award, and 20 percent of GMs believe he'll be the best player of the rookie class in five years. He also ranked second to San Antonio's Dejounte Murray, who was selected 29th overall, as the biggest steals in last June's draft.
Tom Thibodeau won the "which coach has the best defensive schemes?" question going away, garnering 60 percent of the vote and beating out Gregg Popovich (33.3 percent). He also easily topped the question of which new/relocated coach would have the biggest first-year impact, grabbing 78.3 percent and beating second-place Frank Vogel of Orlando (10 percent).
The other two Wolves players to be mentioned were Zach LaVine, who finished third in "most athletic" at 10.3 percent, trailing Westbrook (62.1 percent) and James (17.2 percent), and Ricky Rubio, who was third in "best passer" with 10.3 percent, behind Chris Paul (62.1 percent) and LeBron James (20.7 percent).
The Wolves have done well in this survey often in recent years, as they're a team that always seems to be bordering on breaking through in some fashion. But this year, the expectations are real, and this survey only serves to confirm those thoughts.
We'll be finishing out our opposing team preview series in the coming days, plus posting both parts of the No Frills Wolves Podcast season preview. We're only four days from the Wolves' opener, so stay tuned!
This article originally appeared on