Timberwolves at Warriors: Taking on the best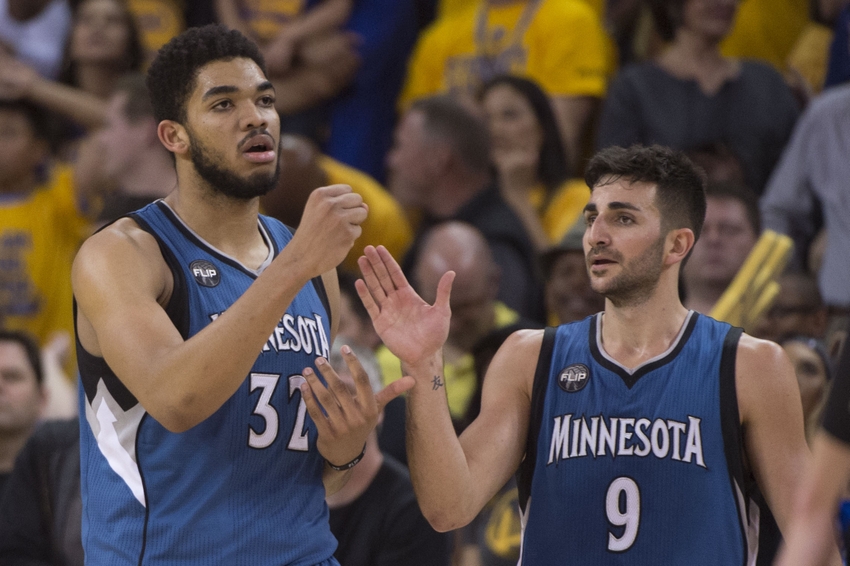 The Timberwolves finally won on the road again on Friday night, coming back from a 10-point fourth quarter deficit to defeat the Suns, but playing the Warriors in Oakland will be a much tougher challenge.
The Wolves improved their record to 5-10 with their victory over the Suns on Friday night. And in no small feat, the Timberwolves overcame what was a 10-point deficit early in the fourth quarter to win by 13 points — on the road, no less.
Just last April, the Wolves went in to Oracle Arena and became one of just two teams to beat the eventually-73-win Warriors at home during the 2015-16 season. And it sure didn't feel like a fluke.
The Timberwolves have not played that well yet in 2016-17, and despite the win in Phoenix on Friday night, there's little reason to have confidence about the Wolves chances at Golden State this time around.
But then again, last year's squad was a 29-win team, and they stepped up to the occasion of playing the Warriors on national TV.
We'll see if they can do it again…
Minnesota Timberwolves Preview
Record: 5-10 (3-4 home, 2-6 road)
Starting Lineup
PG – Ricky Rubio (6.1 PPG, 6.7 APG, 4.1 RPG, 1.6 SPG)
SG – Zach LaVine (18.6 PPG, 3 RPG, 2.4 APG)
SF – Andrew Wiggins (24 PPG, 4.1 RPG, 2 APG)
PF – Gorgui Dieng (10.3 PPG, 8.6 RPG, 2.6 APG)
C – Karl-Anthony Towns (21.3 PPG, 9.4 RPG, 2.5 APG)
Key Reserves
The Wolves bench played well in Phoenix on Friday night. Much of that success, however was related to Tyus Jones.
We called for the point guards to step-up about a week ago, and suggested that it just might come in the form of third-stringer Tyus Jones. It's not a coincidence that many of the point guards that found success under Tom Thibodeau with the Chicago Bulls in the past have a similar profile to Jones, and it wouldn't be a shock if he emerged as a key contributor to this year's squad.
There still has been nothing of note to come from Shabazz Muhammad, and Nemanja Bjelica has been far from consistent, too. There's certainly room for growth with the bench, and the Wolves will need to see that improvement sooner rather than later.
Golden State Warriors Preview
Record: 14-2 (5-1 home, 9-1 road)
Starting Lineup
PG – Stephen Curry (26.3 PPG, 6.1 APG, 3.9 RPG)
SG – Klay Thompson (20.6 PPG, 3.1 RPG, 2.1 APG)
SF – Kevin Durant (27.1 PPG, 7.9 RPG, 4.8 APG)
PF – Draymond Green (10.5 PPG, 9 RPG, 6.9 APG)
C – Zaza Pachulia (4.5 PPG, 6.1 RPG, 2.4 APG)
Key Reserves
Green left Friday night's game against the Lakers with twisted ankle, so it seems unlikely that he'll start 24 hours later against the Wolves. Bench player Ian Clark, who averages 13.4 minutes per game for the Warriors, reportedly suffered a throat/neck injury and likely won't play, either.
That means that the Warriors would significantly alter their rotation for the first time this season. We'll probably see more minutes from veteran David West, who only averages 11.1 minutes per game, and perhaps second-year forward Kevon Looney.
The Warriors continue to have a solid bench, led by Andre Iguodala and Shaun Livingston, and should easily outplay the Wolves' problematic corps of reserves.
Three Things to Watch
1. Containing Curry. During last April's road win over the Warriors, the Wolves forced Stephen Curry into a 7-of-25 shooting night, including 4-of-14 from beyond the arc — yes, he managed 21 points and 15 assists, but it was good enough to get the game to overtime.
This was credit to Ricky Rubio, of course, as well as the Wolves' overall pick-and-roll scheme on defense. (Remember: Towns had his memorable one-on-one defensive performance against Curry in overtime.)
Klay Thompson was an issue, of course, shooting 12-of-22 from the field, but containing Curry on some level will be key.
2. Staying out of foul trouble. The Wolves ran into their biggest issues a few nights ago in New Orleans when Towns and others got into foul trouble, and the key players (Andrew Wiggins and Karl-Anthony Towns) avoided such issues in Phoenix on Friday.
More from Dunking with Wolves
Against one of the top-two teams in the NBA and a team with such a strong bench, the Wolves cannot afford to run into foul trouble on Saturday at Oracle Arena.
3. Taking advantage of the opportunity. The odds of the Wolves emerging from Oakland with a second-straight victory are admittedly low — they are far from 'likely' to win on Saturday night.
That said, the Warriors are likely to be without Green and Clark, or, at least without them at full strength. And while the Wolves will be on the second night of a back-to-back, so will the Warriors.
This game will mean much more to the Wolves, as the Warriors obviously have regular season fatigue, at least on some level, after going 73-9 a year ago.
All of those factors combined means that the road team may have slightly better odds to pull off an upset than it might appear, at least on the surface, and the Timberwolves have to take advantage.
Game Prediction
Indeed, the Warriors are the favorites in this one — 16 points, in fact, according to Vegas.
For all the reasons stated on the last slide, however, the Wolves may have a sliver of a chance to pull off an upset. Of course, if the same team that collapsed on Wednesday night in New Orleans shows up to the Oracle on Saturday, it'll get ugly, and fast.
I'll call this a Warriors win, but they won't pull away until late in the third/early in the fourth quarter. Final score: 105-91, Golden State.
This article originally appeared on